From Königssee, GER
Jacqueline Lölling has been nearly unbeatable in Königssee, and with World Championships being held there, she was the certain favorite going into the second day of sliding.
The German brought a .06 lead into the third run, and pulled away slightly from teammate Tina Hermann with a typically clean run. As with her first run, Lölling found time at the bottom that few others found in that third run, with Lölling going into the final heat .15 ahead of Hermann.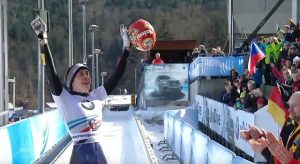 Behind Hermann, the Olympic champion made her move. Lizzy Yarnold had the fastest run in the first heat of the morning, moving her into the medals, and just .24 out of gold.
In the fourth heat Yarnold faltered just slightly, but it was enough to make it a two-person race for gold. Hermann did what she had to do, putting down the fastest run of the three heats to that point to put the pressure on Lölling. Lölling answered the call, with her final run a full tenth of a second quicker than Hermann's on her way to a World Championship gold medal.
Tina Hermann finished second, with the second fastest run in two of the three heats, while Lizzy Yarnold finished third.
Anna Fernstädt came into the second day of sliding for the women tied for seventh, but two solid runs moved her just out of the medals in fourth. Behind her, Kim Meylemans of Belgium bested her 2016 World Championships by over ten positions finishing fifth, while Canadian Elisabeth Vathje finished sixth.
The 2017 World Championships were a bit of a disappointment for the American women. Kendall Wesenberg led the charge in 13th, moving up a position in the final run. Teammates Savannah Graybill and Annie O'Shea finished 16th and 19th to round out the effort for the United States.
It was a strong showing for the Canadians. Aside from Vathje's sixth place finish, St. Moritz winner Mimi Rahneva finished just outside of the top six in eighth, with Jane Channell finishing 12th.
Laura Deas finished just inside the top ten with a tenth place finish, while British teammate Donna Creighton missed the final run tied for 22nd with Joska le Conte.
Katie Tannenbaum of the US Virgin Islands finished 24th.
Results:
| | | | | | | | |
| --- | --- | --- | --- | --- | --- | --- | --- |
| Pos | Name | Nation | Bib | Run 1 | Run 3 | Run 4 | Total |
| 1 | Jacqueline Lölling | GER | 6 | 52.02 | 51.74 | 51.59 | 2:35.35 |
| 2 | Tina Hermann | GER | 9 | 52.08 | 51.83 | 51.69 | 2:35.60 |
| 3 | Lizzy Yarnold | GBR | 15 | 52.29 | 51.71 | 52.08 | 2:36.08 |
| 4 | Anna Fernstädt | GER | 7 | 52.44 | 51.91 | 52.04 | 2:36.39 |
| 5 | Kim Meylemans | BEL | 1 | 52.35 | 52.12 | 52.07 | 2:36.54 |
| 6 | Elisabeth Vathje | CAN | 8 | 52.27 | 52.15 | 52.42 | 2:36.84 |
| 7 | Lelde Priedulena | LAT | 11 | 52.44 | 52.25 | 52.27 | 2:36.96 |
| 8 | Mirela Rahneva | CAN | 13 | 52.37 | 52.25 | 52.50 | 2:37.12 |
| 9 | Elena Nikitina | RUS | 3 | 52.47 | 52.45 | 52.21 | 2:37.13 |
| 10 | Laura Deas | GBR | 12 | 52.76 | 52.34 | 52.11 | 2:37.21 |
| 11 | Janine Flock | AUT | 10 | 52.56 | 52.27 | 52.45 | 2:37.28 |
| 12 | Jane Channell | CAN | 16 | 52.69 | 52.66 | 52.43 | 2:37.78 |
| 13 | Kendall Wesenberg | USA | 4 | 52.67 | 52.96 | 52.37 | 2:38.00 |
| 14 | Kimberley Bos | NED | 2 | 53.11 | 52.63 | 52.33 | 2:38.07 |
| 15 | Maria Orlova | RUS | 18 | 52.87 | 52.57 | 52.73 | 2:38.17 |
| 16 | Savannah Graybill | USA | 17 | 52.81 | 53.20 | 52.46 | 2:38.47 |
| 17 | Jaclyn Narracott | AUS | 22 | 53.05 | 52.99 | 52.53 | 2:38.57 |
| 18 | Marina Gilardoni | SUI | 23 | 53.42 | 53.00 | 52.92 | 2:39.34 |
| 19 | Annie O'Shea | USA | 14 | 53.64 | 52.81 | 52.95 | 2:39.40 |
| 20 | Renata Khuzina | RUS | 24 | 53.50 | 53.30 | 53.27 | 2:40.07 |
| 21 | Takako Oguchi | JPN | 26 | 53.48 | 53.46 | 53.46 | 1:46.94 |
| 22 | Donna Creighton | GBR | 20 | 53.80 | 53.46 | 53.46 | 1:47.26 |
| 22 | Joska le Conte | NED | 21 | 53.94 | 53.32 | 53.32 | 1:47.26 |
| 24 | Katie Tannenbaum | ISV | 29 | 54.39 | 53.95 | 53.95 | 1:47.34 |
| 25 | Maya Pedersen | NOR | 27 | 54.10 | 53.28 | 53.28 | 1:47.38 |
| 26 | Maria Mazilu | ROU | 25 | 53.84 | 53.62 | 53.62 | 1:47.46 |
| 27 | Yulia Kanakina | RUS | 19 | 53.97 | 54.00 | 54.00 | 1:47.97 |
| 28 | Valentine Margaglio | ITA | 30 | 54.47 | 54.03 | 54.03 | 1:48.50 |
| 29 | Marta Orlowska | POL | 31 | 54.64 | 54.77 | 54.77 | 1:49.41 |
| 30 | Maria Montejano | ESP | 28 | 55.07 | 54.35 | 54.35 | 1:49.42 |
| 31 | Sara Lavrenčič | SLO | 5 | 56.54 | 55.91 | 55.91 | 1:52.45 |