From Königssee, GER
After women's bobsled last week, it didn't seem like the racing could get any closer. In Königssee, though, anything is possible.
It seemed as though Johannes Lochner was going to start to walk away with the lead in four-man bobsled, with a logjam of teams stacked up behind him. German teammates Francesco Friedrich andn Nico Walther, Latvian Oskars Melbardis, and a three-way tie of Steven Holcomb, Justin Kripps and Alexey Stulnev were all within shouting distance of a medal position.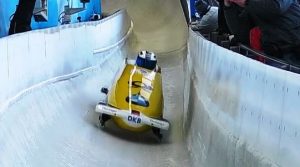 On the second run, Lochner faltered, and came back to the field, with the German sitting only .03 ahead of Friedrich, and just a tenth ahead of Oskars Melbardis, who will go into the second day just a tenth out of gold.
Nico Walther struggled a bit on his second run, and was passed by a nearly flawless run by American Steven Holcomb, who now sits fourth going into the second day of sliding. Walther will enter Run 3 in fifth, just .09 ahead of Canadian tw0-man medalist Justin Kripps.
The separation from first to sixth is only .29.
The American men rallied behind Holcomb's two runs. Justin Olsen appears to have figured out the transition from the S4 turn to the "bendaway" straight, having moved up from 15th to 12th, only .17 out of the top ten. North American Cup champion Nick Cunningham comfortably in the top 20 in 18th place.
Christopher Spring improved a bit on his second run, moving up from 19th to 17th in the second run. Teammate Nick Poloniato struggled to find the same success in four-man bobsled, dropping from 22nd to 23rd in the second run.
The British will go into the second day of sliding with only one four-man sled. Lamin Deen will enter the day just outside of the top 20 in 21st. Teammate Bradley Hall entered the second run in 13th, but crashed on his second run, leading to a disqualification.
Results After Run 2:
| | | | | | | | | |
| --- | --- | --- | --- | --- | --- | --- | --- | --- |
| Pos | Names | Nation | Bib | Start 1 | Start 2 | Run 1 | Run 2 | Total |
| 1 | Lochner / Kagerhuber / Bluhm / Rasp | GER | 6 | 4.81 | 4.78 | 48.26 | 48.56 | 1:36.82 |
| 2 | Friedrich / Bauer / Grothkopp / Margis | GER | 11 | 4.75 | 4.75 | 48.39 | 48.46 | 1:36.85 |
| 3 | Melbardis / Dreiskens / Vilkaste / Strenga | LAT | 17 | 4.74 | 4.73 | 48.42 | 48.50 | 1:36.92 |
| 4 | Holcomb / Valdes / Reed / McGuffie | USA | 12 | 4.81 | 4.81 | 48.49 | 48.51 | 1:37.00 |
| 5 | Walther / Kuske / Korona / Franke | GER | 10 | 4.77 | 4.81 | 48.48 | 48.54 | 1:37.02 |
| 6 | Kripps / Kopaz / Lumsden / Brown | CAN | 16 | 4.80 | 4.81 | 48.49 | 48.62 | 1:37.11 |
| 7 | Maier / Laussegger / Sammer / Moldovan | AUT | 9 | 4.83 | 4.85 | 48.53 | 48.59 | 1:37.12 |
| 8 | Andiranov / Lylov / Selikhov / Antukh | RUS | 15 | 4.86 | 4.85 | 48.60 | 48.55 | 1:37.15 |
| 9 | Kasjanov / Pushkarev / Kondratenko / Zaitsev | RUS | 13 | 4.81 | 4.80 | 48.51 | 48.71 | 1:37.22 |
| 10 | Stulnev / Huzin / Belugin / Koshelev | RUS | 8 | 4.84 | 4.83 | 48.49 | 48.77 | 1:37.26 |
| 11 | Kibermanis / Jansons / Miknis / Zirups | LAT | 14 | 4.79 | 4.75 | 48.68 | 48.59 | 1:37.27 |
| 12 | Olsen / Landis / Weinstock / Michener | USA | 25 | 4.79 | 4.79 | 48.72 | 48.61 | 1:37.33 |
| 13 | Vrba / Egydy / Suchy / Nosek | CZE | 23 | 4.83 | 4.83 | 48.77 | 48.70 | 1:37.47 |
| 13 | Peter / Baumann / Friedli / Kuonen | SUI | 7 | 4.83 | 4.85 | 48.56 | 48.91 | 1:37.47 |
| 15 | Costerg / Castell / Pujar / Boutherin | FRA | 20 | 4.92 | 4.91 | 48.71 | 48.83 | 1:37.54 |
| 16 | Treichl / Glueck/ Walch / Esterhammer | AUT | 4 | 4.91 | 4.90 | 48.75 | 48.80 | 1:37.55 |
| 17 | Spring / Stones / Kirkpatrick / Wright | CAN | 18 | 4.84 | 4.80 | 48.84 | 48.74 | 1:37.58 |
| 18 | Cunningham / Del Duca / Adams / Kinney | USA | 22 | 4.88 | 4.89 | 48.82 | 48.81 | 1:37.63 |
| 19 | Buchmüller / Krenz / Scherer / Laurenz | GER | 21 | 4.85 | 4.85 | 48.91 | 48.98 | 1:37.89 |
| 19 | Rinaldi / Vain / Demarthon / Borges Mendonaca | MON | 26 | 4.88 | 4.90 | 48.92 | 48.97 | 1:37.89 |
| 21 | Deen / Simons / Baines / Matthews | GBR | 19 | 4.87 | 4.86 | 49.00 | 49.04 | 1:38.04 |
| 22 | Bracher / Knuser / van der Zijde / Dörig | SUI | 24 | 4.88 | 4.87 | 49.07 | 49.04 | 1:38.11 |
| 23 | Poloniato / Sunderland / Plug / MacDougall | CAN | 3 | 4.84 | 4.87 | 48.93 | 49.28 | 1:38.21 |
| 24 | Bertazzo / Fontana / Ughi / Variola | ITA | 30 | 4.93 | 4.93 | 49.17 | 49.09 | 1:38.26 |
| 25 | Dvorak / Sindelar / Stoklaska / Havlin | CZE | 27 | 4.86 | 4.89 | 49.13 | 49.29 | 1:38.42 |
| 26 | de Bruin / den Ouden / Piek / Franjic | NED | 2 | 4.92 | 4.92 | 49.16 | 49.27 | 1:38.43 |
| 27 | Baumgartner / Caruso / Costa / Bilotti | ITA | 29 | 4.98 | 4.95 | 49.28 | 49.23 | 1:38.51 |
| 28 | Silic / Nikpalj / Krajisnik / Zlatnar | CRO | 33 | 4.96 | 4.97 | 49.48 | 49.53 | 1:39.01 |
| 29 | Grigore / Peptea / Craciun / Radu | ROU | 1 | 4.98 | 4.99 | 49.43 | 49.61 | 1:39.04 |
| 30 | Luty / Zakrzewski / Miedzik / Kossakowski | POL | 32 | 4.94 | 4.97 | 49.53 | 49.54 | 1:39.07 |
| 31 | Heibl / Haugen / Bjugn / Heibl | NOR | 5 | 5.21 | 5.21 | 49.43 | 49.74 | 1:39.17 |
| 32 | Constantin / Vild / Grecu / Halai | ROU | 34 | 5.39 | 5.46 | 50.48 | 50.50 | 1:40.98 |
| DNS | Radenovic / Novakovic / Stojic / Pankov | SRB | 31 | 5.09 | | 49.78 | DNS | DNS |
| DSQ | Hall / Fearon / Tasker / Cackett | GBR | 28 | 4.78 | 4.78 | 48.70 | DSQ | DSQ |