From Königssee, GER
The 2017 World Championships saved the best for last.
Going into Sunday morning's third run, Johannes Lochner carried a minuscule .03 lead over German teammate Francesco Friedrich. Behind them, Oskars Melbardis, Steven Holcomb, and Nico Walther were all within a tenth of each other and from first to fifth the difference was only .20. That brought us to Sunday's third and fourth run.
In the third run, Johannes Lochner had a quick run, bested only by his teammate. Friedrich was .04 faster, giving Friedrich a .01 advantage going into the last run. Behind them, Nico Walther edged Steven Holcomb, giving Walther a .01 advantage over the American, and still within .2 of the leaders.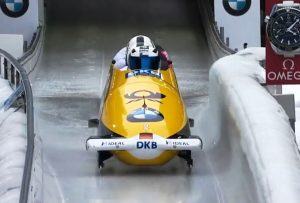 On the fourth run, somehow, it got closer. Johannes Lochner came down before Francesco Friedrich, and made one mistake at the bottom of the "bendaway" straight. Friedrich's run had a quicker start, but a skid at the top of "bendaway" brought him back. As Friedrich came through the splits, the timing got tighter and tighter, and at the end of four heats and over three minutes of racing, Johannes Lochner and Francesco Friedrich tied for gold, in what is the first ever "double gold" in the history of the IBSF World Championships.
Nico Walther held off both Oskars Melbardis and Steven Holcomb for bronze, while Melbardis edged Holcomb for fourth. Holcomb had a very good looking run, save for one skid. That, coupled with Melbardis' nearly flawless run, dropped the American to fifth.
Justin Kripps finished out what was a very successful World Championships for Canada in sixth place. Teammate Chris Spring rallied in the fourth heat to move up to 13th, while Nick Poloniato finished 23rd, just .01 behind Clemens Bracher of Switzerland.
The World Championships showed a lot of promise for the United States. On top of Holcomb's top five finish, Justin Olsen charged to an 11th place finish, while Nick Cunningham came back from a season in the North American Cup to finish 17th.
Lamin Deen just barely missed a fourth run for Great Britain. Germany's Bennet Buchmüller left the door open for Deen, but Deen couldn't capitalize, finishing 21st. Deen's teammate, Bradley Hall, crashed in the second heat while running 13th and was disqualified.
Results:
| | | | | | | | | |
| --- | --- | --- | --- | --- | --- | --- | --- | --- |
| Pos | Names | Nation | Bib | Run 1 | Run 2 | Run 3 | Run 4 | Total |
| 1 | Lochner / Kagerhuber / Bluhm / Rasp | GER | 6 | 48.26 | 48.56 | 48.64 | 48.64 | 3:14.10 |
| 1 | Friedrich / Bauer / Grothkopp / Margis | GER | 11 | 48.39 | 48.46 | 48.60 | 48.65 | 3:14.10 |
| 3 | Walther / Kuske / Korona / Franke | GER | 10 | 48.48 | 48.54 | 48.63 | 48.61 | 3:14.26 |
| 4 | Melbardis / Dreiskens / Vilkaste / Strenga | LAT | 17 | 48.42 | 48.50 | 48.91 | 48.56 | 3:14.39 |
| 5 | Holcomb / Valdes / Reed / McGuffie | USA | 12 | 48.49 | 48.51 | 48.66 | 48.78 | 3:14.44 |
| 6 | Kripps / Kopaz / Lumsden / Brown | CAN | 16 | 48.49 | 48.62 | 48.88 | 48.88 | 3:14.87 |
| 7 | Maier / Laussegger / Sammer / Moldovan | AUT | 9 | 48.53 | 48.59 | 48.90 | 48.88 | 3:14.90 |
| 8 | Andrianov / Lylov / Selikhov / Antukh | RUS | 15 | 48.60 | 48.55 | 48.93 | 48.99 | 3:15.07 |
| 9 | Kasjanov / Pushkarev / Kondratenko / Zaitsev | RUS | 13 | 48.51 | 48.71 | 48.97 | 48.91 | 3:15.10 |
| 10 | Kibermanis / Jansons / Miknis / Zirups | LAT | 14 | 48.68 | 48.59 | 48.96 | 48.93 | 3:15.16 |
| 11 | Olsen / Landis / Weinstock / Michener | USA | 25 | 48.72 | 48.61 | 49.01 | 48.96 | 3:15.30 |
| 12 | Stulnev / Huzin / Belugin / Koshelev | RUS | 8 | 48.49 | 48.77 | 49.07 | 49.07 | 3:15.40 |
| 13 | Spring / Stones / Kirkpatrick / Wright | CAN | 18 | 48.84 | 48.74 | 49.02 | 49.01 | 3:15.61 |
| 14 | Costerg / Castell / Pujar / Boutherin | FRA | 20 | 48.71 | 48.83 | 48.98 | 49.10 | 3:15.62 |
| 15 | Peter / Baumann / Friedli / Kuonen | SUI | 7 | 48.56 | 48.91 | 49.03 | 49.17 | 3:15.67 |
| 16 | Treichl / Glueck/ Walch / Esterhammer | AUT | 4 | 48.75 | 48.80 | 49.13 | 49.01 | 3:15.69 |
| 17 | Cunningham / Del Duca / Adams / Kinney | USA | 22 | 48.82 | 48.81 | 49.08 | 49.02 | 3:15.73 |
| 18 | Vrba / Egydy / Suchy / Nosek | CZE | 23 | 48.77 | 48.70 | 49.24 | 49.10 | 3:15.81 |
| 19 | Rinaldi / Vain / Demarthon / Borges Mendonaca | MON | 26 | 48.92 | 48.97 | 49.06 | 48.98 | 3:15.93 |
| 20 | Buchmüller / Krenz / Scherer / Laurenz | GER | 21 | 48.91 | 48.98 | 49.36 | 49.26 | 3:16.51 |
| 21 | Deen / Simons / Baines / Matthews | GBR | 19 | 49.00 | 49.04 | 49.32 | | 2:27.36 |
| 22 | Bracher / Knuser / van der Zijde / Dörig | SUI | 24 | 49.07 | 49.04 | 49.32 | | 2:27.43 |
| 23 | Poloniato / Sunderland / Plug / MacDougall | CAN | 3 | 48.93 | 49.28 | 49.23 | | 2:27.44 |
| 24 | Bertazzo / Fontana / Ughi / Variola | ITA | 30 | 49.17 | 49.09 | 49.32 | | 2:27.58 |
| 25 | Dvorak / Sindelar / Stoklaska / Havlin | CZE | 27 | 49.13 | 49.29 | 49.34 | | 2:27.76 |
| 26 | de Bruin / den Ouden / Piek / Franjic | NED | 2 | 49.16 | 49.27 | 49.54 | | 2:27.97 |
| 27 | Baumgartner / Caruso / Costa / Bilotti | ITA | 29 | 49.28 | 49.23 | 49.49 | | 2:28.00 |
| 28 | Luty / Zakrzewski / Miedzik / Kossakowski | POL | 32 | 49.53 | 49.54 | 49.75 | | 2:28.82 |
| 29 | Silic / Nikpalj / Krajisnik / Zlatnar | CRO | 33 | 49.48 | 49.53 | 49.82 | | 2:28.83 |
| 30 | Grigore / Peptea / Craciun / Radu | ROU | 1 | 49.43 | 49.61 | 50.01 | | 2:29.05 |
| 31 | Heibl / Haugen / Bjugn / Heibl | NOR | 5 | 49.43 | 49.74 | 49.90 | | 2:29.07 |
| 32 | Constantin / Vild / Grecu / Halai | ROU | 34 | 50.48 | 50.50 | 50.46 | | 2:31.44 |
| DNS | Radenovic / Novakovic / Stojic / Pankov | SRB | 31 | 49.78 | DNS | | | |
| DSQ | Hall / Fearon / Tasker / Cackett | GBR | 28 | 48.70 | DSQ | | | |