From St. Moritz, SUI
(Jan. 12, 2018) To say Janine Flock has had an up and down season is an understatement.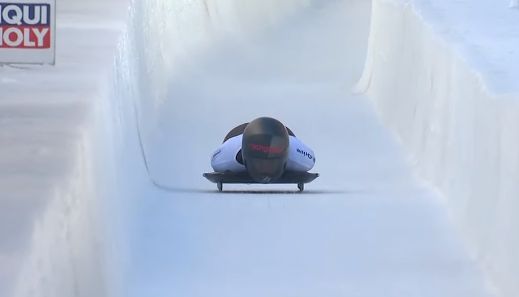 The Austrian kicked the season off in Lake Placid with a gold medal, but since then she's struggled to find good results almost anywhere. Save for a top five on her home track in Igls, Flock has hardly been in the race for at top ten, let alone a medal. But that all changed on a track where she'd won at in two of the previous three races.
Flock came into her second run needing a clean and quick run to hold onto what had been a .02 lead coming into the heat. While she didn't have the quickest run in the second heat, it was more than enough to hold off other medal contenders for her second gold medal of the season and third in four events at the historic St. Moritz track.
Tina Hermann of Germany finished behind Flock in second place, leapfrogging Canada's Elisabeth Vathje for silver by just .03. Vathje finished with a bronze medal.
Mimi Rahneva, the 2017 winner by over a full second, made a mistake in her first run through the Horseshoe curve that scrubbed off a lot of speed. On her second run shewas just about flawless. The Canadian set a time in the second heat that would have been well ahead of anyone in the first, moving her up from 13th place after her first run to a fourth place finish.
Germans Anna Fernstädt and Jacqueline Lölling rounded out the top six.
Katie Uhlaender led the way for the United States with a 10th place showing. Kendall Wesenberg finished 16th and Savannah Graybill 19th to round out the American showing.
Lizzy Yarnold found some of her form back after a frustrating few races to finish ninth. British teammates Laura Deas and Madelaine Smith finished 12th and 13th respectively.
Aussie slider Jackie Narracott finished a season-best eighth, while Jane Channell rounded out the Canadian effort in 14th.
Results:
| | | | | | | | | |
| --- | --- | --- | --- | --- | --- | --- | --- | --- |
| Pos | Name | Nation | Bib | Start 1 | Start 2 | Run 1 | Run 2 | Total |
| 1 | Janine Flock | AUT | 14 | 5.40 | 5.31 | 69.94 | 69.50 | 2:19.44 |
| 2 | Tina Hermann | GER | 9 | 5.40 | 5.37 | 70.21 | 69.65 | 2:19.86 |
| 3 | Elisabeth Vathje | CAN | 7 | 5.33 | 5.29 | 69.96 | 69.93 | 2:19.89 |
| 4 | Mirela Rahneva | CAN | 4 | 5.33 | 5.28 | 70.57 | 69.35 | 2:19.92 |
| 5 | Anna Fernstädt | GER | 11 | 5.57 | 5.54 | 70.30 | 69.65 | 2:19.95 |
| 6 | Jacqueline Lölling | GER | 12 | 5.53 | 5.53 | 70.36 | 69.75 | 2:20.11 |
| 7 | Elena Nikitina | RUS | 10 | 5.14 | 5.07 | 70.32 | 69.83 | 2:20.15 |
| 8 | Jaclyn Narracott | AUS | 20 | 5.47 | 5.43 | 70.41 | 69.97 | 2:20.38 |
| 9 | Lizzy Yarnold | GBR | 16 | 5.33 | 5.32 | 70.35 | 70.11 | 2:20.46 |
| 10 | Katie Uhlaender | USA | 5 | 5.43 | 5.42 | 70.43 | 70.07 | 2:20.50 |
| 11 | Joska le Conte | NED | 21 | 5.47 | 5.43 | 70.53 | 70.00 | 2:20.53 |
| 12 | Laura Deas | GBR | 13 | 5.30 | 5.29 | 70.39 | 70.10 | 2:20.57 |
| 13 | Madelaine Smith | GBR | 24 | 5.36 | 5.38 | 70.50 | 70.15 | 2:20.65 |
| 14 | Jane Channell | CAN | 8 | 5.24 | 5.22 | 70.66 | 70.25 | 2:20.91 |
| 15 | Marina Gilardoni | SUI | 17 | 5.27 | 5.28 | 70.63 | 70.30 | 2:20.93 |
| 16 | Kendall Wesenberg | USA | 18 | 5.44 | 5.39 | 70.69 | 70.25 | 2:20.94 |
| 17 | Kim Meylemans | BEL | 6 | 5.39 | 5.37 | 70.91 | 70.32 | 2:21.23 |
| 18 | Yulia Kanakina | RUS | 19 | 5.18 | 5.17 | 71.03 | 70.38 | 2:21.41 |
| 19 | Savannah Graybill | USA | 23 | 5.52 | 5.54 | 71.04 | 70.72 | 2:21.76 |
| 20 | Kimberley Bos | NED | 15 | 5.36 | 5.39 | 70.87 | 71.03 | 2:21.90 |
| 21 | Renata Khuzina | RUS | 22 | 5.35 | | 71.12 | | |
| 22 | Nozomi Komuro | JPN | 26 | 5.46 | | 71.13 | | |
| 23 | Maya Pedersen | NOR | 27 | 5.55 | | 71.27 | | |
| 24 | Takako Oguchi | JPN | 25 | 5.39 | | 71.50 | | |
| 25 | Rayoung Mun | KOR | 3 | 5.63 | | 71.53 | | |
| 26 | Maria Montejano | ESP | 28 | 5.61 | | 71.94 | | |
| 27 | Maria Marinela Mazilu | ROU | 2 | 5.43 | | 72.20 | | |
| 28 | Katie Tannenbaum | ISV | 1 | 5.65 | | 72.76 | | |