From St. Moritz, SUI
(Jan. 13, 2018) There's no better time to find your gold medal form than in the run-up to the Olympics, and Elana Meyers Taylor hit her stride in the home of sliding sports.
Meyers Taylor was the fastest in both heats on her way to a .21 of a second win over German Mariama Jamanka, with the American setting both the year's fastest start and fastest run on the historic St. Moritz course. The win for Meyers Taylor was the third in three seasons in St. Moritz.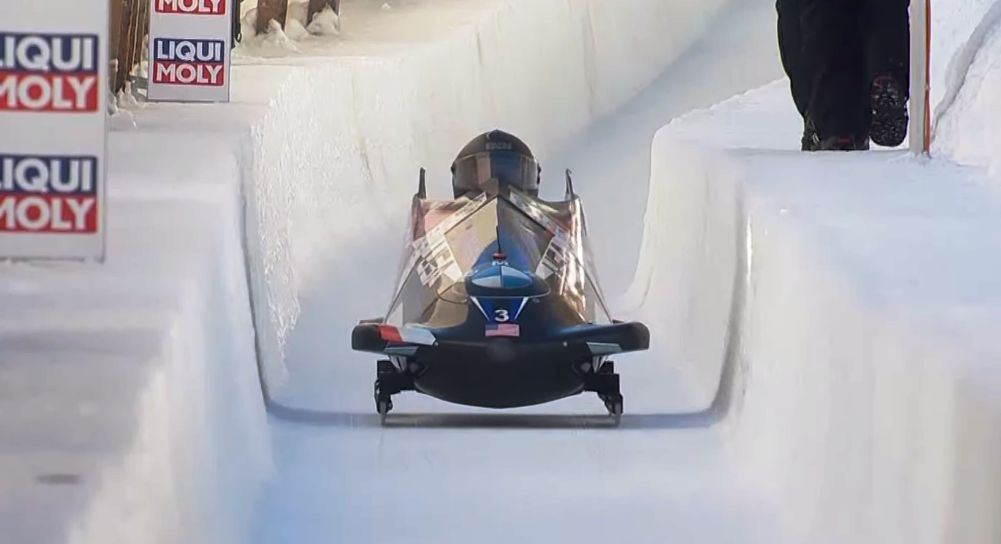 Jamanka held both the start and track records for one run, getting down St. Moritz faster than everyone other than Meyers Taylor in both heats to take silver. Her teammate, Stephanie Schneider, finished with a bronze medal.
Alysia Rissling of Canada finished fourth as the top finishing Canadian sled, while Swiss pilots Martina Fontanive and Sabina Hafner finished fifth and sixth, respectively.
The fifth place finish for Fontanive was a career best, while the sixth place finish was the best finish for Hafner since 2011.
The "race within a race" was the battle between the United States and Canada to see who would get to send three sleds to the Olympic Games. With only two nations allowed to send three sleds, and Germany already with one of those spots taken, it was up to either Brittany Reinbolt (USA) or Christine de Bruin (CAN) to get their sled into the Games. The two women came into the day separated by just a few points, with whoever finished ahead getting the spot for their country.
Going into the second run, Reinbolt held the advantage. de Bruin struggled a bit on her run, leaving the door open for Reinbolt. Reinbolt couldn't take advantage, though, and a bumpy second run dropped Reinbolt behind de Bruin and likely dropping her out of the Olympics.
Christine de Bruin finished her day in 14th place, one spot ahead of Brittany Reinbolt in 15th.
Two-time defending Olympic champion Kaillie Humphries finished ninth in a new Canadian-built sled, while American Jamie Greubel Poser moved up from 17th in the first run to 11th in the second.
Mica McNeill of Great Britain finished seventh.
Results:
| | | | | | | | | |
| --- | --- | --- | --- | --- | --- | --- | --- | --- |
| Pos | Names | Nation | Bib | Start 1 | Start 2 | Run 1 | Run 2 | Total |
| 1 | Meyers Taylor / L. Jones | USA | 13 | 5.49 | 5.43 | 67.87 | 67.40 | 2:15.27 |
| 2 | Jamanka / Drazek | GER | 10 | 5.50 | 5.46 | 67.98 | 67.50 | 2:15.48 |
| 3 | Schneider / Buckwitz | GER | 7 | 5.54 | 5.49 | 68.20 | 67.56 | 2:15.76 |
| 4 | Rissling / Moyse | CAN | 11 | 5.61 | 5.59 | 68.18 | 67.89 | 2:16.07 |
| 5 | Fontanive / Strebel | SUI | 23 | 5.62 | 5.60 | 68.23 | 67.97 | 2:16.20 |
| 6 | Hafner / E. Rebsamen | SUI | 19 | 5.66 | 5.66 | 68.25 | 68.09 | 2:16.34 |
| 7 | McNeill / Moore | GBR | 18 | 5.73 | 5.67 | 68.50 | 68.15 | 2:16.65 |
| 8 | Willemsen / Vanhaen | BEL | 17 | 5.79 | 5.76 | 68.62 | 68.30 | 2:16.92 |
| 9 | Humphries / George | CAN | 5 | 5.55 | 5.50 | 68.64 | 68.29 | 2:16.93 |
| 10 | Sergeeva / Kocherzhova | RUS | 15 | 5.57 | 5.54 | 68.64 | 68.34 | 2:16.98 |
| 11 | Greubel Poser / Gibbs | USA | 8 | 5.59 | 5.58 | 68.84 | 68.29 | 2:17.13 |
| 12 | Constantin / Iusco | ROU | 22 | 5.76 | 5.78 | 68.63 | 68.51 | 2:17.14 |
| 13 | Fenlator-Victorian / Russell | JAM | 20 | 5.68 | 5.63 | 68.76 | 68.42 | 2:17.18 |
| 14 | de Bruin / Lotholz | CAN | 9 | 5.64 | 5.65 | 68.79 | 68.42 | 2:17.21 |
| 15 | Reinbolt / Evans | USA | 6 | 5.53 | 5.63 | 68.66 | 68.71 | 2:17.37 |
| 16 | Hengster / Kleiser | AUT | 4 | 5.76 | 5.73 | 68.83 | 68.60 | 2:17.43 |
| 17 | Köhler / Nolte | GER | 12 | 5.64 | 5.66 | 69.08 | 68.37 | 2:17.45 |
| 18 | Beierl / Hahn | AUT | 16 | 5.73 | 5.69 | 68.73 | 68.94 | 2:17.67 |
| 19 | Vannieuwenhuyse / Vercruyssen | BEL | 21 | 5.74 | 5.72 | 68.95 | 68.75 | 2:17.70 |
| 20 | Rodionova / Shokshueva | RUS | 14 | 5.70 | 5.71 | 69.02 | 68.86 | 2:17.88 |
| 21 | Oshigiri / Morimoto | JPN | 3 | 5.69 | | 69.13 | | |
| 22 | Grecu / Puiu | ROU | 1 | 5.73 | | 69.25 | | |
| 23 | Asazu / Kimishima | JPN | 2 | 5.83 | | 69.66 | | |