From Winterberg, GER
(Dec. 15, 2018) – After the pair of 2-man races in Sigulda, German pilot Nico Walther expressed some excitement about getting into the 4-man sled on World Cup.
It became clear why in Winterberg.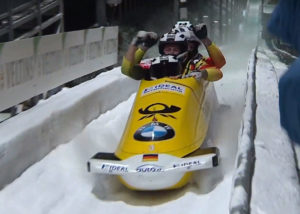 Walther held a slight lead over teammate Francesco Friedrich coming into the second heat. On that second run, their teammate Johannes Lochner made a big move, setting the quick run of the heat to move into podium. Friedrich answered, putting the pressure on Walther.
Walther's final run wasn't perfect, but it was fast enough to edge out Friedrich by only .07 to win the first 4-man gold of the IBSF World Cup season. Friedrich finished second and Lochner third.
The third place for Lochner was his first 4-man non-gold since his first international competition in the junior World Championships in 2014.
Oskars Kibermanis fell back from third to fourth in his second run, while Maxim Andrianov and Benjamin Maier rounded out the top six.
Justin Olsen led the way for the United States in 15th place after a couple of hard hits late in his second run. Olsen's teammate Elana Meyers Taylor finished in 18th in a 4-women sled just a few hours after winning bronze in the women's bobsled race. Codie Bascue was sent back to the United States early with a calf injury suffered on his last run in Sigulda.
Brad Hall finished tied for 15th with Olsen in the lone British sled in the field.
Post-race, Switzerland's Michael Vogt was disqualified due to a materials violation.
Results:
| | | | | | | | | |
| --- | --- | --- | --- | --- | --- | --- | --- | --- |
| Pos | Names | Nation | Bib | Start 1 | Start 2 | Run 1 | Run 2 | Total |
| 1 | Walther / Krenz / Rödiger / Franke | GER | 9 | 5.11 | 5.09 | 54.24 | 54.37 | 1:48.61 |
| 2 | Friedrich / Bäcker / Grothkopp / Schüller | GER | 8 | 5.09 | 5.08 | 54.26 | 54.42 | 1:48.68 |
| 3 | Lochner / Bauer / Weber / Rasp | GER | 12 | 5.03 | 5.04 | 54.48 | 54.35 | 1:48.83 |
| 4 | Kibermanis / Miknis / Vilkaste / Strenga | LAT | 10 | 5.07 | 5.07 | 54.40 | 54.60 | 1:49.00 |
| 5 | Andrianov / Zaytsev / Kondratenko / Samitov | RUS | 11 | 5.12 | 5.10 | 54.52 | 54.51 | 1:49.03 |
| 6 | Maier / Walch / Sammer / Moldovan | AUT | 5 | 5.11 | 5.14 | 54.52 | 54.71 | 1:49.23 |
| 7 | Dvorak / Suchy / Sindelar / Nosek | CZE | 4 | 5.09 | 5.10 | 54.69 | 54.72 | 1:49.41 |
| 8 | Bredikhin / Lylov / Malykh / Koshelev | RUS | 16 | 5.16 | 5.18 | 54.68 | 54.81 | 1:49.49 |
| 8 | Rinaldi / Vain / Demarthon / Borges Mendonaca | MON | 1 | 5.15 | 5.20 | 54.57 | 54.92 | 1:49.49 |
| 10 | Treichl / Glück / Mitterer / Huber | AUT | 13 | 5.16 | 5.17 | 54.79 | 54.93 | 1:49.72 |
| 11 | Berzins / Priekulis / Springis / Dambis | LAT | 3 | 5.17 | 5.19 | 54.80 | 54.93 | 1:49.73 |
| 12 | Won/ Kim / Lee / Oh | KOR | 17 | 5.18 | 5.19 | 54.86 | 54.92 | 1:49.78 |
| 13 | Heinrich / Lefebvre / Hauterville / Alais | FRA | 2 | 5.18 | 5.22 | 54.94 | 54.92 | 1:49.86 |
| 14 | de Bruin / Dumas / Veenker / Franjic | NED | 14 | 5.23 | 5.25 | 54.97 | 54.97 | 1:49.94 |
| 15 | Hall / Gleeson / Toward / Simons | GBR | 6 | 5.15 | 5.23 | 54.93 | 55.12 | 1:50.05 |
| 15 | Olsen / McConnell / Adams / Abdul-Saboor | USA | 7 | 5.13 | 5.15 | 54.83 | 55.52 | 1:50.35 |
| 17 | Meyerhans / Beierl / Nikpalj / Keller | SUI | 15 | 5.26 | 5.32 | 55.77 | 55.06 | 1:50.83 |
| 18 | Meyers Taylor / Tiffeny / Brundgardt / Davis | USA | 19 | 5.65 | 5.70 | 56.14 | 56.37 | 1:52.51 |
| DSQ | Vogt / Knuser / Gyger / Michel | SUI | 18 | 5.18 | 5.22 | 54.88 | 54.89 | DSQ |