From Altenberg, GER
(Jan. 6, 2019 – A day after dominating the 2-man race in Altenberg, Olympic champion Francesco Friedrich did the same in 4-man.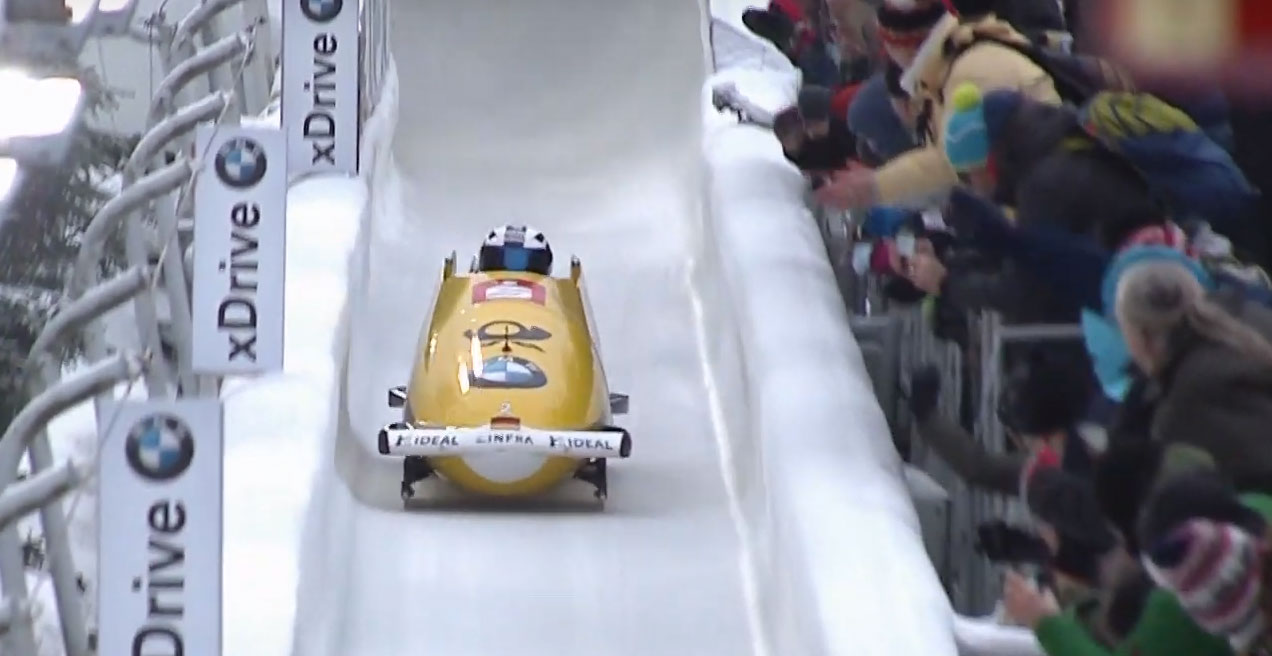 The German pilot came into the second heat a quarter of a second ahead of Latvian Oskars Kibermanis. Kibermanis put down two very clean runs, but Friedrich could not be caught. Friedrich's combined 1:48.47 was enough to win by .31 over the Latvian.
Nico Walther finished third, .2 out of silver.
Johannes Lochner finished just outside of the medals in fourth, Maxim Andrianov of Russia finished fifth, while Czech pilot Dominik Dvorak finished a career-best sixth.
Justin Kripps's race was a tale of two very different runs. His first run was a very forgetful 19th place effort. The Canadian's second trip down was the fifth quickest run and good enough to move him up to 12th. Nick Poloniato finished 17th in the second Canadian sled.
It was a tough day for the United States in Altenberg. Much like in the 2-man race, an injured Codie Bascue started both 4-man runs in the plot's seat wit his team pushing. Despite that, Bascue came into the second run in 15th with potential to move up a spot. Things were going well until the exit of Kreisel, where he exited late and his sled went over. The sled had enough speed to slide on its side across the finish line but the American sled fell to 20th.
Justin Olsen finished one spot ahead of his teammate in 19th place in his first visit to Altenberg, while Brad Hall finished 13th in the lone British sled.
Results:
| | | | | | | | | |
| --- | --- | --- | --- | --- | --- | --- | --- | --- |
| Pos | Names | Nation | Bib | Start 1 | Start 2 | Run 1 | Run 2 | Total |
| 1 | Friedrich / Bauer / Grothkopp / Margis | GER | 13 | 5.13 | 5.16 | 54.15 | 54.32 | 1:48.47 |
| 2 | Kibermanis / Miknis / Vilkaste / Strenga | LAT | 4 | 5.16 | 5.12 | 54.40 | 54.38 | 1:48.78 |
| 3 | Walther / Krenz / Rödiger / Franke | GER | 11 | 5.17 | 5.15 | 54.55 | 54.43 | 1:48.98 |
| 4 | Lochner / Rademacher / Bauer / Rasp | GER | 5 | 5.15 | 5.17 | 54.65 | 54.69 | 1:49.34 |
| 5 | Andrianov / Zaytsev / Kondratenko / Samitov | RUS | 8 | 5.25 | 5.24 | 54.84 | 54.57 | 1:49.41 |
| 6 | Dvorak / Suchy / Sindelar / Nosek | CZE | 9 | 5.24 | 5.19 | 54.71 | 54.72 | 1:49.43 |
| 7 | Won / Kim / Lee / Oh | KOR | 6 | 5.31 | 5.27 | 54.95 | 54.85 | 1:49.80 |
| 8 | Treichl / Glück / Mitterer / Huber | AUT | 7 | 5.27 | 5.27 | 54.97 | 54.87 | 1:49.84 |
| 9 | Bredikhin / Lylov / Malykh / Koshelev | RUS | 12 | 5.25 | 5.24 | 55.04 | 54.85 | 1:49.89 |
| 10 | Maier / Walch / Sammer / Platzgummer | AUT | 10 | 5.49 | 5.49 | 54.89 | 55.12 | 1:50.01 |
| 11 | Berzins / Priekulis / Springis / Dambis | LAT | 14 | 5.30 | 5.26 | 55.14 | 54.98 | 1:50.12 |
| 12 | Kripps / Sommer / Stones / Coakwell | CAN | 16 | 5.20 | 5.26 | 55.54 | 54.64 | 1:50.18 |
| 13 | Hall / Toward / Gleeson / Simons | GBR | 17 | 5.24 | 5.26 | 55.24 | 55.11 | 1:50.35 |
| 14 | de Bruin / Dumas / Veenker / Franjic | NED | 15 | 5.38 | 5.38 | 55.47 | 55.07 | 1:50.54 |
| 15 | Heinrich / Lefebvre / Hauterville / Boutherin | FRA | 2 | 5.36 | 5.32 | 55.35 | 55.45 | 1:50.80 |
| 16 | Linyuchev / Korotkov / Zharovtsev / Syoev | RUS | 19 | 5.31 | 5.35 | 55.34 | 55.47 | 1:50.81 |
| 17 | Poloniato / Auclair / Janke / Joyce | CAN | 18 | 5.32 | 5.31 | 55.48 | 50.43 | 1:50.91 |
| 18 | Luty / Zakrzewski / Zdebiak / Sarnecki | POL | 20 | 5.35 | 5.39 | 55.53 | 55.43 | 1:50.96 |
| 19 | Olsen / Allison / Adams / Wilcox | USA | 1 | 5.34 | 5.30 | 55.76 | 56.05 | 1:51.81 |
| 20 | Bascue / Williamson / Reed / Abdul-Saboor | USA | 3 | 5.46 | 5.43 | 55.42 | 63.07 | 1:58.49 |