From Königssee, GER
(Jan. 13, 2019) – Johannes Lochner stayed perfect in European Championship 4-man competitions, beating a strong field in Königssee.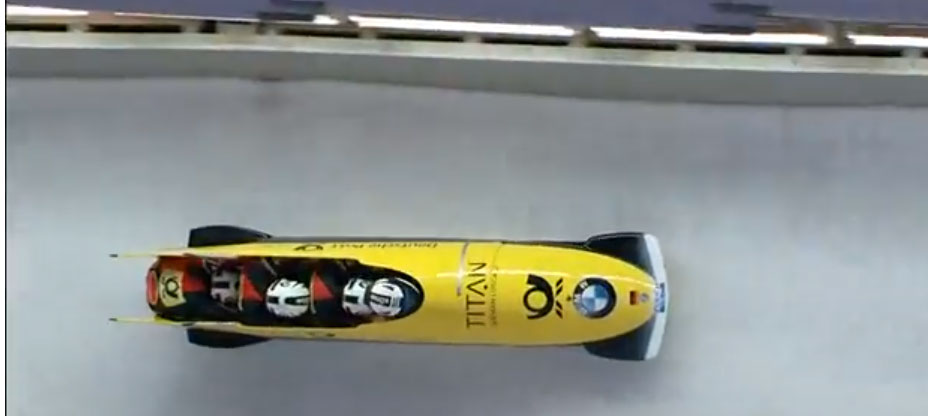 Lochner overcame a start deficiency to Oskars Kibermanis with a flawless run through the Kreisel to pull away and win his eighth career World Cup gold medal, and third consecutive European Championship.
Kibermanis finished second for his seventh straight top five finish, edging out bronze medalist Francesco Friedrich by .04.
Maxim Andrianov finished just out of the medals in fourth place, with Justin Kripps moving up from seventh to fifth, just .01 ahead of Olympic silver medalist Yunjong Won in sixth.
In the European Championships, Nico Walther finished fifth and Ivo de Bruin a career-best sixth (and tied a career best eighth in the World Cup race).
Codie Bascue led the way for the United States. Bascue, driving a sled without a driver's push bar, was able to move up from 18th to 15th in the second run. Teammate Justin Olsen finished 18th.
Nick Poloniato finished one spot ahead of Olsen in 17th in the second Canadian sled, while Brad Hall finished 19th in the lone Britis sled.
Results:
| | | | | | | | | |
| --- | --- | --- | --- | --- | --- | --- | --- | --- |
| Pos | Names | Nation | Bib | Start 1 | Start 2 | Run 1 | Run 2 | Total |
| 1 | Lochner / F. Bauer / Rademacher / Rasp | GER | 10 | 4.86 | 4.82 | 48.97 | 48.77 | 1:37.74 |
| 2 | Kibermanis / Miknis / Vilkaste / Strenga | LAT | 5 | 4.81 | 4.77 | 49.01 | 48.91 | 1:37.92 |
| 3 | Friedrich / C. Bauer / Grothkopp / Schüller | GER | 11 | 4.82 | 4.83 | 49.03 | 48.93 | 1:37.96 |
| 4 | Andrianov / Zaytsev / Kondratenko / Samitov | RUS | 4 | 4.89 | 4.91 | 49.10 | 49.13 | 1:38.23 |
| 5 | Kripps / Sommer / Stones / Coakwell | CAN | 15 | 4.87 | 4.88 | 49.28 | 49.33 | 1:38.61 |
| 6 | Won / Kim / Lee / Oh | KOR | 9 | 4.96 | 4.94 | 49.26 | 49.36 | 1:38.62 |
| 7 | Walther / Hubenbecker / Rödiger / Franke | GER | 13 | 4.98 | 5.00 | 49.26 | 49.38 | 1:38.64 |
| 8 | de Bruin / Dumas / Veenker / Franjic | NED | 16 | 4.96 | 4.93 | 49.37 | 49.39 | 1:38.76 |
| 9 | Rinaldi / Vain / Demarthon / Borges Mendonaca | MON | 14 | 4.94 | 4.94 | 49.42 | 49.36 | 1:38.78 |
| 10 | Treichl / Glück / Mitterer / Huber | AUT | 6 | 4.91 | 4.91 | 49.34 | 49.45 | 1:38.79 |
| 11 | Bredikhin / Lylov / Malykh / Koshelev | RUS | 7 | 4.92 | 4.92 | 49.47 | 49.41 | 1:38.88 |
| 12 | Dvorak / Suchy / Sindelar / Nosek | CZE | 8 | 4.88 | 4.89 | 49.61 | 49.42 | 1:39.03 |
| 13 | Popov / Moiseev / Gnezdilov / Korotkov | RUS | 20 | 4.99 | 4.98 | 49.73 | 49.36 | 1:39.09 |
| 14 | Heinrich / Lefebvre / Hauterville / Boutherin | FRA | 17 | 4.96 | 4.96 | 49.48 | 49.63 | 1:39.11 |
| 15 | Bascue / Kinney / Reed / Abdul-Saboor | USA | 21 | 5.00 | 4.94 | 49.75 | 49.48 | 1:39.23 |
| 16 | Luty / Zakrzewski / Zdebiak / Sarnecki | POL | 22 | 5.03 | 4.99 | 49.79 | 49.52 | 1:39.31 |
| 17 | Poloniato / Auclair / Janke / Joyce | CAN | 19 | 4.98 | 4.95 | 49.64 | 49.68 | 1:39.32 |
| 18 | Olsen / McConnell / Adams / Wilcox | USA | 2 | 4.94 | 4.98 | 49.66 | 49.75 | 1:39.41 |
| 19 | Hall / Toward / Gleeson / Simons | GBR | 3 | 4.90 | 4.94 | 49.70 | 49.72 | 1:39.42 |
| 20 | Maier / Walch / Platzgummer / Moldovan | AUT | 12 | 5.20 | 5.18 | 49.75 | 49.83 | 1:39.58 |
| 21 | Vogt / Webert / Knuser / Michel | SUI | 18 | 5.04 | | 49.98 | | |
| 22 | Meyerhans / Camelin / Leimgruber / Beierl | SUI | 23 | 5.11 | | 50.05 | | |
| 23 | Silic / Mezulic / Krajisnik / Zlatnar | CRO | 1 | 5.18 | | 50.53 | | |