From Igls, AUT
(Jan. 20, 2019) – Francesco Friedrich has dominated the IBSF World Cup this season, and he once again cruised to victory, this time in Igls.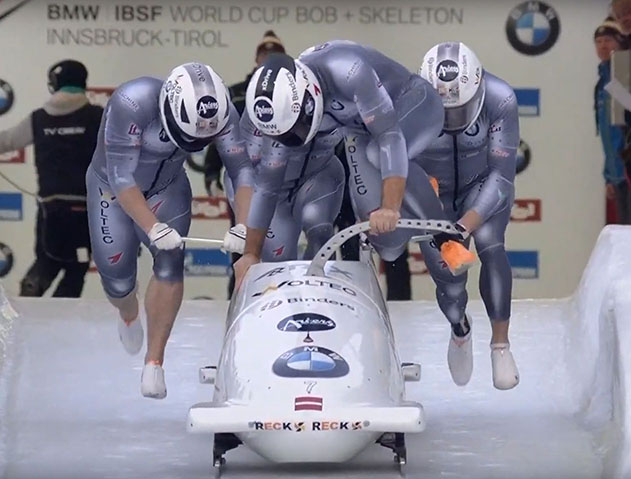 Friedrich was far and away better than anyone else in either heat. In the first heat he broke the old track record by .19, and on the second heat he was .33 slower but plenty quick enough to win by .19 over Oskars Kibermanis.
The gold medal for Friedrich was his third in the 4-man season, and eighth between 2-man and 4-man.
Kibermanis continued a great 2018/2019 campaign, as the Latvian finished with his third consecutive silver medal, well ahead of Johannes Lochner in third.
Russian Maxim Andrianov finished with his second straight fourth place finish, ahead of Dominik Dvorak in fifth, while Justin Kripps finished sixth.
The fifth place finish for Dvorak was a career best, continuing a breakout season for the Czech pilot.
American Codie Bascue finished 13th, two spot off his personal best finish in Igls of 11th. Teammate Justin Olsen missed the second heat by .03, finishing 21st.
British pilot Brad Hall finished just behind Bascue in 14th, while Nick Poloniato finished 17th in the second Canadian sled.
Results:
| | | | | | | | | |
| --- | --- | --- | --- | --- | --- | --- | --- | --- |
| Pos | Names | Nation | Bib | Start 1 | Start 2 | Run 1 | Run 2 | Total |
| 1 | Friedrich / Grothkopp / Schüller / Margis | GER | 4 | 5.00 | 4.98 | 50.42 | 50.75 | 1:41.17 |
| 2 | Kibermanis / Miknis / Vilkaste / Strenga | LAT | 11 | 4.98 | 4.98 | 50.55 | 50.81 | 1:41.36 |
| 3 | Lochner / Bauer / Rademacher / Rasp | GER | 8 | 5.01 | 5.03 | 50.81 | 50.80 | 1:41.61 |
| 4 | Andrianov / Zaytsev / Kondratenko / Samitov | RUS | 10 | 5.06 | 5.06 | 50.85 | 50.90 | 1:41.75 |
| 5 | Dvorak / Suchy / Sindelar / Nosek | CZE | 13 | 5.06 | 5.04 | 50.89 | 50.96 | 1:41.85 |
| 6 | Kripps / Sommer / Stones / Coakwell | CAN | 5 | 5.07 | 5.05 | 50.84 | 51.06 | 1:41.90 |
| 7 | Walther / Krenz / Jagusch / Franke | GER | 7 | 5.20 | 5.18 | 50.95 | 51.17 | 1:42.12 |
| 8 | Treichl / Glück / Mitterer / Huber | AUT | 9 | 5.11 | 5.09 | 51.01 | 51.14 | 1:42.15 |
| 8 | Berzins / Priekulis / Springis / Dambis | LAT | 3 | 5.08 | 5.05 | 50.96 | 51.19 | 1:42.15 |
| 10 | Bredikhin / Lylov / Malykh / Koshelev | RUS | 12 | 5.11 | 5.11 | 51.10 | 51.09 | 1:42.19 |
| 11 | Rinaldi / Vain / Demarthon / Borges Mendonaca | MON | 14 | 5.15 | 5.16 | 51.04 | 51.21 | 1:42.25 |
| 12 | Won / Kim / Kim / Oh | KOR | 6 | 5.13 | 5.12 | 51.14 | 51.17 | 1:42.31 |
| 13 | Bascue / Williamson / Reed / Abdul-Saboor | USA | 22 | 5.08 | 5.09 | 51.20 | 51.16 | 1:42.36 |
| 14 | Hall / Toward / Gleeson / Simons | GBR | 16 | 5.11 | 5.13 | 51.29 | 51.18 | 1:42.47 |
| 15 | de Bruin / Dumas / Veenker / Frankjic | NED | 15 | 5.22 | 5.22 | 51.31 | 51.24 | 1:42.55 |
| 15 | Popov / Korotkov / Zharovtsev / Kozlov | RUS | 20 | 5.13 | 5.14 | 51.36 | 51.19 | 1:42.55 |
| 17 | Poloniato / Auclair / Janke / Joyce | CAN | 18 | 5.22 | 5.21 | 51.36 | 51.20 | 1:42.56 |
| 18 | Vogt / Gyger / Knuser / Michel | SUI | 2 | 5.16 | 5.18 | 51.13 | 51.47 | 1:42.60 |
| 19 | Heinrich / Lefebvre / Bytebier / Laporal | FRA | 17 | 5.15 | 5.13 | 51.26 | 51.43 | 1:42.69 |
| 20 | Meyerhans / Camelin / Keller / Beierl | SUI | 1 | 5.32 | 5.31 | 51.43 | 51.63 | 1:43.06 |
| 21 | Olsen / McConnell / Kinney / Wilcox | USA | 19 | 5.13 | | 51.46 | | |
| 22 | Suk / Lee / Kim / Bae | KOR | 21 | 5.20 | | 51.49 | | |
| 23 | Stano / Zakrzewski / Zdebiak / Sarnecki | POL | 23 | 5.24 | | 51.74 | | |