From St. Moritz, SUI
(Jan. 26, 2019) – There have been six races in the IBSF World Cup for 2-man bobsled. Francesco Friedrich has won them all.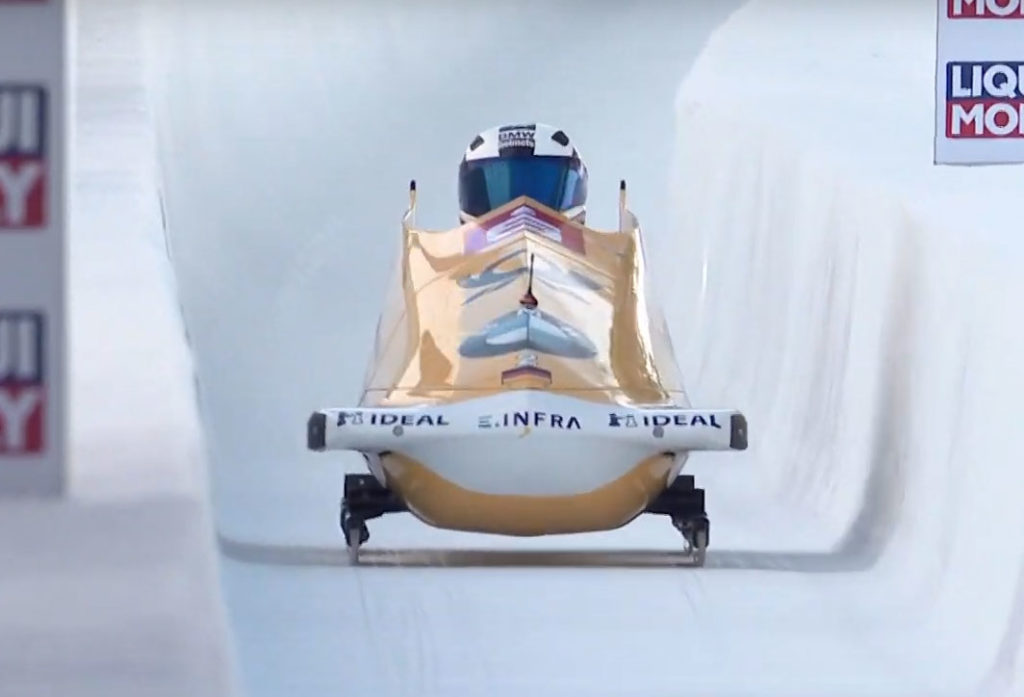 The German pilot had the fastest push with Alexander Schüller and the fastest drive in each heat on his way to a .4 second victory over teammate Johannes Lochner.
Lochner came into the second heat just behind Oskars Kibermanis, but had a marginally cleaner second run that helped him edge out Kibermanis. Kibermanis held on for a bronze medal.
Michael Vogt finished just outside of the medals in fourth after coming into the second heat just .08 behind Lochner. Former Crystal Globe winner Yunjong Won finished fifth, while Great Britain's Brad Hall finished with a career best 2-man sixth place finish, only .01 behind Won.
On top of battling a field of bobsled pilots, Codie Bascue was battling sickness in St. Moritz. Despite that, he finished 13th with a pair of competitive starts. Teammate Justin Olsen tied a season best 2-man finish with a 16th place run.
The breakout season that both Romain Heinrich and Dominik Dvorak have been having continued in St. Moritz. Both pilots finished in the top ten, with Heinrich ninth and Dvorak tenth. Ivo de Bruin finished 11th, giving all three pilots their best ever finishes in Switzerland.
Monaco's Rudy Rinaldi finished a 2-man career best eighth.
Results:
| | | | | | | | | |
| --- | --- | --- | --- | --- | --- | --- | --- | --- |
| Pos | Names | Nation | Bib | Start 1 | Start 2 | Run 1 | Run 2 | Total |
| 1 | Friedrich / Schüller | GER | 12 | 5.01 | 4.97 | 66.24 | 66.05 | 2:12.29 |
| 2 | Lochner / Rasp | GER | 7 | 5.07 | 5.02 | 66.55 | 66.14 | 2:12.69 |
| 3 | Kibermanis / Miknis | LAT | 9 | 5.07 | 5.02 | 66.46 | 66.34 | 2:12.80 |
| 4 | Vogt / Michel | SUI | 17 | 5.12 | 5.09 | 66.63 | 66.45 | 2:13.08 |
| 5 | Won / Kim | KOR | 5 | 5.16 | 5.13 | 66.72 | 66.53 | 2:13.25 |
| 6 | Hall / Gleeson | GBR | 14 | 5.11 | 5.04 | 66.84 | 66.42 | 2:13.26 |
| 7 | Luty / Tylkowski | POL | 4 | 5.15 | 5.09 | 66.70 | 66.60 | 2:13.30 |
| 8 | Rinaldi / Vain | MON | 16 | 5.11 | 5.09 | 66.80 | 66.64 | 2:13.44 |
| 9 | Heinrich / Hauterville | FRA | 6 | 5.14 | 5.13 | 66.91 | 66.59 | 2:13.50 |
| 10 | Dvorak / Suchy | CZE | 13 | 5.12 | 5.08 | 67.01 | 66.70 | 2:13.71 |
| 11 | de Bruin / Veenker | NED | 18 | 5.20 | 5.18 | 66.87 | 66.85 | 2:13.72 |
| 12 | Popov / Koshelev | RUS | 21 | 5.15 | 5.13 | 66.86 | 66.96 | 2:13.82 |
| 13 | Bascue / Abdul-Saboor | USA | 15 | 5.15 | 5.09 | 67.05 | 66.88 | 2:13.93 |
| 14 | Walther / Hübenbecker | GER | 10 | 5.33 | 5.28 | 67.15 | 66.95 | 2:14.10 |
| 15 | Treichl / Glück | AUT | 11 | 5.20 | 5.17 | 67.06 | 67.15 | 2:14.21 |
| 16 | Olsen / Williamson | USA | 19 | 5.18 | 5.16 | 67.15 | 67.31 | 2:14.46 |
| 17 | Andrianov / Malykh | RUS | 8 | 5.29 | 5.23 | 67.55 | 67.01 | 2:14.56 |
| 18 | Rohner / Fässler | SUI | 3 | 5.23 | 5.24 | 67.51 | 67.14 | 2:14.65 |
| 19 | Linyuchev / Gnezdilov | RUS | 20 | 5.28 | 5.28 | 67.37 | 67.46 | 2:14.83 |
| 20 | Suk / Kim | KOR | 1 | 5.24 | 5.20 | 67.98 | 67.85 | 2:15.83 |
| 21 | Baumgartner / Vergner | ITA | 2 | 5.32 | | 68.06 | | |
| 22 | Silic / Krajisnik | CRO | 22 | 5.42 | | 68.41 | | |
| 23 | Radenovic / Novakovic | SRB | 23 | 5.49 | | 69.01 | | |