From St. Moritz, SUI
(Jan. 27, 2019) – Francesco Friedrich has had a stranglehold on the 2018/2019 bobsled season, and once again took gold, this time in St. Moritz.
The German was the quickest in both heats on his way to his fourth gold medal of the 4-man season and his tenth gold medal across both 2-man and 4-man. He was helped in part by teammate Johannes Lochner struggling (relatively) on his second run.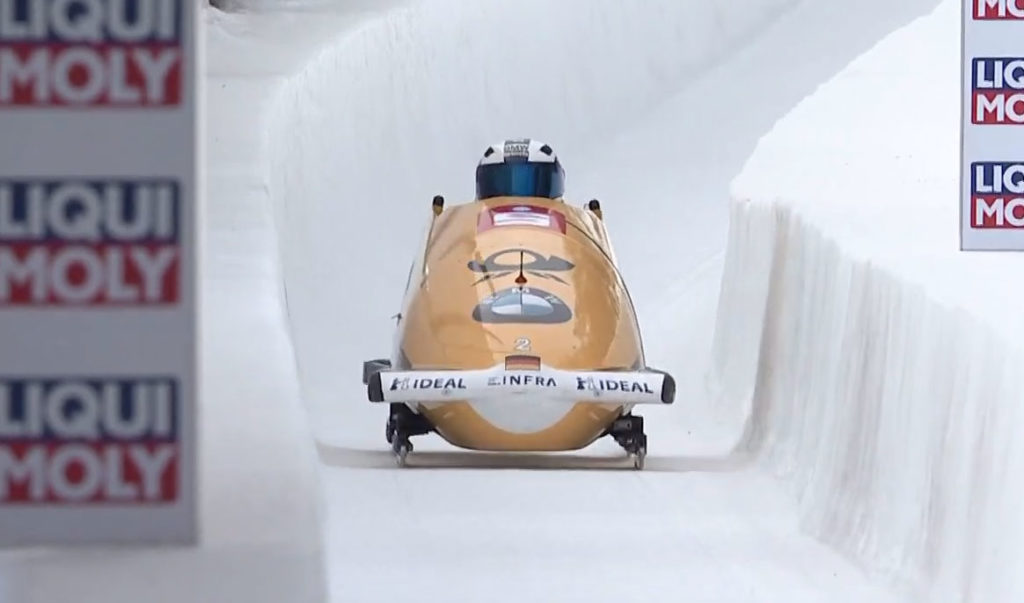 Lochner finished with a silver medal, just .02 ahead of Oskars Kibermanis. Kibermanis put the pressure on the leaders with a huge second run to propel him up into the medals from eighth place in the first heat.
Rudy Rinaldi finished fourth, tied with Maxim Andrianov. The fourth place finish was the best for a Monaco 4-man sled in the World Cup since 2010. Rinaldi and Andrianov finished .03 ahead of Nico Walther in 6th.
Codie Bascue led the way for the United States with a 4-man season best ninth place finish. Justin Olsen finished 19th in the second American sled.
Brad Hall finished 15th for Great Britain.
Results:
| | | | | | | | | |
| --- | --- | --- | --- | --- | --- | --- | --- | --- |
| Pos | Names | Nation | Bib | Start 1 | Start 2 | Run 1 | Run 2 | Total |
| 1 | Friedrich / Bauer / Grothkopp / Schüller | GER | 12 | 4.95 | 4.93 | 65.46 | 65.02 | 2:10.48 |
| 2 | Lochner / Bauer / Bermbach / Rasp | GER | 6 | 5.01 | 4.96 | 65.59 | 65.40 | 2:10.99 |
| 3 | Kibermanis / Miknis / Lusis / Strenga | LAT | 8 | 4.97 | 4.93 | 65.82 | 65.19 | 2:11.01 |
| 4 | Andrianov / Zaytsev / Kondratenko / Samitov | RUS | 10 | 5.06 | 5.00 | 65.76 | 65.45 | 2:11.21 |
| 5 | Rinaldi / Vain / Demarthon / Borges Mendonaca | MON | 13 | 5.09 | 5.07 | 65.70 | 65.51 | 2:11.21 |
| 6 | Walther / Krenz / Rödiger / Franke | GER | 9 | 5.04 | 5.02 | 65.77 | 65.47 | 2:11.24 |
| 7 | Popov / Lylov / Malykh / Koshelev | RUS | 16 | 5.08 | 5.04 | 65.80 | 65.61 | 2:11.41 |
| 8 | Won / Kim / Lee / Oh | KOR | 11 | 5.07 | 5.06 | 66.00 | 65.60 | 2:11.60 |
| 9 | Bascue / Williamson / Reed / Abdul-Saboor | USA | 19 | 5.00 | 5.00 | 65.80 | 65.93 | 2:11.73 |
| 10 | Linyuchev / Bankov / Gnezdilov / Kozlov | RUS | 17 | 5.16 | 5.17 | 66.00 | 66.11 | 2:12.11 |
| 11 | de Bruin / Dumas / Veenker / Franjic | NED | 7 | 5.12 | 5.11 | 66.41 | 65.71 | 2:12.12 |
| 12 | Treichl / Walch / Glück / Mitterer | AUT | 5 | 5.10 | 5.09 | 66.24 | 65.94 | 2:12.18 |
| 13 | Vogt / Weber / Knuser / Michel | SUI | 1 | 5.13 | 5.09 | 66.30 | 65.94 | 2:12.24 |
| 14 | Hall / Toward / Gleeson / Simons | GBR | 3 | 5.07 | 5.06 | 66.34 | 65.94 | 2:12.28 |
| 15 | Baumgartner / Fontana / Verginer / Bilotti | ITA | 14 | 5.12 | 5.15 | 66.19 | 66.14 | 2:12.33 |
| 16 | Suk / Lee / Hwang / Bae | KOR | 20 | 5.18 | 5.15 | 66.14 | 66.27 | 2:12.41 |
| 17 | Heinrich / Bytebier / Hauterville / Laporal | FRA | 15 | 5.13 | 5.19 | 66.49 | 66.32 | 2:12.81 |
| 18 | Meyerhans / Keller / Dobler / Beierl | SUI | 21 | 5.21 | 5.23 | 66.41 | 66.41 | 2:12.82 |
| 19 | Olsen / Allison / Adams / Wilcox | USA | 18 | 5.15 | 5.16 | 66.53 | 66.67 | 2:13.20 |
| 20 | Luty / Zakrzewski / Zdebiak / Sarnecki | POL | 2 | 5.13 | | 66.58 | | |
| DSQ | Dvorak / Suchy / Sindelar / Nosek | CZE | 4 | 5.02 | 5.01 | 66.09 | 65.58 | DSQ |