From Latzfons, ITA
(Feb. 3, 2019) – The 2018/2019 FIL Natural Track World Cup season has been nearly flawless for Evelin Lanthaler. She came into the World Championships undefeated in World Cup action, and left Latzfons still undefeated.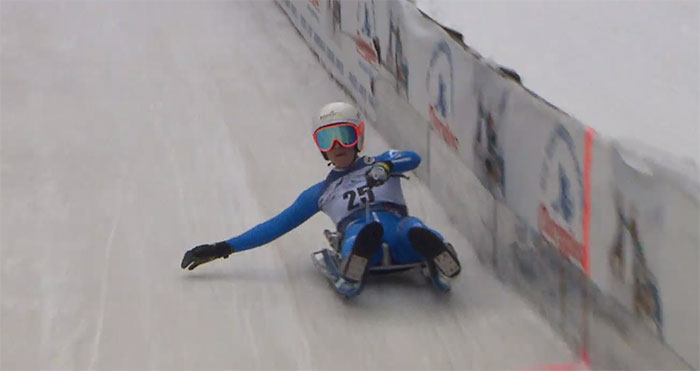 The Italian came into the third and final heat with a massive 1.89 second lead over teammate Greta Pinggera. Pinggera was quicker than Lanthaler in the final run, but it was nowhere near enough to overtake the World Cup point leader.
Lanthaler cruised to a gold medal by a final margin of 1.8 seconds over Pinggera to win her second World Championship gold medal. Pinggera, the defending champion, finished second, over a second ahead of bronze medalist Tina Unterberger.
The win makes Lanthaler both the World and European champion, as she won the previous year's Euros in Winterleiten. She hasn't lost a race since finishing second in Deutschnofen in the penultimate round of the 2017/2018 World Cup.
Ekaterina Lavrenteva finished fourth, ahead of Italians Alexandra Pfattner and Daniela Mittermair.
British sliders Kelly Gwilliam and Chelsea Medlock finished 22nd and 25th, respectively.
Results:
| | | | | | | | |
| --- | --- | --- | --- | --- | --- | --- | --- |
| Pos | Name | Nation | Bib | Run 1 | Run 2 | Run 3 | Total |
| 1 | Evelin Lanthaler | ITA | 25 | 1:02.72 | 1:02.86 | 1:03.06 | 3:08.64 |
| 2 | Greta Pinggera | ITA | 22 | 1:03.85 | 11:03.62 | 1:02.97 | 3:10.44 |
| 3 | Tina Unterberger | AUT | 19 | 1:03.57 | 1:05.21 | 1:04.08 | 3:11.86 |
| 4 | Ekaterina Lavrenteva | RUS | 23 | 1:03.91 | 1:04.27 | 1:03.69 | 3:11.87 |
| 5 | Alexandra Pfattner | ITA | 21 | 1:04.06 | 1:04.48 | 1:03.89 | 3:12.43 |
| 6 | Daniela Mittermair | ITA | 17 | 1:04.16 | 1:04.42 | 1:04.01 | 3:12.59 |
| 7 | Michelle Diepold | AUT | 20 | 1:04.19 | 1:04.64 | 1:04.44 | 3:13.27 |
| 8 | Lisa Walch | GER | 14 | 1:05.20 | 1:04.63 | 1:04.83 | 3:14.66 |
| 9 | Christa Unterholzner | ITA | 1 | 1:05.77 | 1:04.81 | 1:04.50 | 3:15.08 |
| 10 | Daria Maleeva | RUS | 24 | 1:05.76 | 1:)5.94 | 1:05.30 | 3:17.00 |
| 11 | Michaela Niemetz | GER | 13 | 1:05.82 | 1:06.14 | 1:06.28 | 3:18.24 |
| 12 | Anastasiya Slyusar | UKR | 12 | 1:06.89 | 1:06.63 | 1:06.69 | 3:20.21 |
| 13 | Julia Plowy | POL | 16 | 1:08.27 | 1:06.61 | 1:07.11 | 3:21.99 |
| 14 | Aleksandra Suvorova | RUS | 18 | 1:07.53 | 1:07.81 | 1:07.17 | 3:22.51 |
| 15 | Tamara Fissore | ARG | 15 | 1:11.90 | 1:11.66 | 1:12:38 | 3:35.94 |
| 16 | Svitlana Humeniuk | MDA | 10 | 1:14.27 | 1:13.18 | 1:14.26 | 3:41.71 |
| 17 | Daphne Vanhoutte | FRA | 2 | 1:16.42 | 1:12.91 | | 2:29.33 |
| 18 | Charlotte Roche | FRA | 3 | 1:18.01 | 1:14.40 | | 2:32.41 |
| 19 | Patricija Urbanc | CRO | 5 | 1:19.18 | 1:15.15 | | 2:34.33 |
| 20 | Ioana Ismana | ROU | 8 | 1:20.75 | 1:15.18 | | 2:35.93 |
| 21 | Ninia Stanic | SRB | 7 | 1:21.44 | 1:14.97 | | 2:36.41 |
| 22 | Kelly Gwilliam | GBR | 9 | 1:23.63 | 1:19.64 | | 2:43.27 |
| 23 | Konatsu Fujiwara | JPN | 11 | 1:27.04 | 1:19.48 | | 2:46.52 |
| 24 | Maria Ciubotaru | ROU | 4 | 1:31.46 | 1:23.91 | | 2:55.37 |
| 25 | Chelsea Medlock | GBR | 6 | 1:34.17 | 1:28.52 | | 3:02.69 |