From Latzfons, ITA
(Feb. 3, 2019) – Alex Gruber won his second consecutive FIL Natural Track World Championship, beating European Champion Thomas Kammerlander in the process.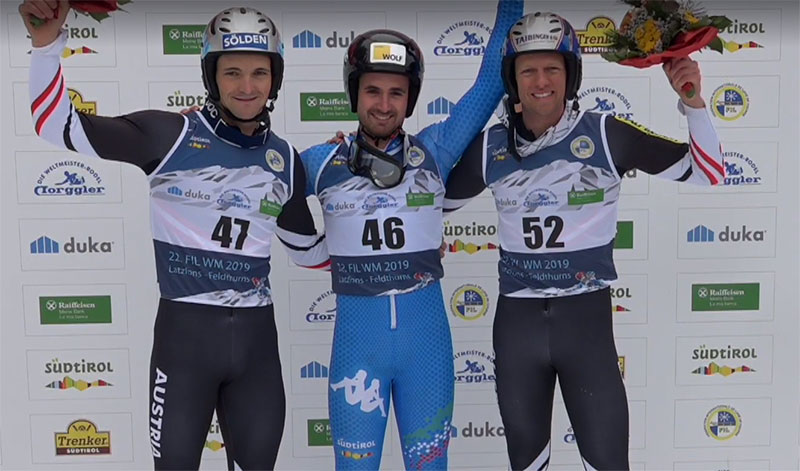 Gruber was the quickest in the first two heats to open up a lead of over a full second on Kammerlander. Gruber was out-run in the third heat by Michael Scheikl, but still faster than anyone else to win by 1.56 over Kammerlander.
The silver for Kammerlander was his best singles finish in the FIL World Championships, though he did win a team competition in Vatra Dornei in 2017.
Scheikl had fallen from third to eighth after a tough second heat. His third heat fastest run was enough to propel him back up to the bronze medal.
Florian Glatzl finished fourth, putting three Austrians in the top four. Iurii Talyk and Florian Clara rounded out the top six.
Joshua Reeves finished 26th to lead Great Britain, while Sam Budd finished two spots back in 28th.
The United States had two entries into the World Championships. Torrey Cookman and Henry Anderson finished 39th and 40th.
Results:
| | | | | | | | |
| --- | --- | --- | --- | --- | --- | --- | --- |
| Pos | Name | Nation | Bib | Run 1 | Run 2 | Run 3 | Total |
| 1 | Alex Gruber | ITA | 46 | 1:01.74 | 1:02.16 | 1:02.33 | 3:06.23 |
| 2 | Thomas Kammerlander | AUT | 47 | 1:02.30 | 1:02.62 | 1:02.87 | 3:07.79 |
| 3 | Michael Scheikl | AUT | 52 | 1:02.79 | 1:03.34 | 1:02.27 | 3:08.40 |
| 4 | Florian Glatzl | AUT | 49 | 1:02.92 | 1:02.75 | 1:02.94 | 3:08.61 |
| 5 | Iurii Talykh | RUS | 44 | 1:03.35 | 1:06.62 | 1:02.98 | 3:08.95 |
| 6 | Florian Clara | ITA | 48 | 1:02.82 | 1;03.03 | 1:03.11 | 3:08.96 |
| 7 | Stefan Federer | ITA | 40 | 1:03.02 | 1:02.92 | 1:03.24 | 3:09.18 |
| 8 | Stanislav Kovshik | RUS | 45 | 1:03.01 | 1:03.04 | 1:03.20 | 3:09.25 |
| 9 | Aleksandr Egorov | RUS | 51 | 1:03.16 | 1:03.43 | 1:03.31 | 3:09.90 |
| 10 | Fabian Achenrainer | AUT | 2 | 1:03.35 | 1:03.16 | 1:03.43 | 3:09.94 |
| 11 | Aleksei Martianov | RUS | 41 | 1:03.63 | 1:03.51 | 1:03.16 | 3:10.30 |
| 12 | Mathias Troger | ITA | 21 | 1:03.65 | 1:03.69 | 1:03.39 | 3:10.73 |
| 13 | Matthias Lambacher | ITA | 5 | 1:03.88 | 1:03.76 | 1:03.62 | 3:11.26 |
| 14 | Christian Schopf | AUT | 43 | 1:03.85 | 1:03.42 | 1:04.29 | 3:11.56 |
| 15 | Grigory Bukin | RUS | 42 | 1:04.45 | 1;04.39 | 1:04.49 | 3:13.33 |
| 16 | Oliver Schiller | GER | 27 | 1:04.73 | 1:04.47 | 1:04.92 | 3:14.12 |
| 17 | Adam Jedrzejko | POL | 23 | 1:05.61 | 1:05.23 | 1:05.83 | 3:16.69 |
| 18 | Bine Mekina | SLO | 13 | 1:06.43 | 1:05.02 | 1:05.46 | 3:16.91 |
| 19 | Josef Limmer | GER | 39 | 1:05.42 | 1:05.68 | 1:05.87 | 3:16.97 |
| 20 | Myroslav Lenko | UKR | 35 | 1:06.38 | 1:06.29 | 1:06.07 | 3:18.74 |
| 21 | Matevz Vertelj | SLO | 32 | 1:07.59 | 1:06.25 | 1:06.32 | 3:20.16 |
| 22 | Ivan Lenko | UKR | 20 | 1:07.43 | 1:06.69 | 1:07.09 | 3:21.21 |
| 23 | Andrii Hirniak | UKR | 4 | 1:07.03 | 1:08.34 | 1:06.91 | 3:22.28 |
| 24 | Renzo Atance Conde | ARG | 30 | 1:08.20 | 1:08.18 | 1:07.93 | 3:24.31 |
| 25 | Blaz Mekina | SLO | 15 | 1:08.05 | 1:07.76 | 1:08.81 | 3:24.62 |
| 26 | Joshua Reeves | GBR | 1 | 1:08.90 | 1:09.03 | | 2:17.93 |
| 27 | Leonardo de Oliveira Silva | BRA | 16 | 1:08.65 | 1:09.69 | | 2:18.34 |
| 28 | Sam Budd | GBR | 14 | 1:09.44 | 1:08.99 | | 2:18.34 |
| 29 | Aleksandr Milkov | KAZ | 33 | 1:09.58 | 1:10.04 | | 2:19.62 |
| 30 | Jerome Almer | SUI | 19 | 1:10.31 | 1:10.20 | | 2:20.51 |
| 31 | David Rydl | CZE | 18 | 1:10.45 | 1:11.02 | | 2:21.47 |
| 32 | Szymon Jan Majdak | POL | 36 | 1:11.28 | 1:10.32 | | 2:21.60 |
| 33 | Mykhailo Ivashchuk | MDA | 8 | 1:11.23 | 1:11.75 | | 2:22.98 |
| 34 | Homas Hasek | CZE | 28 | 1:11.13 | 1:12.62 | | 2:23.75 |
| 35 | Vedran Boban | CRO | 37 | 1:12.80 | 1:12.37 | | 2:25.17 |
| 36 | Benjamin Voice | NZL | 10 | 1:13.27 | 1:12.29 | | 2:25.56 |
| 37 | Bogdan Morosan | ROU | 17 | 1:13.38 | 1:13.25 | | 2:26.63 |
| 38 | Peter Neupauer | SVK | 3 | 1:15.48 | 1:12.43 | | 2:27.91 |
| 39 | Torrey Cookman | USA | 9 | 1:13.63 | 1:14.30 | | 2:27.93 |
| 40 | Henry Anderson | USA | 34 | 1:14.84 | 1:16.40 | | 2:31.24 |
| 41 | Nikola Ignjatov | SRB | 11 | 1:18.34 | 1:17.20 | | 2:35.54 |
| 42 | Krystof Pokorny | CZE | 29 | 1:17.58 | 1:18.25 | | 2:35.83 |
| 43 | Luka Novakovic | SRB | 7 | 1:18.54 | 1:18.73 | | 2:37.27 |
| 44 | Nikola Boban | CRO | 38 | 1:20.44 | 1:18.76 | | 2:39.20 |
| 45 | Ramiro Barrios | ARG | 12 | 1:21.37 | 1:18.29 | | 2:39.66 |
| 46 | Denis Lebedev | KAZ | 25 | 1:31.45 | 1:11.28 | | 2:42.73 |
| 47 | Shohei Tanaka | JPN | 24 | 1:24.49 | 1:18.54 | | 2:43.33 |
| 48 | Nikola Momirski | SRB | 6 | 1:29.87 | 1:27.84 | | 2:57.71 |
| DSQ | Marius Schmelzer | GER | 22 | | | | DSQ |
| DNF | Patrick Pigneter | ITA | 50 | | | | DNF |