From Sochi, RUS
(Feb. 23, 2019) – Natalie Geisenberger clinched her seventh career World Cup title in rainy Sochi on the strength of her sixth gold medal of the season.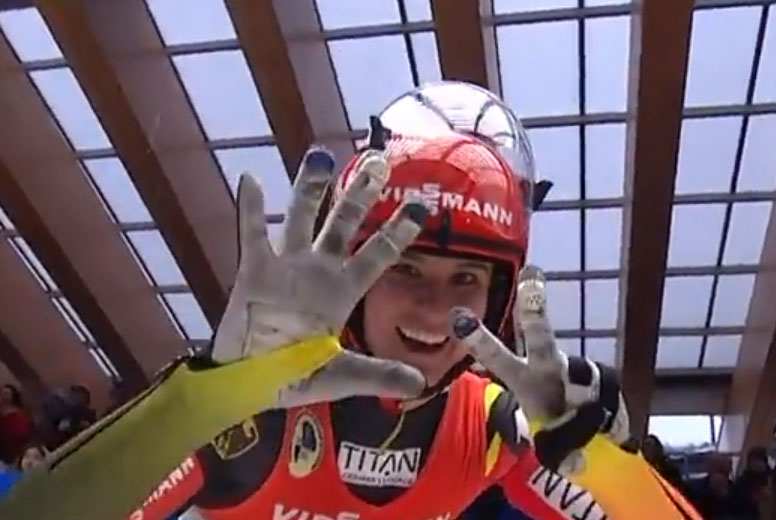 The World Champion was quickest in both heats on her way to a .153 second victory over Russian Viktoriia Demchenko and a clinch of the Crystal Globe with one race to go in the FIL World Cup season.
Demchenko had the second best time in both heats and was the top finishing Nations Cup qualifier on her way to silver, which was her second medal of the season (Oberhof).
Dajana Eitberger finished third, just ahead of Latvian Kendija Aparjode in fourth. Julia Taubitz and Ekaterina Baturina rounded out the top six.
American Summer Britcher finished in ninth. Emily Sweeney sat out the second run due to neck issues.
Both Natalie Geisenberger and Julia Taubitz have clinched their spots in the overall points, with Taubitz well over 100 points ahead of Summer Britcher, who sits third.
That battle for third place will go into the final race of the season, the Sprint World Cup race. Britcher sits in third, 37 points ahead of Tatyana Ivanova and 49 points ahead of Eitberger.
Results:
| | | | | | | | | |
| --- | --- | --- | --- | --- | --- | --- | --- | --- |
| Pos | Name | Nation | Bib | Start 1 | Start 2 | Run 1 | Run 2 | Total |
| 1 | Natalie Geisenberger | GER | 19 | 3.931 | 3.933 | 50.163 | 50.211 | 1:40.374 |
| 2 | Viktoriia Demchenko | RUS | 10 | 3.972 | 3.980 | 50.232 | 50.295 | 1:40.527 |
| 3 | Dajana Eitberger | GER | 11 | 3.953 | 3.957 | 50.316 | 50.387 | 1:40.703 |
| 4 | Kendija Aparjode | LAT | 12 | 3.957 | 3.962 | 50.341 | 50.376 | 1:40.717 |
| 5 | Julia Taubitz | GER | 14 | 3.950 | 3.946 | 50.374 | 50.403 | 1:40.777 |
| 6 | Ekaterina Baturina | RUS | 13 | 3.941 | 3.930 | 50.372 | 50.518 | 1:40.890 |
| 7 | Tajana Hüfner | GER | 17 | 3.915 | 3.927 | 50.509 | 50.453 | 1:40.962 |
| 8 | Tatyana Ivanova | RUS | 21 | 3.919 | 3.918 | 50.564 | 50.438 | 1:41.002 |
| 9 | Summer Britcher | USA | 22 | 3.934 | 3.935 | 50.601 | 50.429 | 1:41.030 |
| 10 | Eliza Cauce | LAT | 16 | 3.949 | 3.945 | 50.564 | 50.489 | 1:41.053 |
| 11 | Madelaine Egle | AUT | 6 | 3.942 | 3.942 | 50.566 | 50.523 | 1:41.089 |
| 12 | Andrea Vötter | ITA | 18 | 3.931 | 3.932 | 50.889 | 50.474 | 1:41.363 |
| 13 | Natalie Maag | SUI | 7 | 3.950 | 3.962 | 50.670 | 50.780 | 1:41.450 |
| 14 | Ulla Zirne | LAT | 15 | 3.985 | 3.980 | 51.261 | 50.397 | 1:41.658 |
| 15 | Sandra Robatscher | ITA | 20 | 3.961 | 3.963 | 50.773 | 50.924 | 1:41.697 |
| 16 | Lisa Schulte | AUT | 5 | 3.949 | 3.951 | 50.843 | 51.490 | 1:42.333 |
| 17 | Raluca Stramaturaru | ROU | 8 | 3.963 | 3.968 | 50.758 | 52.006 | 1:42.764 |
| 18 | Daria Obratov | NED | 1 | 4.016 | 4.028 | 52.903 | 53.042 | 1:45.945 |
| DNF | Dania Obratov | NED | 2 | 4.067 | 5.070 | 53.594 | DNF | |
| DNF | Klaudia Domaradzka | POL | 3 | 4.018 | | DNF | | |
| DNF | Ekaterina Katnikova | RUS | 9 | 3.969 | | DNF | | |
| DNS | Emily Sweeney | USA | 4 | 3.928 | | 50.926 | DNS | |