From Calgary, CAN
(Feb. 23, 2019) – Coming into the final World Cup race of the season, Tina Hermann knew she had to win the race to even have a chance at the overall World Cup title. With Jacqueline Lölling out of the weekend's races, Hermann came into the race as the only woman with a chance to beat out Elena Niktina for the overall title. Nikitina, though, only needed to finish in the top 13 to win the overall title.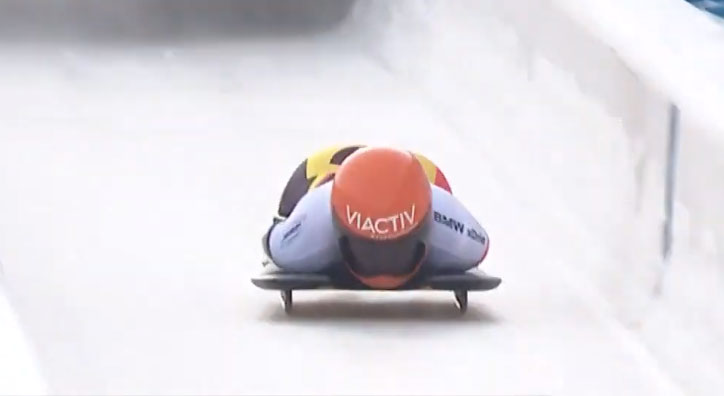 Going into the second heat Hermann sat in fourth place with Nikitina her in sixth place. Hermann watched as the Russian came down with an average run, but it was more than enough to finish in the top ten and win the Crystal Globe. That put the pressure off Hermann, who threw down a race-fastest run to give herself a realistic shot at the medals.
Hermann would then watch as Yulia Kanakina, Mimi Rahneva, and finally Elisabeth Maier all fell behind her, giving her her first gold medal since 2017.
Rahneva, who won the previous day's World Cup event, finished with a silver medal, while Great Britain's Laura Deas matched Hermann's second run time and moved up from seventh to third to win bronze.
Elisabeth Maier led after the first heat, but had a rough second run and fell to fourth, just ahead of Nikitina and Yulia Kanakina who rounded out the top six. Jane Channell finished seventh, moving up from tenth after the first heat.
With Nikitina finishing well within the top 13, she became the first Russian woman to ever win the IBSF World Cup skeleton title. Hermann finished second overall, with Rahneva moving up into third.
Kendall Wesenberg scored two top tens in as many races over the double race weekend, tying for ninth with Sophia Griebel a day after finishing eighth. Savannah Graybill finished 14th to finish out her World Cup season.
A day after placing all three British women in the top ten in Calgary, Deas' bronze medal was the only high point of the race for Team GB. Madelaine Smith did move up from 14th to 13th on her second run, while Ashleigh Pittaway finished 16th.
Results:
| | | | | | | | | |
| --- | --- | --- | --- | --- | --- | --- | --- | --- |
| Pos | Name | Nation | Bib | Start 1 | Start 2 | Run 1 | Run 2 | Total |
| 1 | Tina Hermann | GER | 10 | 5.69 | 5.61 | 58.97 | 58.42 | 1:57.39 |
| 2 | Mirela Rahneva | CAN | 4 | 5.57 | 5.49 | 58.94 | 58.58 | 1:57.52 |
| 3 | Laura Deas | GBR | 5 | 5.69 | 5.54 | 59.26 | 58.42 | 1:57.68 |
| 4 | Elisabeth Maier | CAN | 11 | 5.52 | 5.50 | 58.84 | 58.90 | 1:57.74 |
| 5 | Elena Nikitina | RUS | 7 | 5.37 | 5.32 | 59.24 | 58.71 | 1:57.95 |
| 6 | Yulia Kanakina | RUS | 13 | 5.39 | 5.32 | 58.95 | 59.06 | 1:58.01 |
| 7 | Jane Channell | CAN | 6 | 5.55 | 5.51 | 59.35 | 58.72 | 1:58.07 |
| 8 | Renata Khuzina | RUS | 3 | 5.66 | 5.59 | 59.20 | 58.97 | 1:58.17 |
| 9 | Sophia Griebel | GER | 9 | 5.76 | 5.62 | 59.33 | 58.88 | 1:58.21 |
| 9 | Kendall Wesenberg | USA | 12 | 5.84 | 5.75 | 59.32 | 58.89 | 1:58.21 |
| 11 | Marina Gilardoni | SUI | 16 | 5.58 | 5.57 | 59.46 | 58.81 | 1:58.27 |
| 12 | Kim Meylemans | BEL | 1 | 5.76 | 5.56 | 59.55 | 58.77 | 1:58.32 |
| 13 | Madelaine Smith | GBR | 8 | 5.76 | 5.52 | 59.64 | 58.81 | 1:58.45 |
| 14 | Savannah Graybill | USA | 15 | 5.91 | 5.83 | 59.60 | 59.28 | 1:58.88 |
| 15 | Kimberley Bos | NED | 2 | 5.79 | 5.55 | 60.05 | 59.14 | 1:59.19 |
| 16 | Ashleigh Pittaway | GBR | 14 | 6.01 | 5.95 | 60.08 | 59.22 | 1:59.30 |