From St. Moritz, SUI
Jan. 31, 2020 – Martins Dukurs returned to gold medal form in St. Moritz, winning his second race of the season in the process.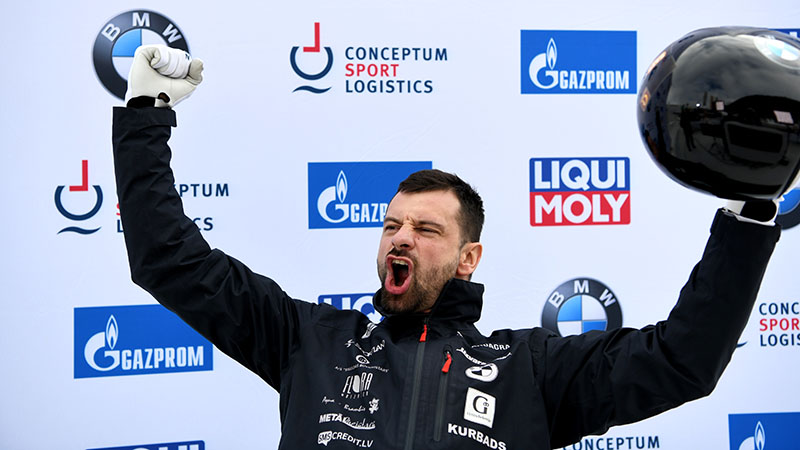 The Latvian slider came into the second heat just .02 behind Olympic gold medalist Sungbin Yun. Dukurs set the fast time of the second heat to put the pressure on Yun, and the Korean couldn't respond.
Yun never found his rhythm on his second run, setting only the ninth fastest time and dropping out of the medals to fourth and giving the win to Dukurs.
The win for the Latvian was his seventh World Cup victory in St. Moritz and 53rd World Cup win in his career.
Felix Keisinger's second run was bested only by Dukurs', and moved him up from sixth to second to win his second medal in as many races and third of the season. Teammate Axel Jungk took bronze, .03 off of Keisinger's pace.
Yun finished fourth, ahead of Alexander Gassner in fifth, while Alexander Tretiakov fell from fourth to sixth in his second run.
The United States' men's skeleton program continues to get experience in Europe. Austin Florian led the way in 19th place in his second start in St. Moritz. Teammates Alex Ivanov and Andrew Blaser finished 26th and 29th respectively in their first ever race in Switzerland.
Great Britain also had two sliders who hadn't been to St. Moritz before, with Matt Weston and Laurence Bostock both making their first trip to the Swiss track. Weston finished 13th and Bostock 23rd, while their veteran teammate Marcus Wyatt finished just outside of the top ten in 11th.
Kevin Boyer put down two good looking runs, finishing tied for 17th with Italian rookie Amedeo Bagnis. Boyer's teammate Kyle Murray finished 24th in his first race in St. Moritz.
After a seventh place finish in Königssee knocked Martins Dukurs out of the World Cup points standings lead, a win combined with a sixth place for Tretiakov moves him right back into the top spot. Dukurs will carry a 21 point lead over Tretiakov into the season finale in Sigulda. Yun sits third, with Keisinger, Jungk, and Gassner filling out the top six overall.
Results:
| | | | | | | | | |
| --- | --- | --- | --- | --- | --- | --- | --- | --- |
| Pos | Name | Nation | Bib | Start 1 | Start 2 | Run 1 | Run 2 | Total |
| 1 | Martins Dukurs | LAT | 10 | 4.80 | 4.78 | 67.73 | 68.16 | 2:15.89 |
| 2 | Felix Keisinger | GER | 11 | 4.81 | 4.77 | 67.98 | 68.22 | 2:16.20 |
| 3 | Axel Jungk | GER | 6 | 4.89 | 4.86 | 67.79 | 68.44 | 2:16.23 |
| 4 | Sungbin Yun | KOR | 8 | 4.79 | 4.82 | 67.71 | 68.54 | 2:16.25 |
| 5 | Alexander Gassner | GER | 13 | 4.91 | 4.91 | 67.96 | 68.31 | 2:16.27 |
| 6 | Alexander Tretiakov | RUS | 5 | 4.79 | 4.81 | 67.84 | 68.47 | 2:16.31 |
| 7 | Wengang Yan | CHN | 15 | 4.85 | 4.87 | 68.00 | 68.39 | 2:16.39 |
| 8 | Jisoo Kim | KOR | 9 | 4.80 | 4.80 | 68.27 | 68.41 | 2:16.68 |
| 9 | Tomass Dukurs | LAT | 4 | 4.93 | 4.88 | 68.41 | 68.49 | 2:16.90 |
| 9 | Wenqiang Geng | CHN | 12 | 4.98 | 4.94 | 68.24 | 68.66 | 2:16.90 |
| 11 | Marcus Wyatt | GBR | 7 | 4.79 | 4.79 | 68.47 | 68.82 | 2:17.29 |
| 12 | Nikita Tregubov | RUS | 14 | 4.94 | 4.94 | 68.57 | 68.75 | 2:17.32 |
| 13 | Matt Weston | GBR | 1 | 4.84 | 4.86 | 68.43 | 68.90 | 2:17.33 |
| 14 | Samuel Maier | AUT | 22 | 5.08 | 5.11 | 68.69 | 68.84 | 2:17.53 |
| 15 | Evgeniy Rukosuev | RUS | 17 | 5.00 | 4.97 | 68.72 | 68.84 | 2:17.56 |
| 16 | Vladyslav Heraskevych | UKR | 16 | 4.99 | 4.95 | 68.53 | 69.09 | 2:17.62 |
| 17 | Kevin Boyer | CAN | 21 | 5.00 | 5.06 | 68.77 | 69.07 | 2:17.84 |
| 17 | Amedeo Bagnis | ITA | 18 | 4.83 | 4.86 | 68.32 | 69.52 | 2:17.84 |
| 19 | Austin Florian | USA | 19 | 4.92 | 4.89 | 68.69 | 69.16 | 2:17.85 |
| 20 | Florian Auer | AUT | 20 | 5.01 | 4.95 | 68.83 | 69.16 | 2:17.99 |
| 21 | Mihail Enache | ROU | 27 | 4.94 | | 68.85 | | |
| 22 | Ronald Auderset | SUI | 26 | 4.93 | | 68.88 | | |
| 23 | Laurence Bostock | GBR | 30 | 4.93 | | 69.02 | | |
| 24 | Kyle Murray | CAN | 28 | 4.97 | | 69.13 | | |
| 25 | Ander Mirambell | ESP | 25 | 5.24 | | 69.25 | | |
| 26 | Alex Ivanov | USA | 2 | 5.06 | | 69.55 | | |
| 27 | Manuel Schwärzer | ITA | 23 | 5.04 | | 69.57 | | |
| 28 | Alexander Hanssen | NOR | 29 | 4.96 | | 69.65 | | |
| 29 | Andrew Blaser | USA | 24 | 4.90 | | 70.00 | | |
| 30 | Joel Seligstein | ISR | 3 | 5.31 | | 70.85 | | |