From St. Moritz, SUI
Jan. 31, 2020 – Tina Hermann dominated the women's skeleton race in St. Moritz, cruising to victory by .41 over German teammate Jacqueline Lölling.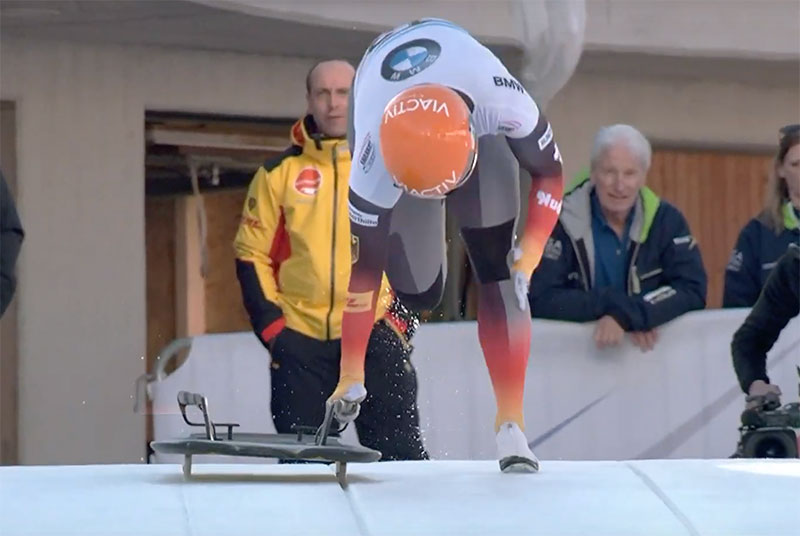 Hermann set the season's track record in the first heat, and then bettered it in the second to become the only woman to break the 1:10 mark in the 2019/2020 sliding season. Lölling briefly held the track record in both heats, being bettered only by Hermann each time.
The win for Hermann was her second in a row and third on the season.
Janine Flock moved up from fourth to third in the second heat, edging out two-time St. Moritz gold medalist Mimi Rahneva by .01. Rahneva finished fourth for the fourth top four in four races, while Elena Nikitina finished fifth.
Switzerland's Marina Gilardoni came into the second heat in ninth on her home ice, but a significantly quicker second run was enough to move her up the order and into the top six with a sixth place showing.
Hermann's win inched her closer to Lölling in the World Cup standings, with Lölling holding the advantage by 53 points. Janine Flock is third, 58 points out. Nikitina, Rahneva, and Gilardoni round out the top six.
The United States' Kendall Wesenberg was the top American in St. Moritz, finishing just outside of the top six in eighth. Teammate Megan Henry finished 13th in her first World Cup race in Switzerland, while Savannah Graybill had trouble in her first run that left her down in the order. She did pick up a position on her second run to finish 19th.
Canadian Jane Channell finished tenth, her fourth top ten in St. Moritz in six races, while Madi Charney finished 20th, .01 behind Graybill.
The British women's team as a whole struggled to find speed in St. Moritz. Olympic bronze medalist Laura Deas led the way with a 12th place effort, two positions ahead of Kimberley Murray. Madelaine Smith finished 16th to round out the British effort.
Results:
| | | | | | | | | |
| --- | --- | --- | --- | --- | --- | --- | --- | --- |
| Pos | Name | Nation | Bib | Start 1 | Start 2 | Run 1 | Run 2 | Total |
| 1 | Tina Hermann | GER | 13 | 5.40 | 5.35 | 70.05 | 69.82 | 2:19.87 |
| 2 | Jacqueline Lölling | GER | 5 | 5.44 | 5.41 | 70.24 | 70.04 | 2:20.28 |
| 3 | Janine Flock | AUT | 12 | 5.38 | 5.39 | 70.25 | 70.35 | 2:20.60 |
| 4 | Mirela Rahneva | CAN | 8 | 5.27 | 5.21 | 70.20 | 70.41 | 2:20.61 |
| 5 | Elena Nikitina | RUS | 4 | 5.09 | 5.07 | 70.58 | 70.30 | 2:20.88 |
| 6 | Marina Gilardoni | SUI | 6 | 5.28 | 5.25 | 70.87 | 70.50 | 2:21.37 |
| 7 | Sophia Griebel | GER | 15 | 5.38 | 5.37 | 70.81 | 70.67 | 2:21.48 |
| 8 | Kendall Wesenberg | USA | 7 | 5.55 | 5.55 | 70.74 | 70.92 | 2:21.66 |
| 9 | Kim Meylemans | BEL | 11 | 5.34 | 5.35 | 70.79 | 70.92 | 2:21.71 |
| 10 | Jane Channell | CAN | 16 | 5.22 | 5.22 | 70.88 | 71.03 | 2:21.91 |
| 11 | Anna Fernstädt | CZE | 9 | 5.65 | 5.58 | 71.05 | 70.96 | 2:22.01 |
| 12 | Laura Deas | GBR | 18 | 5.35 | 5.33 | 70.97 | 71.13 | 2:22.10 |
| 13 | Megan Henry | USA | 10 | 5.28 | 5.32 | 70.90 | 71.26 | 2:22.16 |
| 14 | Kimberley Murray | GBR | 19 | 5.34 | 5.37 | 71.02 | 71.32 | 2:22.34 |
| 15 | Jaclyn Narracott | AUS | 3 | 5.42 | 5.43 | 71.29 | 71.15 | 2:22.44 |
| 16 | Madelaine Smith | GBR | 14 | 5.33 | 5.33 | 71.19 | 71.28 | 2:22.47 |
| 17 | Valentina Margaglio | ITA | 21 | 5.19 | 5.19 | 71.13 | 71.38 | 2:22.51 |
| 18 | Yulia Kanakina | RUS | 20 | 5.23 | 5.21 | 71.30 | 71.51 | 2:22.81 |
| 19 | Savannah Graybill | USA | 17 | 5.51 | 5.53 | 71.42 | 71.59 | 2:23.01 |
| 20 | Madison Charney | CAN | 22 | 5.42 | 5.45 | 71.31 | 71.71 | 2:23.02 |
| 21 | Alina Tararychenkova | RUS | 2 | 5.30 | | 71.68 | | |
| 22 | Kellie Delka | PUR | 1 | 5.45 | | 71.79 | | |
| 23 | Huiyang Lin | CHN | 23 | 5.40 | | 72.15 | | |
| 24 | Leslie Stratton | SWE | 24 | 5.57 | | 72.37 | | |