From Durham, USA 
(May 11, 2020) – In our first post of "Getting to Know…", we catch up with two-time Olympian Jayson Terdiman of USA Luge. Jayson wrapped up his World Cup season in Königssee with a Team Relay silver medal alongside doubles teammate Chris Mazdzer, men's slider Tucker West and women's slider Summer Britcher. His career-best World Cup finish is third overall.
If there's a slider you'd like to get to know, please drop me a note with who on Twitter: @TheKenChilds
Slider: Jayson Terdiman
Team: USA Luge
Home track: Lake Placid
Hometown: Berwick, PA
Age: 31
Sponsors: Olympic Regional Development Authority and Shaklee.
Which is your favorite track, and why?
My favorite track in the world? It's a tough one, I love the sport so much and I love that every corner at every track all over the world is different. Some tracks I love sliding at but I hate racing at, and there are some tracks I love racing at but hate sliding on sometimes. I think overall, Königssee just has a special place in my heart because the corners are all famous. You have the S corners, 4 in a row with barely a transition in between them. They have a beautiful Kreisel corner. There's the chicane where if you're off-line just a little bit it's going to bite you. I love that track very much, and it's probably my favorite.
There's other tracks like Sochi which I love, that's the track where I became an Olympian on. PyeongChang will always have a special place in my heart, too, but if I had to say my absolute favorite I'd have to say Königssee, but it's a tough decision.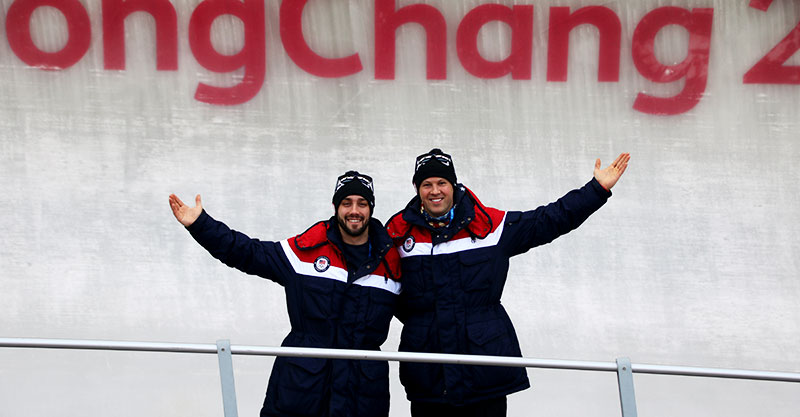 What is your favorite town to visit on the schedule? Not for the sliding, but just your favorite place to visit on tour every season?
I love that in luge we tend to start the season in Igls, Austria. It's a beautiful setting, you're right outside of Innsbruck so you can go down and enjoy a bit of a city atmosphere, but the track is up on this gorgeous mountainside that looks across the valley, over Innsbruck, and into the other mountain range. For the location itself I think that's my favorite place to go visit.
What's your favorite place to visit not on the schedule, or a trip you'd like to take that you haven't?
Two years ago, at the beginning of the 2018/2019 season, our sleds got stuck in transit. They were missing a stamp from U.S. Customs, and we got to Germany and they wouldn't clear our sleds through customs, so we had to wait while they mailed our sleds back to the United States to get stamped properly. Then they had to send the sleds back and have customs go through to make sure we had what we said we had then we could get our equipment.
That took about six or seven days, so I immediately jumped on a plane from Munich and went to Majorca. I had two days in Majorca, it was beautiful. It was October, which isn't prime season to go, but it wasn't expected for me and some teammates came down with me. I'd really love to go there during a real vacation time to see what that island in Spain has to offer.
Tell us about your pets.
I have a great, beautiful boxer named Roxy. She's my first brindle boxer. Since I was five we've always had boxers in the house and Roxy is our fourth that we acquired. We had a boxer/pit bull named Mugsy who passed away two years ago. Roxy's about 11, though we don't really know her age. She was found during the flooding in Irene. She had no tags, no chip or anything. She was taken in by a family friend, but they couldn't hold onto her. My parents ended up getting a phone call, they went up to meet her and fell in love. I went home from Lake Placid two weeks later and we could tell immediately that she was my dog. We've had her ever since!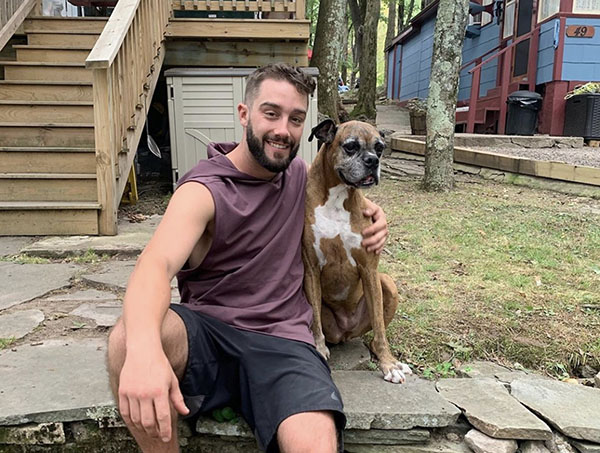 Prior to a run, do you listen to any kind of music? If so what is your go-to?
I do listen to music, but I don't have a go-to song. I listen to a bunch of different stuff but it depends on the week and the track. I try to get myself into a mental state, different at each track but not crazy different. It's still sliding and I try to do the same thing before each run. I'll listen to different styles of music depending on what the week kind of takes from me as an athlete to get me to where I need to be mentally for each run we take. But it's changing constantly.
On the night (or day) before a race do you have a certain meal you eat and routine you follow?
It all depends on the time of day we race on the weekend. We don't get the pleasure of having super-consistent meals on the road. We stay at a lot of pension hotels, so it's usually whatever's being made for us. A big routine is getting all of the sled work done and getting the sled as prepped as I can. The setup for the doubles sled is all on me, and I'm very meticulous about how I do that. I try to follow that routine very strictly. I try to get a solid eight hours of sleep, then depending on the time of day our race is I try to plan my meals out accordingly.
5a. You've had different doubles teammates. Is the way that you prepare your sled with Chris Mazdzer different than how you prepared it with Matt Mortensen?
Yes, with Matt it was Matt and I doing the sled. With Chris I do all the work on it myself. Chris is a larger athlete so things have to be different in terms of the geometry of the sled and the way we ride it. There's small things that I would set up with Matt that I wouldn't even try with Chris just based off of our weight and the size of the sled itself. It's not terribly different, really like fractions of degrees on angles of things that people don't necessarily see.
What are you watching right now on TV/Netflix/etc?
I've been watching The Office a lot again, Brooklyn 99. I just watched Tiger King, trying to stay up and current with what people are talking about everywhere. I tend to rotate through The Office, Parks and Recreation, funny brainless comedy that I don't really have to focus too hard on.
What is your favorite sliding sport memory?
Without a question, that would be the final World Cup race of the 2016/2017 season in Altenberg. That was a hell of a week. I was sliding with Matt Mortensen, and the week prior we were sliding in Sochi and we were third overall before that race. Before our first World Cup run we were in first place but crashed in the second run to finish ninth. That dropped us from third in the overall to fourth.
We went into the final week in Altenberg a little mentally lost, but decided to really go for it. We ended up having a really beautiful race, we finished our first run we were in third and 12 points behind third overall (Geueke & Gamm). They were contending for an overall podium sweep for Germany, and were in second while we were in third. It came down to the final run of the season, and in dramatic fashion we beat them by .04 at the final split! We took back third overall by just three points.
It was a really stressful week. Matt had also lost his grandmother that week, so it really meant a lot to us that we were able to stick with it and finish that year on top from where we could have been. That race will always be really special, and even if I end up going to a third Olympics and get on a podium there I don't think it'll top that day for me. That was a full season culmination to get an overall podium.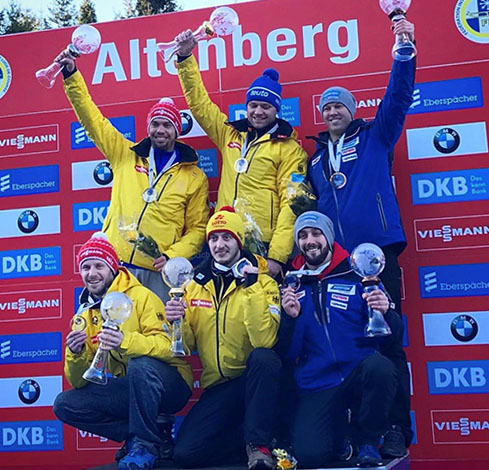 On the other side, what has been your most disappointing sliding sport memory?
The team relay event in Pyeongchang. To say "disappointing" is wrong, but I'd say it's the hardest moment to swallow that I've ever had in my career. Sitting in the leader's box with three teams to go, and watching each of those three teams best us to end up in fourth at the Olympic Games and missing out on that kind of a podium was hard. But I mean, it's nothing I even consider "disappointing", but it was gut-wrenching and hard to swallow. To this day it's still tough to swallow.
Fourth place isn't bad, though. Fourth in the world at the biggest sporting event is still something to be proud of.
Guest Question (courtesy of FIL TV announcer Tim Singer)
What's the biggest thing about luge that most people do not understand?
I think that generally speaking, the biggest thing that people don't understand is that they think we're doing nothing on the sled and that it looks so easy and effortless. We really don't get much television coverage, though it's getting better and better over the last few years, but it's once every four years that people see what we do. And they think we're just laying there doing nothing, but that's because that's what we want it to look like. We're in full control of the equipment under us, and that piece of equipment can be very dangerous. Our sport has a lot of risk involved and that gets shown sometimes when people have accidents and crashes. I think the biggest thing people don't understand is that we're in total control and the reason it looks like it looks like we're not doing anything is that we're that good at it. We've been doing this sport for so long and we've been in all these situations before that we know how to correct issues at the drop of a hat. In a split second we're able to change something but you can't see it because they're such small, minute steering changes but because there's so much control it looks like we're doing nothing. It's a friction sport, and the less you drive and the more you can let a sled run the faster you can go. It sounds really easy, but if you get someone my age on a sled who's never done it before you couldn't even go from halfway up the track.