(July 6, 2020) – For the ninth installment of "Getting to Know…" we catch up with the United States' Kelly Curtis. Kelly is a three-time IBSF skeleton champion, winning the 2017/2018 and 2018/209 North American Cup titles, and then backing those up with the 2019/2020 Intercontinental Cup championship. She's won five gold medals across the two tours and has never finished outside of the top ten. She kicks off her time in the United States Air Force World Class Athlete program this week as well!
If there's a slider you'd like to get to know, please drop me a note with who on Twitter: @TheKenChilds
Slider: Kelly Curtis
Team: USA Bobsled & Skeleton
Home track: Lake Placid
Hometown: Princeton, NJ
Sponsors: Caffine + Cannabinoids, KOV Gym, USAF World Class Athlete Program
We'll start off with an "easy" one: What's your favorite track and why?
I guess my favorite track to slide is Park City. It's the track I've learned the most on, though I first slid on Lake Placid. I spent a whole season I Park City learning how to slide and I fell in love with the sport out there. Even though I've slid it so many times I find the track still very challenging. I'm also able to get the most data from it because I know what it SHOULD feel like, so I probably would call that my home track too.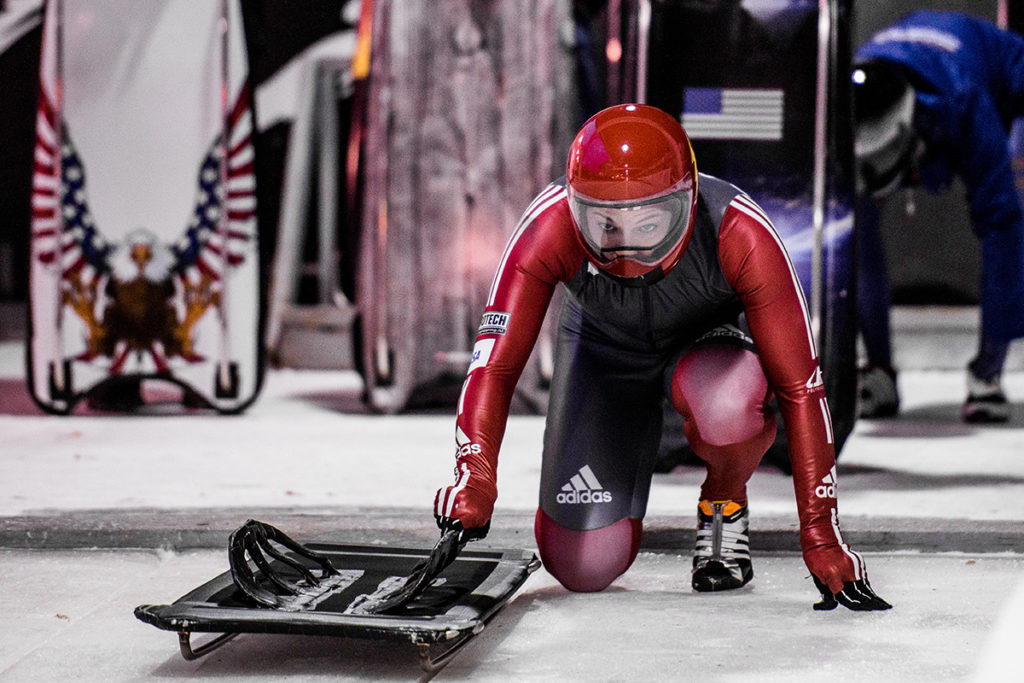 Aside from the track itself, what's your favorite town on schedule?
Probably Sochi so far? Last year was the first year I was able to travel outside of North America to compete and just the whole experience of trying to get a rushed visa to go there was something. They were all so nice, it was almost like they were too nice? They were so welcoming, though I know there was still some tension there with the whole Russian Olympic Committee thing. Our experience on Intercontinental Cup in November was all positive. Just to be at a storied track like Sochi, where so much money was put into the facility built on top of a huge mountain, I was like "I've never been anywhere like this before!"
What got you into the sport of skeleton, and when did you know you wanted to switch from bobsled?
I was in grad school in upstate New York, I was coaching track and field, and I still felt like I had a lot left in the tank athletically. I always had bobsled in the back of my mind, because Erin Pac went to Springfield College which is my alma mater, so we had the same track coach and I did the heptathlon the same way she did, and I was terrible at the 800. So I was a good power athlete but terrible at endurance, and my coach said "Maybe you should try bobsled!", but at first I thought that it looked way too scary. So fast forward to grad school and I've always had it in the back of my mind and now I'm up here in the north country, so I'll go over for a day and see how it works.
I did the combine and then went back to driving school under Don Hass. I crashed the smaller bobsled like two or three times, and he said "Maybe you should look at skeleton instead." And the first time I tried skeleton I absolutely loved it. They push you off from halfway up the mountain and hope to see you at the bottom. And my first thought was "Wow! I survived, now how can I go faster?!" and that got me hooked. The next summer (2014) I was going for skeleton push champs before I'd even gone from the top in Lake Placid and Jamie Greubel Poser grabbed me and was like "What are you doing sliding skeleton? You should come out for bobsled." And I figured if an Olympic medalist was telling me I should do their sport then I'll try it. So I did that for a season but I always just wanted to get back to skeleton ever since the first time I slid.
In 2015 you managed to break both arms during the off-season. What happened, and what was that recovery like?
Oh jeez! So that was just about five years ago now. I did that after a high plyometric day, I was working at an institute at Iona College for international teenagers to come in and learn English then go to New York City. I was the program coordinator for that site, so in the mornings I would do my workout sessions. It was a morning where I had to meet with someone to do a fire drill for the kids that were there, so I did my plyos real quick and was running back to get to the building on time. There was a little low-slung chain link fence that you could walk over. I was like "Oh, I'm an athlete, I'll just hop over this!" but my legs were dead from the workout, so I got enough height but my trail leg caught it at the end and I fell on the sidewalk! As soon as it happened I heard a noise in my right arm and I was like "That didn't happen!" and brushed it off.  So I meet with the supervisor that was running the fire drill, and as the fire drill is going on all the kids are coming out and I'm holding my dangling arm.
My boss who was there, she'd been joking about who was going to be the first to go to the emergency room, and come to find out it was me! So she had to drive me there, and I thought "I'm fine, I'll go to urgent care!" and my arm was just kind of dangling there so she brought me to the ER anyway. So I go to the ER, and they take the x-rays of my right arm and I'm like "I think my left arm might be broken as well", and it turned out it was a little broken too!
So I had to do double-slings all summer, and I had to learn how to do things with my left hand because my left arm was a little less broken than my right. I ended up just wearing dresses all summer because it was one less article of clothing to put on or take off. I went back to work right after my surgery and it was very eye opening. It was the first time I realized I could actually break. I'd never broken anything before then boom, both arms!
How long was the recovery on that?
The recovery…well I still have the hardware in my right arm. There's a pretty long plate and 11 screws in there. It was six weeks of no physical exercise, and it's tough because I'd just gone through a really great training cycle and it was just after my rookie year and I was so excited. When it happened I was really humbling, like I had to work during the week then just recover on the weekends. I got back to push champs and I think I managed to finish third there because I wasn't over-trained, and I knew a little more about how to push a sled than I had in the previous year. But that was my first year going to Park City for team trials and I got my butt handed to me. I couldn't even really compete because I was just a ping-pong down the whole track and ended up with a softball sized bump on my arm from that. After that I didn't get back onto ice until January, so I guess six months.
But just the mental aspect of thinking "Oh my God, I can break", and I'm in a sport where you break while you learn. That's how you learn how to not hit walls, so it's still a mental thing to me. I was definitely a little more carefree at the beginning because I figured I was invincible and learning this new sport! Now I still wear padding when I learn a new track just to cover up my injuries.
What's your pre-race day routine like?
I probably should have a routine. I just try to get all my sled prep done as soon as possible so I can just relax. Depending on who my teammates are I'll do my sled prep in the room with them. If I'm with Andrew Blaser on tour we'll throw on some musical and we'll be singing it together. So I try to get that done as soon as possible then relax for the rest of the evening and try to tune out anything sliding related. I figure the next day will be a lot of energy in the atmosphere so I try to decompress as much as possible.
Is there anything that carried over from your time as a track and field athlete at Springfield College?
At Springfield I had a pretty set routine of watching a certain program because it's usually a Friday night and making sure I had a face mask on the night before and making sure all of that was good to go! For sliding we'll sometimes race on Wednesday/Thursday and we're all over the world, so it's more of just getting my mind in the right atmosphere, especially when we're learning new tracks. I need to give myself the opportunity to fail and learn from those failures then get better in the next season.
You were pretty successful as a track athlete at Springfield, but you went to a sport where the greatest of all time start off struggling. What was that transition like?
I knew I'd be super humbled by this sport, because nobody is naturally good at sliding head-first on ice. Having a stubborn mindset of needing to learn as quickly as possible and not letting my failures define me and see what experience can show me. This season on ICC my whole goal was just to gain experience on the tracks outside of North America and not really worry about the results, but then still worry about the results because of the rankings. Just being able to go into a race just thinking about the process instead of the results helped out my mindset a lot. My practices on these new tracks were all pretty terrible but I was able to piece it together on race day. Just taking the whole week and splitting it up and working on different sections really helps my mindset a lot. Then I think "Alright! Let's see if I can piece it all together in one run." Then if I can I see if I can do it again for two runs! Sometimes I can, sometimes I can't!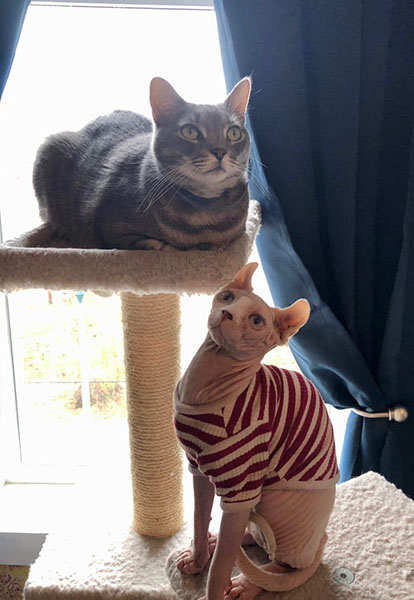 Tell us about your pets.
I brought one of them right here! [Kelly at this point holds up her cat] She's an elf-eared sphinx named Colburn, I have another cat that I picked up when I was living in New Orleans. He's a regular street cat, his name is Absenthe! It's just those two right now, we're living in a small apartment in upstate New York so it works!
Have you talked with Jane Channell about Twiggy?
Oh yeah! I think her mom recently got one too! When I first saw Jane's cat I didn't really know what to think, but my husband really likes sphinx cats and when this one came around, we got her last October, it was my first time seeing one in person and she's just a delight! She loves to cuddle all the time and loves to get under the covers just trying to find the warmest spot. She's really great!
What's your favorite sliding sport memory been so far?
I have two, and they're both from last season. The first was team trials in Lake Placid. It was the first time I'd popped the groove in a team trials, and I was able to take a third run. And in previous years there'd been a bit of controversy with the third run, since the third run rule in team trials is ever-changing. So this past season the team energy was so positive and everybody came to watch my third run and they were cheering for me, and I thought "well this is definitely different than previous years". And I did better on my third run and it was just a great moment for everyone to be cheering a competitor at the time.
My other favorite was this past February in Western Regionals in Park City and that was just a race to set a benchmark to see where I was at that track. I was so nervous, I had just gotten done sliding in Pyeongchang and I'd stopped in Japan for a week to see a friend, and I wasn't expecting to race Western Regionals. So I was eating probably a little more food than I should have in Japan. So I found out I was going to race on the Tuesday before the Saturday race and I was worried I wasn't going to make weight! So I was so nervous beforehand, and when the race happened I ended up pushing a personal record and I slid under 50 seconds in Park City. Katie [Uhlaender] was telling me that only three other women have ever slid the track in Park City in less than 50 seconds. As soon as I came down and saw 49.95 I gulped and then I was like "Oh y God I hope I make weight!" As soon as I saw that I'd made weight I was so excited! All of my teammates were right there being so positive in the moment, and that was really special.
On the other side of that, what's been your toughest sliding sport moment?
When people ask me "What's the hardest thing about sliding", to me it's been figuring out the logistics to get me to the top of the track and how to make this lifestyle work. You're gone for so long, having the right job security so you can even afford to be there. I've been self-funded this whole time, so that's been a difficult process.
But for one particular thing, two seasons ago, the first race in Whistler and my second season on North American Cup, it was the first race of the season. It was right after I'd won my first race in Whistler the prior season. So I was coming back as the defending champ and feeling really good. I remember being at the top of the track, and I was really nervous and I thought it was just regular Whistler nerves. But I get to the bottom of the track and I throw up! And it turned out I had food poisoning and I was out of commission for a couple of days! I'd dropped all this weight and I missed so many training runs and I was quarantined before that was trendy! That was probably the worst memory. It was so embarrassing too!
You had the chance to slide Intercontinental Cup races in Pyeongchang, which were on live TV in South Korea and broadcast all over the world. What was that like compared to a regular ICC event?
That was a great experience! I probably should have felt more pressure than I probably did at the time. Once again I went in with the mindset that I was going to suck there and I probably need to make sure that I listen to my coach on the two training days that we got. I didn't have high expectations, but I knew that with the points I just really needed to finish both races, especially the second race. So that put me at ease a bit. I think the most pressure was just making sure I stayed on my sled!
It was great having it televised though! My family back home could watch it, and it was at 8:00 PM Friday night! My husband told me he was crying when he was watching me and he had some friends over. It was really great.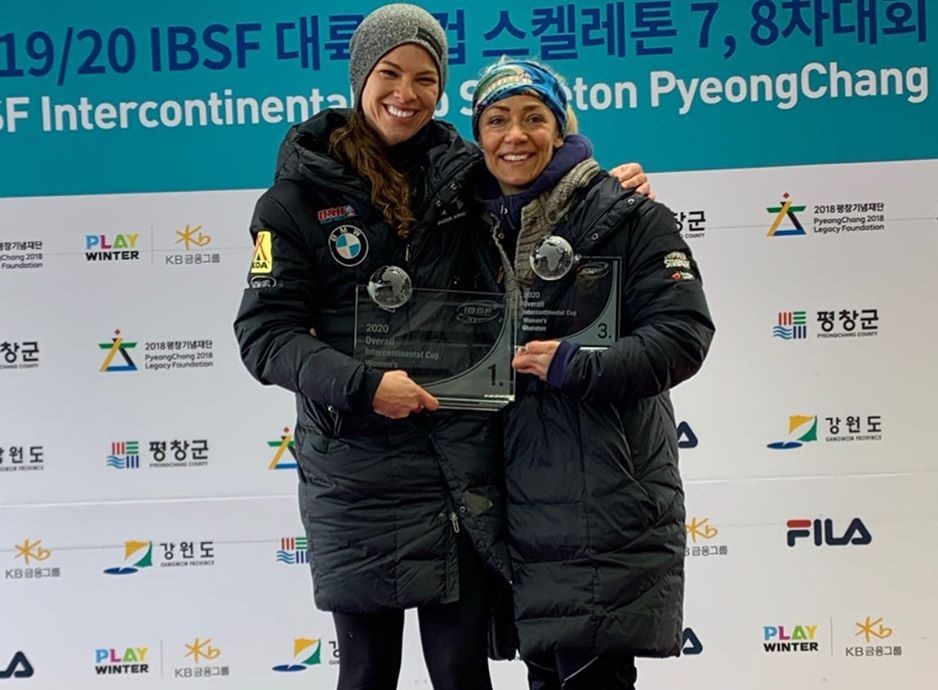 It was such great quality too! It was the first time I've had that kind of quality for my races just to show the people back home what I do. They have a lot of assumptions of the sport, but without any really great quality video people aren't really that interested. It was great to get that footage as well!
Guest Question: Chris Spring (Canada Bobsled): If you had to pick one place to live for the rest of your life, would it be the beach or the mountains, and why?
Probably the mountains? My family lives in Miami and I can go visit them, so I probably don't need to live at another beach. I'd say the mountains, the views are usually spectacular, and there's more to do physical activity-wise. And I know enough people at beaches that I can go visit them regularly!