(June 29, 2020) – For the eighth installment of "Getting to Know…" we head to the west coast of Canada to chat with three-time Olympian Christopher Spring! Chris has competed for both Australia (2010 two-man) and Canada (2014 & 2018) in the Olympics, with career best finishes in both two and four-man bobsled coming in Sochi (fifth and 11th, respectively). To his name he also has a third place overall finish (2016/2017), two golds and nine medals overall in IBSF World Cup action. Below, we discuss flying, sliding, and the transition from Aussie bobsled pilot to Canadian bobsled pilot!
If there's a slider you'd like to get to know, please drop me a note with who on Twitter: @TheKenChilds
Slider: Christopher Spring
Team: Bobsleigh Canada
Home track: Whistler
Hometown: Vancouver, by way of Priddis
We'll kick this off as we normally do: What's your favorite track and why?
You know what, this isn't that easy! My favorite track? St. Moritz. For one, it's very unique as the only natural track left in the world and the history there is amazing. The feeling you have when you slide it, it's just the feeling when you're there in general. You can literally feel this history buzz around you. Knowing you're sliding down the same track in the same area with the same start to finish that very successful sliders have been racing, competing, and training at for over a hundred years, that's pretty amazing I think. That feeling when you're coming down the track with literally just the wind you can hear, there's just no other track like it.
It's always been a dream of mine to be very successful there because I feel like it etches your name into the history books forever. And to have won a World Cup medal there is one of my fondest achievements with my team. I'm still chasing that gold medal, and I know that World Championships are there in 2023 and it's VERY tempting to hang on for another season to perhaps win a World Championship medal. I feel like was close in my first shot there, I finished sixth with Lascelles [Brown] in 2-man, and I think we were fourth after that first day. But it just wasn't to be, maybe there's a chance in a couple years there.
If you're already going to 2022, what's one more year right?
Yeah! If you go with that attitude what's one more year, then I'm a lifer!
Aside from the track, where's your favorite place to visit on tour?
I think people that read this that know me really well won't be so surprised by this, but a lot of people would think that my favorite track would be Whistler and my favorite town would be Whistler. And I DO love this place, it feels like home to me, and I've been very successful here in my career. But my favorite town is in Königssee, Germany. And it has nothing to do with the track, because I'm not very successful there and I don't tend to have very good results there. I'm hoping to change that in the future, every time I go there I think "this is my year!" But I always have a great feeling there. The town is so beautiful, the people are lovely, and the track itself…when you get to the track it's carved into the side of the mountain with the beautiful Lake Königssee at the bottom, like how you not appreciate the view there?! It's absolutely beautiful and there's a lot of history there and I would love to go back there in the summer and hike around there and explore. Königssee is definitely my favorite town on tour.
You took 2019/2020 off and did taxi bobs alongside Alysia Rissling and Lucas Mata. What was that like?
I think it's a good opportunity for us to not fall into the mindset of "I'm just taking a year off and let's just chill" and be complacent about things when there's other athletes there. And not to take anything away from the other drivers there, because they're actually way faster than me down the track. They've driven that track so much that I'm constantly chasing those guys trying to think of ways to get down a little quicker. And don't get me wrong it's competitive, it's the Taxi Bob World Championships every single day that we're working there. It's a lot of fun, we have a lot of fun together with the customers and the guests and we do make it a little competitive too! There's always a winner of the day and things like that. I think it was a good way to take the season off and not go through the motions, and I did get some 2-man runs in, so that was really helpful.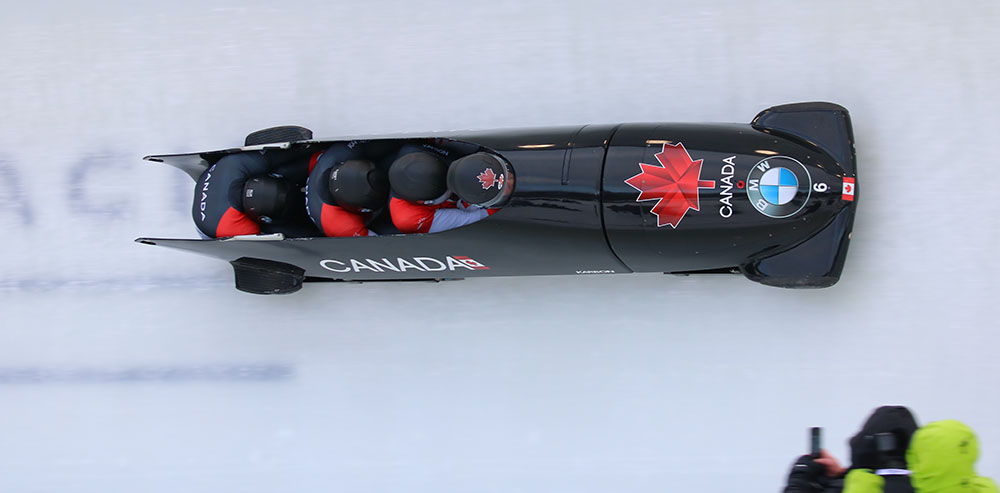 Did you end up winning many of those taxi bob daily races?
Not in particular, but I did manage to get some testing in. It's strange to think that you can get some testing in while doing taxi bob, but the great thing about it is that it's a somewhat controlled atmosphere, because the track becomes a bit shorter, we start form Curve 7, and the lines that the guys are taking are consistent every single run. The push-offs are very similar and so I have very good control sleds to compare my data to. So I did do a bit of testing. In the Taxi Bob World Championships there are no rules as far as what you can do to your sled, so sometimes I'd get there early and see the guys polishing up their runners and doing a few little changes to their sleds, so over time I got a little more informed about what I could do to my sled to get it a little bit faster. I was always chasing those guys though. I rarely won, they're the real MVPs for sure!
You spent some time doing some van living, what was the transition like from having a bigger place to living in a van?
The one word that comes to mind with decluttering my life and moving into a smaller space and having a life on the road is "liberating". I felt very free, free to decide to do whatever I wanted in that single day. I really enjoyed that freedom, and I do miss it a lot. I'm not living in my van now, I got married and I live with my wife. The number one reason got rid of the van was to pay for school, actually. I went into flight school, and that's definitely not cheap! I was able to recoup a lot of costs on the van and put it toward flying.
That's my next goal in life. It's not to say that I don't want to live in a van in the future, and my wife is down with it too, so first thing is having the Olympics coming up and finishing pilot's license, and then when some funds become a little more available look at buying another van. Probably not for permanent living but more for weekly trips and things like that. Definitely living on your own in a small space, you learn a lot about yourself and that was a time I really enjoyed finding out the person that I am.
You mentioned flying, what brought that on and what are your plans in the air?
My plan is to finish my commercial pilot's license before the 2022 Olympics, then with that done I can put my focus into the games and be successful there. My end goal for working in aviation is not to fly big passenger airlines, and this is my goal for now and things could definitely change, but I would love to fly seaplanes! There's a huge seaplane community here on the west coast. The ability to go to places where you can't usually get to in regular planes is something that intrigues me a lot and definitely some of the flights I've taken just building out I've gotten to go to some of these places with smaller runways where larger planes just can't get to. And those places are some places I'd love to explore in the future and if I can do that and make a living then that's even better.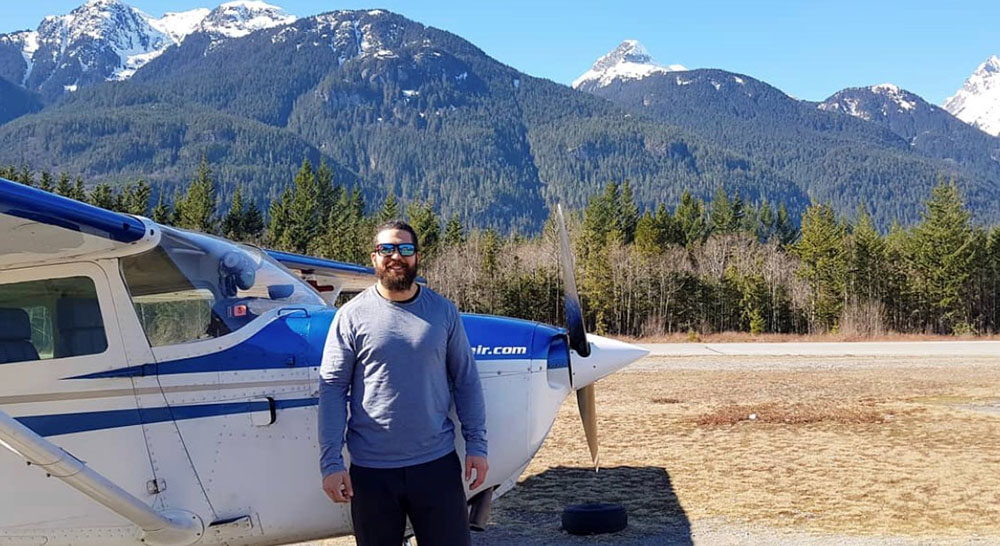 How much longer do you have on your license?
I'd say I'm about two thirds of the way through, I've got my written exam soon, and then my flight test is sometime in the next month or two. Then I just need to build a bunch more hours which I can do and also get my seaplane rating. I'm on track to be done by the summer of next year, which would mean it took just over two years to do it. You can definitely do it quicker, but I didn't really have the money to drop it and get it going!
Night before the race, what do you do to prepare?
The very night before I hope to have had all the sled prep done by dinner time at the very latest, that way you can enjoy a nice meal and then just rest afterward. It's obviously a little different on the North American Cup circuit because it's race after race after race. But ideally that's the plan is to get the sled prep done before dinner. In the evening I do a little bit of rolling and stretching and everything, then hang out with the guys. We're playing cards, watching movies, and just having a good time. Those are the moments that I really enjoy is with the fellas whether we're just walking around a bit…but not a whole lot! We have to rest! But hanging out with the boys and talking about nonsense usually is what we do before a race.
Do you have any pets?
No pets at the moment, but we'd really like to have a dog sometime we just don't really have the space for one right now with a smaller apartment right now. But right now with being away so much it wouldn't be fair to the dog.
What is your absolute favorite memory in the sport?
There are so many, I started bobsledding in 2007 which makes me the old guy! But I would say one of my fondest memories isn't actually bobsledding, but it's on tour. It was the very first time I was in St. Moritz, and it was before the World Championships in 2013. We went up just after Christmas in 2012, and I'd never been on the track before and Worlds are going to be there, so I've got to get there and get some sliding in and figure out this track.
It was New Year's Day, Graham Richardson was organizing the team and he mentioned this town that you can get to by train called Preda and you could get to this area and do essentially natural luging down this run. And what do bobsledders do on their day off to have some fun? Go slide some more on some snow and ice! There was probably of 10 to 15 of us, we took the train and got these little natural luge sleds. There was lots of tourists and locals there and you take the train to this one area and you go down it. It's kilometers long and you can really get booking on it, like 50 kilometers an hour! Which for us is pretty fast not knowing what we're doing! And it's not a smooth run, and there's some hairpin turns there and people are wiping out! And obviously we're racing each other, and you get to the bottom and you have to walk from the end of the track back to the train station to get back. You walk through town and people are selling drinks and food and there's ice bars set up and we're just really enjoying the town and area around St. Moritz and that whole vibe. It was SUCH a great time! It was probably 15 of us and we're all smiles and it was just a great way to break up a sliding trip. And we were already having such a great time in St. Moritz, but that whole week was just magical.
I feel like I know what the answer is here, but what's been your hardest sliding sport memory?
You know what, it's actually NOT crashing at Altenberg. That was actually a close second to being a fond memory! Obviously not because of the crash itself but because the way that the community came together afterwards really speaks to me. The amount of messages, and the teams that came to visit me an hour away in Dresden after that crash that came and brought me cards and gifts and just to come and see me if I was okay. They all went way out of their way to come and see me, that was really special. It's definitely not my most hated memory or one I didn't enjoy.
It's really tough to think of a bad time or a tough time in the sport. Just because I've had so many great memories. The folks at Dresden University Hospital took great care of me and I learned my first German words there (other than the standard words you learn like Bier or auf wiedersehen).
One of the most difficult times I had was at the 2014 Olympics when my team was changed just before the race. For those that don't know, I raced with the same team of guys for every single race in 4-man, we were Canada 1 going into the Olympics. We tied bronze for the overall World Cup ranking, but that week of the four-man race just before the last day of training, the coaches decided to switch my team with Justin's [Kripps] team so I ended up racing with Tim Randall, James McNaughton, and Bryan Barnett. That was really tough for me, and it was tough for a lot of the guys. We were a team that raced together all year and feel like we accomplished a lot all year and we felt like we deserved that right to race together at the big show. For your team to be broken up the day before the biggest race of the season, and at the time the biggest of my career, was tough for me to take. Emotionally I was wrecked, and it took so much energy out of me. I did try to make sure I got up for the race, and I wanted to make sure those guys I was racing with I was giving everything of mine for them and for our new team. I think we finished 11th. It's a tough result to have but I was proud of how the guys rallied around me, my new team brought me in and said "hey, this is our team now and we're going to go out and win medals". We truly believed going to the start line that we'd get out there and win medals. It was unfortunate that we didn't, but I was really proud of the guys how they picked me up for what was really a difficult moment for me emotionally.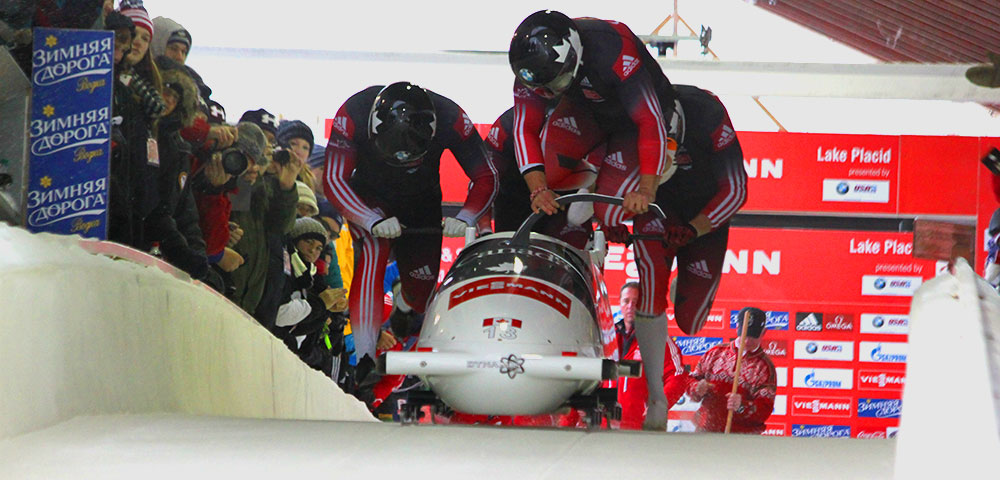 You're an Olympian for two nations, what was the transition from going from Australia to Canada bobsled like?
I would say the transition itself was quite easy. I already lived in Canada, I've been in Canada since 2006. And while I was sliding for Australia the Canadians helped me out a lot with equipment and training and ice time and things like that. I knew a lot of the athletes and coaches, so I already had this feeling of belonging. So when it came time to make the transition and switch nations I was very much welcomed into the federation. They treated me just like another athlete so that made the transition very easy. I wouldn't say it was difficult representing another nation because I had already had a good feeling that I felt at home here in Canada, so I didn't feel like I was betraying another nation or that I was switching sides or whatever. I was representing another part of me that felt at home here in this country. As the years have gone on those feelings have gotten much stronger and I feel very patriotic and feel like I love representing Canada and all that it has brought me!
Guest Question: Rupert Staudinger: Covid-19 has affected everyone, how has it affected you over there with your life?
Thankfully the bobsled season had finished just as things hit, so it couldn't have been better timing for the sliding community really. As an older athlete I take a little more time off than maybe some of the younger guys so it hasn't affected me that much. Thankfully I borrowed some gym equipment in the gym in Whistler and I was able to set up a little garage gym with Lucas Mata actually! So as far as working out things haven't been affected that much. For my sprint training, even though I wasn't able to get to a running track because of the closures there's been lots of room out on the street so I wouldn't say that training hasn't been affected very much.
For the day to day life I was laid off from my job at the airport, so I probably won't be going back to work there for quite some time. Financially it's been a little tight, but personally I haven't been affected and I don't know anyone personally who's contracted the virus or don't have anyone close to me who's gotten ill. SO thankfully it hasn't affected me as much as it has others.