(July 13, 2020) – For the tenth installment of "Getting to Know…" we chat with Austrian bobsledder Kati Beierl! Kati is the 2019 women's bobsled Junior World Champion, and finished fourth in the 2019 World Championships in Whistler. She finished third overall in the 2014/2015 European Cup season, and finished sixth overall in the 2019/2020 world Cup season with a best finish that season of fifth She's also the winner of her last four European Cup races.
If there's a slider you'd like to get to know, please drop me a note with who on Twitter: @TheKenChilds
Slider: Kati Beierl
Team: Austria Bobsled
Home track: Igls
Hometown: Innsbruck
Sponsors: Q_Perior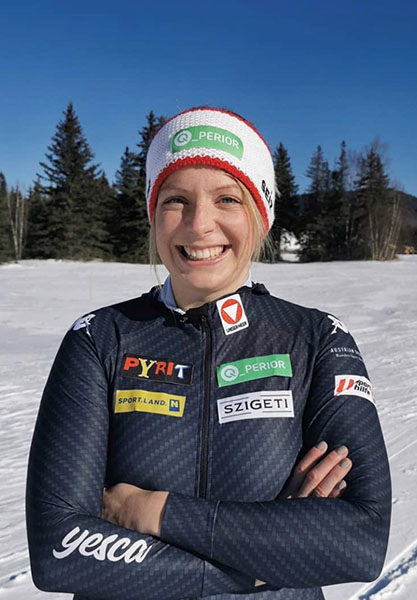 So we'll start this like we do every week: What's your favorite track and why?
Königssee! Because I think I'm best there, and I really love to slide there. I hated it at first, it was the second track I'd slid on and it took 14 runs to go from the S2 start to the top. My coaches wouldn't let me go up! When I did start from the top I hit in the S2 to S3 transition so hard that my lip was bleeding. So my first year I hated it, but over time I really got to love it and with the Junior World Championships title and European Championships medal it's definitely my favorite now.
Aside from the track itself, where's your favorite place to visit on the schedule?
It's probably Whistler because it's just this small village and there's lots of expensive shopping. It's a really nice town, I like it there!
You did track and field for a while before bobsled, how did you get into sliding?
I was a hurdler before but I quit because with school it took so much time to do that, every day from 5:00 PM. So I quit that when I was 17 and moved to Innsbruck to study. I joined a track and field group there but wasn't really satisfied with them. So they said if you don't like this, go be a bobsledder, they're always looking for people. I went to the push track and that was kind of that. I sort of scouted myself.
How long between your first time out and when you decided that's what you want to do?
I think it was right away, because I was always used to competition and that feeling. And from that day when I started pushing I kept going back but didn't know how sliding actually was from summer training. And then my coach said we're looking for pilots, so I never really had a run down the track from the brakes. My first run was on the D-rings, and I really started to like it.
You've won your last four European Cup races, has it been tough not having that same level of success in full-time World Cup action?
We were super lucky because we won those four races, and then we were fifth in Winterberg where nobody thought that would be possible. Before I'd won those four races I'd already done four or five World Cup races, so it was a smooth transition. I like it more in World Cup because it's more relaxed and we don't have that many races and runs. There's a little more pressure, and that's the bad part.
What was your first World Cup race like with TV and everything? Were you nervous?
It was a long time ago, but we were doing European Cup in Winterberg and the coaches said "If you're doing well, you're allowed do World Cup!" We didn't know that that week that we were going to do World Cup that next weekend. We had an inter-team competition which we won. I was sliding with Karlien [Sleper] and of course we were excited and maybe a bit nervous because of the cameras. I don't have the feeling that I'm nervous because of people watching me though.
Do you have any set routines the day/night before a race?
Our main routine is polishing runners for hours! But usually we adapt to the place we're at and when the race is on the next day, because in the morning we try to relax sometimes if it's fitting in the schedule and we can prep the runners on Thursday and the race is on Saturday we'll go somewhere. Like when we're in Sigulda we'll drive to Riga and visit the city just to do something not about bobsled. So we try to free the focus, I'm not a big fan of rituals to be prepared because if that's not working then we'd be screwed! We just try to be as relaxed as possible.
For the first time there'll be monobob races in World Championships this year. You've got one official race in the sleds, what are your thoughts?
I started in monobob, but those were very old sleds and not prepared like the sleds that were used over the last couple of years. When I raced in Königssee last year it didn't really feel like a bobsled, you can't feel anything on the D-rings like you usually do. I'm looking forward to the new sleds, they're promising that they're better. I'm not a big fan of doing it, I have to do it but my main focus is still on 2-man especially since I'm not the best starter in the world which definitely doesn't make it easier in monobob.
Do you have any pets?
My mom has three dogs! Her cat just passed away, but was 16 or 17 years old. I'd love to have a dog of my own once I've moved out of my flat and I'm not doing bobsled anymore. It'd be tough to have a dog when I'm away that much. My boyfriend has a horse stable, so when I'm there I can pet the horses! I try to ride horses, but I'm not very good at it. We're usually just walking the horses, I'm behind my boyfriend's mom and my horse is just following hers.
What has been your best memory in sliding so far?
The bronze medal in Königssee [European Champoinships, Jan. 12, 2019], because it was just a close race. We were in fifth, tied with Anna Köhler after the first run, and then we finished our second run just .02 ahead of Andreea Grecu.
Did you go into that race thinking you had that sort of race in you?
No! But I always seem to have the best races when I don't think it will be a good race. I usually feel confident when I'm racing in Königssee, I've won there in European Cup against a World Cup field, but I try to keep things without much pressure.
On the other side of things, what's been the hardest thing of your career so far?
Not this year but last year's Sigulda race when we crashed in training twice. I think I cried a few times, and I never was more afraid than I was at the start of that race. So I started with pads under my race suit and we started slower than we did in training. I just wanted to get down. This year was a lot better, I changed the sled and it was much better.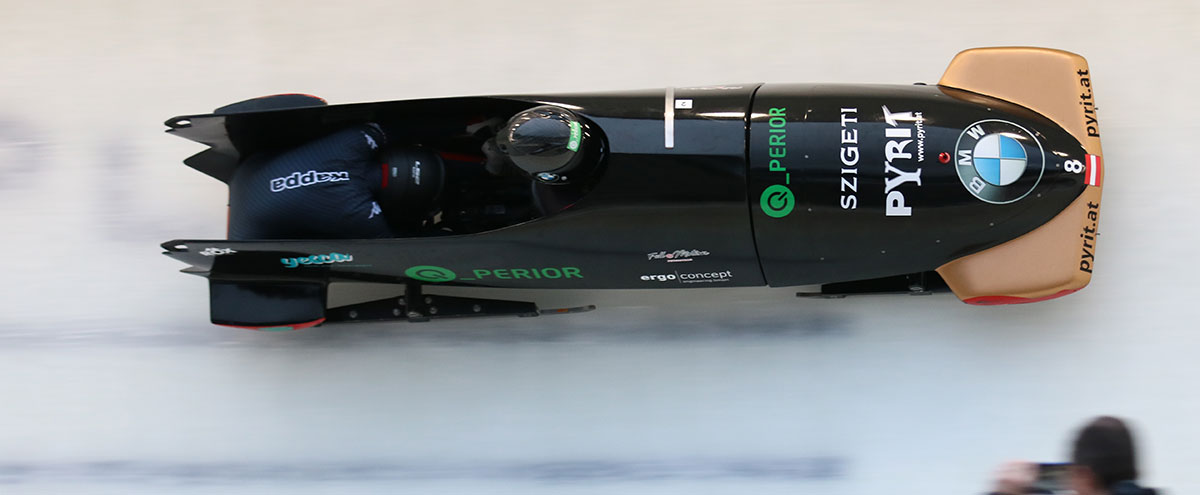 Austria's a huge skiing country, do you feel like it's tough to get people interested in bobsled and to come slide with you?
It definitely is, but I feel like it's like that with almost every country. There are more popular sports and less popular sports. In Austria we have soccer, even though we're awful at it, and skiing. Of course I wish it were a lot more, but skiing always has a much bigger field, and I don't know that I need a lot of people to tell me what I'm doing is good, but I'm doing what I love. Of course, I'd love to get more sponsorship money, but who doesn't?! I really enjoy watching the skiing while we're on tour, so I can understand why it's so popular.
Guest Question: Kelly Curtis (USA Bobsled & Skeleton): "I want to know more about what you're studying with law, and how you're going to apply that post-sliding? And can you give me consultations later?"
It's going well for me, I'm currently in the military through August, then I'll be in the police. So my plan for the future is to finish my formal studies and then go into the police. I won't be a lawyer, that's a much longer time to finish.
Did you always want to get into Police work?
When I finish school I have two options: Either continue school or go into the police, so it's something I thought about but now it's working really well. It's not so easy to get into the police here, there's only five spots available for athletes, so I'm really happy.