(August 17, 2020) – For the 15th installment of Getting to Know… we stick around Canada to chat with Luge Canada's Tristan Walker. A three-time Olympian, Tristan has an Olympic silver medal in the Team Relay (2018) and a pair of top five finishes in doubles action alongside teammate Justin Snith in 2014 (fourth) and 2018 (fifth) 
If there's a slider you'd like to get to know, drop a note in the contact form above or on Twitter: @thekenchilds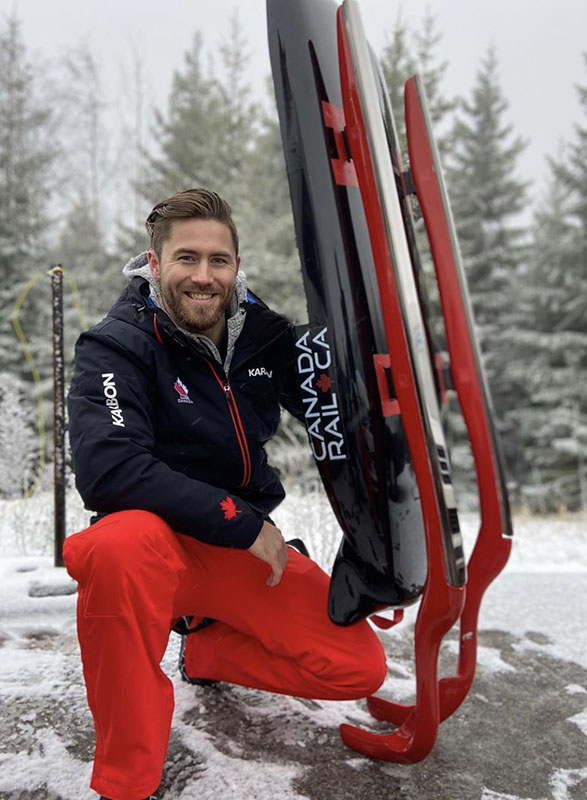 Slider: Tristan Walker
Team: Luge Canada
Home track: Whistler
Hometown: Cochrane, CAN
Sponsor: Global Steel
Question one is always what's your favorite track, and why?
This is actually an easy one for me! My favorite track is Königssee, for a couple of reasons. It's a home away from home for us. We base there a lot of the time, we have lots of runs there, and our head coach is from there. Also the scenery is beautiful, the track works really well with the way we slide and it particularly favors a strong start so that's a huge advantage for us. We also won our first ever World Cup medal there, too! So there's just a lot of reasons why it's my favorite track.
Other than the track itself, what's your favorite town on the schedule to visit?
I love Whistler. Even though we spend a lot of time there it's still great. There's lots of stuff to do, and hopefully by the time we get there we can be doing a lot of that stuff. The whole town is great, the restaurants and bars are fantastic, too. Berchtesgaden as well, but I do really love Whistler. It's also where we get the vast majority of our runs in before we head over to Europe with the World Cup tour, so it's just kind of a second home.
A two parter: Why luge? And why doubles luge?
Luge in the first place is really easy, because I've always liked going fast. I was always trying to find the steepest hill to ride my bike down when I was a kid. I was all "French fries" and no "pizza" when I was skiing with my family. My parents picked up on the trend, and they came across a "discover luge" camp at Canada Olympic Park and signed me up thinking I'd enjoy it and it would get me out of their hair for an afternoon. It didn't at all start with Olympic aspirations or anything, but really just because I like going fast.
For doubles luge, I believe it was Christmas 2007 and Justin [Snith] and I were on the Canadian Junior National Team at the time. Our doubles guys had a bit of a falling out and had stopped sliding together and we were left with no doubles team. So while we were home Walter Corey and Kyle Connelly at the time looked at Justin and I and said "You're about the right size, we're going to try this out." We slapped together a sled out of mismatched pieces from leftover sleds. We called it the Frankensled, and we had about 15 runs on it while we were training in Calgary. The first race was in Park City for the second half of the trip, and we had a big cargo truck that had lots of room in it and we threw it in the truck just in case. We got to Park City and singles was going well so we pulled out the doubles sled. We were still "Youth A" aged at the time, but there was no Youth A doubles on the junior circuit, so we ended up racing up an age category and won a bronze medal! So at that point everyone involved said "You're a doubles team now!"
It's funny how a lot of doubles teams get paired based on a concept of "we need guys".
I'm sure it's going to continue to be like that for a while, since the numbers for doubles are dwindling. A lot of it ends up being "We need a team and we have two guys who are about the right size to fit together."
When you're not sliding or training to slide, what are you doing with your free time?
My main hobby right now is river surfing! That's a big one, I've actually started to use it a bit as cross-training. A lot of the balance, coordination, and stability crosses over. That's probably my biggest one.
There's a standing wave at the 10th Street Bridge here in Calgary and I've been surfing quite a lot in the river.
Have you talked with Rupert Staudinger about river surfing at all?
I have! We had a training camp in Königssee last summer and he knew that I had dabbled in river surfing some so he took us out to the wave in Salzburg. It's a pretty cool setup they have there!
Last summer I also started chipping away at my commercial helicopter pilot's license. I guess you could call that "education" but it definitely feels more like a hobby because I enjoy it a lot more than any other class I've taken before!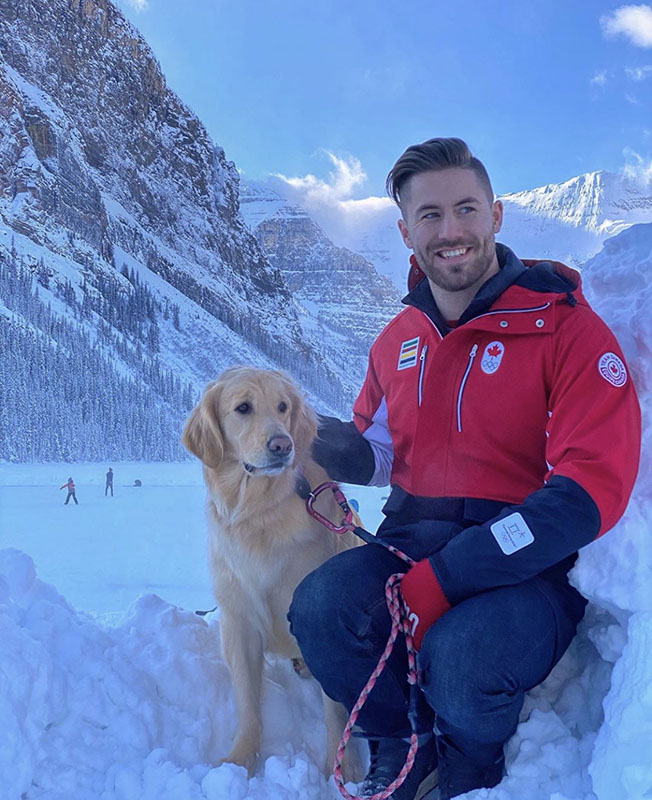 What are your goals for the pilot's license?
I'd love to be a commercial pilot once I've retired from sliding. I do like the traveling aspect of what I do now as an athlete so I'd like to figure out a way to do that some way or another, maybe with some offshore work in Southeast Asia. I know the first bit of building up those hours is a grind to get those senior pilot jobs, so I think I'll have to start like most people flying tours, bucketing fires, taking skiers up into the mountains and things like that. I've always been quite passionate about aviation so I ended up going with that for what I wanted as a career.
Tell us about your pets.
Kona is actually, technically, my girlfriend's parents' dog. But there's a bit of co-ownership there where we spend a lot of time with her. She's unfortunately out at my girlfriend's parents' place out in British Columbia right now so we don't get to spend a lot of time with her during the summer. But Kona's great, she's very pretty and not very smart! But that's the way with golden retrievers, right? Either way she's a very, very good dog.
You're always in the medal hunt in team relays, what is it about the event that lends itself to how you all slide?
I think we have already a lot of emphasis on our team environment. We like to work on the team culture, and there's a cool part of the team relay where even though we're sliding singles or doubles you're not really racing as a team. But once you get with that group of people there's something about the way that we develop the culture on the team we feed off each other's energy. I also think that regardless of how we're sliding, the team is pretty consistent across the board. Even though we may not be hitting the podium in our individual events once you take into consideration that we're pretty well balanced it helps. There are some teams that will have one singles guy who always wins medals, or a singles guy and singles woman or whatever combination, but they have someone who isn't quite there. I think we're really balanced across the board. We're working on bringing up some of the rookies now as well to get them into that competitive form. Even that first race after the Olympics in Whistler we finished on the podium with two really green relay sliders, so I think it's just a level of consistency where we're all at least competent sliders that will work against teams who have one really big drawback in their roster.
During training camps is the relay something you practice?
We try to get in a bunch of team relay runs. We usually have two or three days' worth of relay training which gives us about two seasons worth of relay races.
What is something about doubles luge that an average person may not understand?
You're both driving the sled, and it's like giving a one person job to two people. While that may sound like you're taking off some of the work load it's a lot more complicated than that. You have to act as one person. On a singles sled you drive with your shoulders and feet. On a doubles sled the bottom man has the shoulders and top handles the feet. I think it goes back to the fact that a lot of people watch luge and don't even realize we're driving the sleds at all. So first it's closer to Formula 1 than it is to tobogganing. Someone saying "a luge sled you just lie down and let the sled go" is like saying to a Formula 1 driver "you just sit there and press the gas pedal and you don't do anything else." So first we absolutely drive the sled all the way down, then for doubles to take it a step further you have to operate the sled like you both have the same brain.
What is your favorite luge memory?
I think a lot of people assume that it would be the 2018 podium in Pyeongchang, and they would be right, but it's also tied with walking into the opening ceremonies of the Vancouver Olympics on home field. Those are pretty close, sometimes one jumps ahead, sometimes one falls behind, but I would say they're tied there. It's hard to choose between the two.
What was the feeling like walking out in Vancouver?
My eyes were HUGE the entire time. I'm really grateful to have the opportunity to have a relatively low-pressure Olympics where we weren't really expected to do anything. From the very beginning it was us being there to get Olympic experience so we didn't go to Sochi having everything be our first time and also be expected to be on the podium.
What were those first Olympic runs like?
The biggest difference, and this will always stay with me, was that it was the first run where I could hear fans down the entire track. Most other places there's either not enough people or they're all spread out enough that you get pockets of fans and a little here or there, but even going 130+ kilometers per hour you could hear the fans the entire way down the track.
Side note unrelated to the Olympics: When you're in Altenberg can you hear the oompah band while you're sliding through Kreisel?
Yes! You absolutely can! Wherever they are on the track you can always hear them. It's always the trumpets, it's always cold out so the brass instruments aren't REALLY in tune together so there's a bit there that you can always pick out! No matter where they are you can hear them!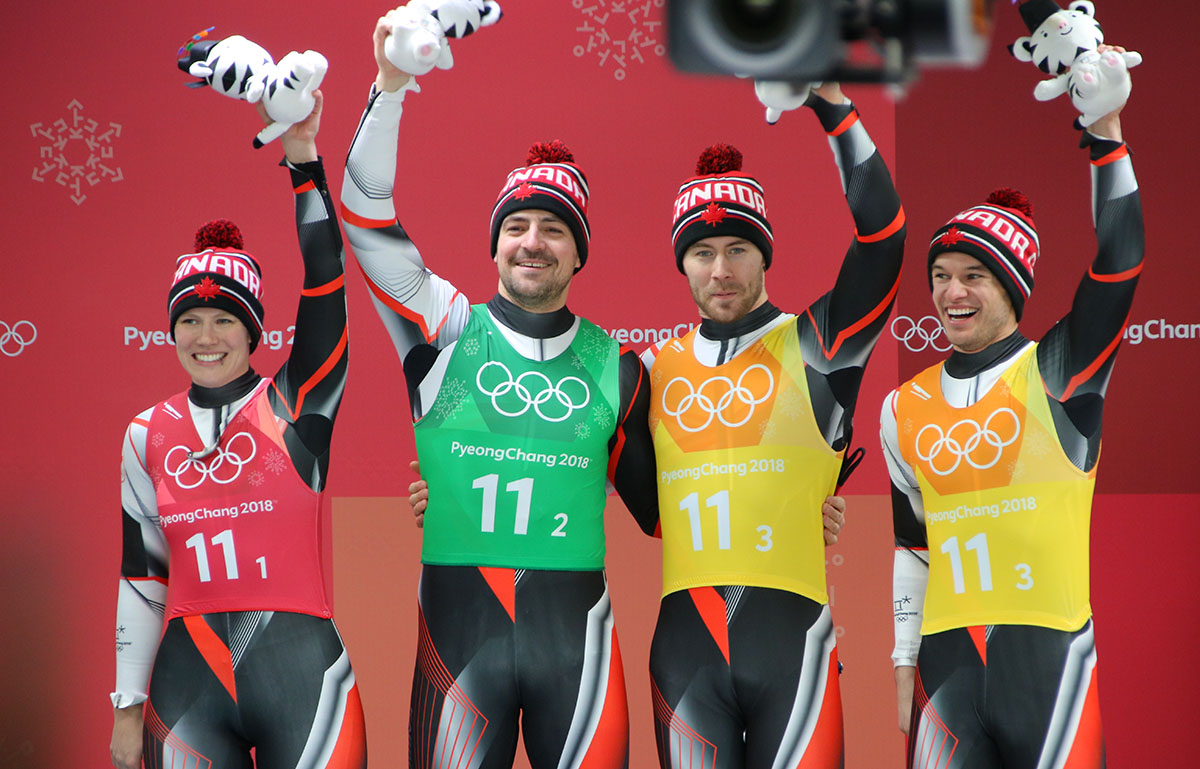 On the other side of that, what's been your hardest memory?
That's going to be the two fourth places in Sochi. The doubles race was hard, but we were kind of punching above our weight there. We were ranked eighth going into the Games so for us to get fourth in doubles was really tough but job really well done. But in the relay we were ranked second in the world and that was tough. So two fourth places was just hard. It affected my sliding for about two seasons after that, too.
When you first started at that junior level, how long did it take from the first time you got on and to the time when you felt like you were meshing?
That would have been probably by the end of the next season. Once we figured out Whistler from the previous Olympic start I think that's when we started hitting our stride. We were pretty lucky with that first Junior World Cup podium, then we struggled for a little bit then we medaled at Junior World Champs in Nagano, and then after that we were invited to race at the senior Canadian Champs. We crashed a lot trying to learn Whistler for that, but once we nailed that 12/13 that's when things started to come together.
You've been to three Olympics as a team, you've got a silver medal in the Team Relay, what keeps you going for another quad?
We don't have a doubles medal yet, and the medal we do have is kind of the wrong color! It's nice, but not quite what we're shooting for. Even though we've accomplished a lot there's still goals to achieve for sure and records to break for Canada. I think pretty much any conceivable metric or record in Canada I think we have. We have fourth place both in World Championships and the Olympics which are best Canadian finishes. We have Canada's first ever World Cup medal, first World Cup on home soil, and I'm pretty sure we've broken all the Canadian start records so we've accomplished quite a lot but there's still a few more boxes to check.
Question from Grace Dafoe (Canada Skeleton): Do you think you would have won the Olympic medal in Pyeongchang if you'd won a medal in Sochi, or did that setback prepare you better for 2018?
That would have been a totally different of series of events, I think. One of the big things that set us up for our podium in Korea was that Sam [Edney] was still there and that we had he and Alex [Gough] and myself and Justin to run that relay. I don't think Sam would have stuck around for another four years, but I think he had unfinished business because of 2014. Not that Reid [Watts] or Mitch [Malyk] aren't very capable sliders, they just weren't at the level that Sam was at in Korea. So just based off that I don't think we would have gotten that medal just because we didn't have that strong, experienced team there. Plus all of the other things that go to the drive to feel like we were righting a wrong and all of the other bits where we felt like we had to make a statement, doing it the right way. It wasn't just that we were close in Sochi, but we also really had something to prove.