(August 24, 2020) – For the 16th installment of Getting to Know… we head to Great Britain to talk with skeleton slider Marcus Wyatt. Marcus began international competition in 2016, and has been contending for medals at every level ever since. He won his first medal, silver, in a 2016/2017 season Park City North American Cup race, and his first gold in Igls during the 2018/2019 season in International Cup competition. 
If there's a slider you'd like to get to know, drop a note in the contact form above or on Twitter: @thekenchilds 
Slider: Marcus Wyatt
Team: British Skeleton
Home track: Lillehammer
Hometown: Bristol, GBR
As always, we start with this one: What's your favorite track and why?
This is a difficult one! It's either Whistler or Sochi. Whistler is so awesome, and I love the speed. It's such a difficult track. We went to Sochi for the Intercontinental Cup last year and it's such a cool difficult track unlike anywhere else I've been.
You do a lot of ICC races before World Cup. Is that just to get runs in, or for IBSF points?
It depends on where the other British athletes are and if there's time for us to go and do some race practice on an European Cup or ICC stop. I think they like to send us to race just to practice for that environment.
How are those ICC races compared to World Cup?
It's cool, I like it. I think for us there's a little less focus on it, I obviously want to turn up and do my best and try to win, but it's a little bit of a less high-pressure environment. Especially if it's the first race of the year you can figure out a few things and you've got a bit more room to play. There's just a little less focus on the result, and it's nice to see people you might not see week in and week out on the World Cup, too.
Aside from the track itself, where is your favorite town on tour to visit?
I love Whistler village, it's such a cool place. Anyone who's been there knows places like Purebread, such good cakes and stuff! I also really like Sigulda. It's an unusual place, but everything's close. The gym's right nearby, and where we stay in some pretty good places with really good food. Aparjods is great and Mr. Biskvits if you're into cakes is really good.
You're not the first person to mention Mr. Biskvits!
It's really good, it's such a nice little stop in town. You think "Oh, we're nearby, we might as well stop and get a cake and a coffee".
When people think British Football, they don't think of American-style football. How did you get into that?
I started watching a bit of National Football League when I was 15 or 16, they show it on a few channels over here, and just really fell in love with the game. So then when I got to University [Swansea] I found out they had a team, and figured I'd played normal football all my life and figured I'd give this a go. This is the best opportunity for me. So I signed up for the team, we had a combine and got put in positions, and it's a really competitive league. There's probably 60 or 70 university teams in the UK, as well as a similar number in the adult game. It's a good standard, some of the guys like London Warriors playing in the international competitions. If I hadn't gotten into skeleton I would have liked to have played semi-professionally, there's a good scene there in Europe for that. I would have done that for a year or two before I'd gone and gotten a real job.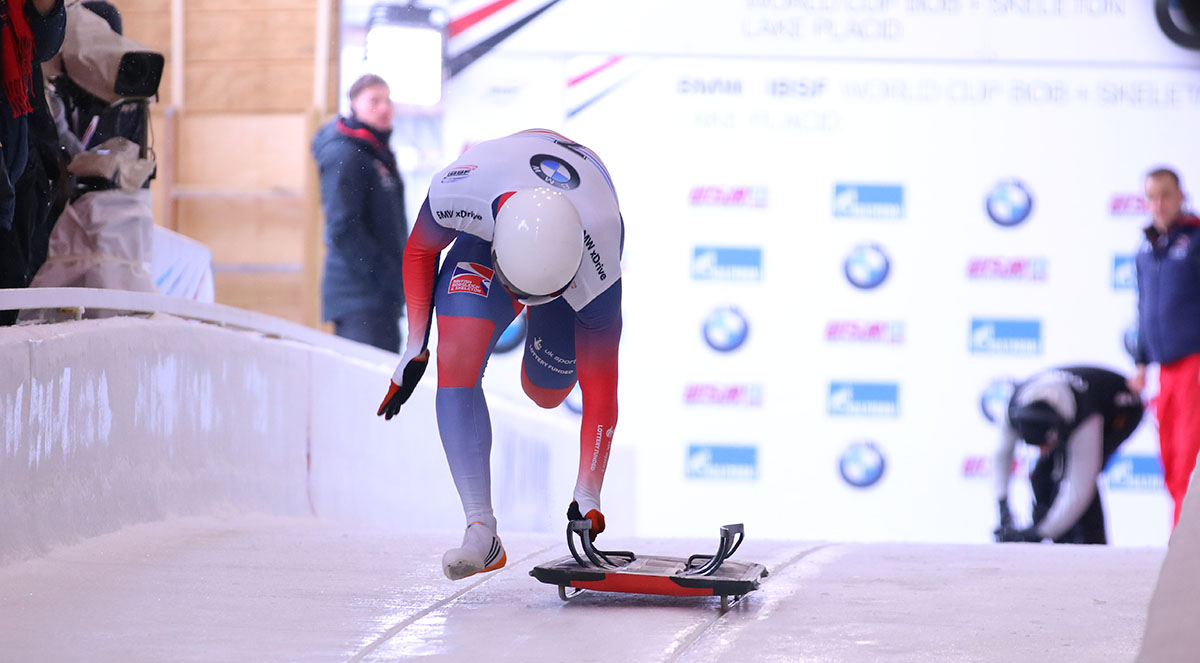 How did you get into sliding sports in the first place?
I was in my final year in school and I've always watched the Winter Olympics and I remember watching Lizzy [Yarnold] win gold in Sochi in 2014. I'd seen it a bit before and thought I'd love to give it a go, I'm such an adrenaline junkie. During the coverage they talked about trials that they were holding for athletes to come try out. They were looking for people from sprinting or other athletic backgrounds, and that has always been one of my strengths. It was Valentine's Day 2014 and I applied. I think it was late December that we got onto the teams. It was loads and loads of trials, there was about a thousand people who had applied at stage one and then they pared you down and to ten guys and ten girls to the ice and selected eight of us from there. I think playing American football helped, I jumped into a sport I'd never played brand new and learned all those skills. So I was a bit more comfortable, it's really weird when you've been pretty good at something and you're suddenly really bad. So I'd have that experience in being terrible and working my way up so that really helped a bit.
Everyone has a pre-race routine, what is yours like?
I like a late morning or afternoon race, kind of a late breakfast. I prefer if the girls had raced first, it's nice normally. We just kind of easy morning and slowly build up and get more in the zone. No real specific things I do, though. I try to take it easy and become more and more ready for the race and build myself up throughout the day until I'm on the line.
When you're not sliding or training to slide, what do you do with your time?
I love cooking, so I spend a lot of time making Asian and Indian stuff. I also like gaming, right now on Call of Duty. Those are probably my two main things.
What are you playing right now?
Call of Duty at the moment, I just finished The Last of Us. It was really good, great story mode on it. The second one has just come out so I need to invest in that, probably after the season.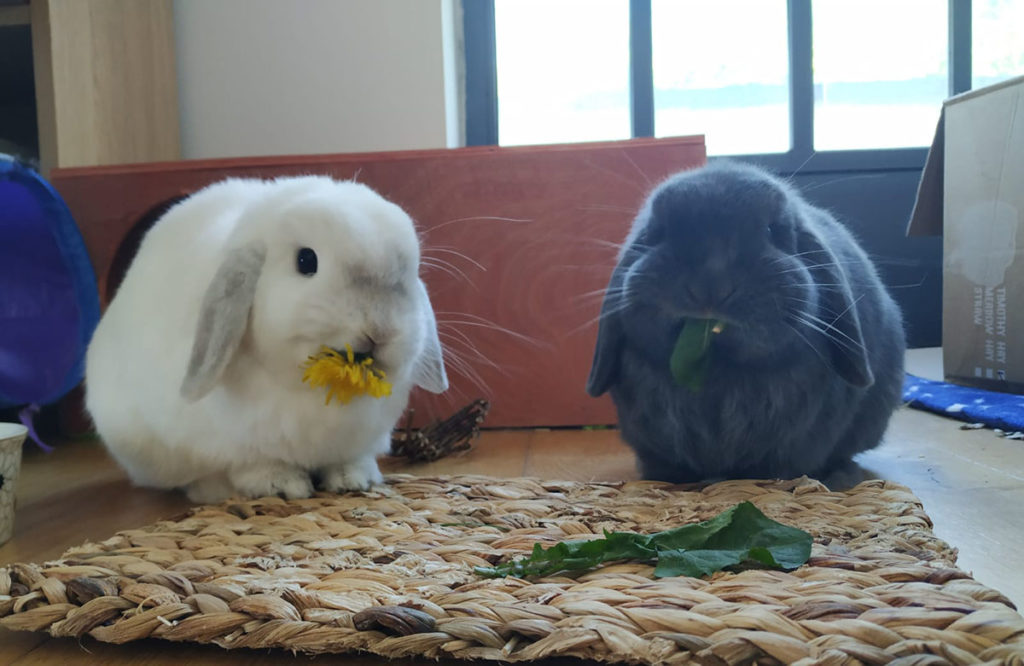 After the season's over everyone kind of has their own way to unwind, what do you do?
For me I like to come home and chill out. My girlfriend's a nurse so she's pretty full-on throughout the year. So we try to take a way and try to see family and take a bit of downtime for myself after coming off for four to six months away. I try to do a little training just to keep the body ticking, nothing too strenuous.
Tell us about your pets.
We've got two house rabbits, Olive and Olaf! We've had them since December, so we haven't had them for very long. It was my girlfriend's idea, I wasn't fully onboard to begin with, I think she just wanted a bit more company during the season and she found a local place. They were in a foster home and we adopted them, and they live here and love to destroy things. Right now they're munching on some cardboard. They love cables for some reason, so we'd only had them a week and they'd gotten behind the television and chewed through absolutely everything. They're really great though, you can just spend hours watching them, they've got their own personalities!
When do you begin to ramp up your training again?
Preseason testing is normally the first week of May, and then pretty much builds into the first weeks of training from the time after that.
What's been your favorite sliding sport memory?
One of them has to be being selected onto the team. There was over a thousand people who wanted to be on the team, so to be selected was something I didn't believe until I got the phone call!
Sliding-wise, the wins are great. There was an ICC race in Igls where Craig [Thompson] won the first race and I came in second, and I won the second race and he was on the podium as well. That was special, just sharing a podium with a really good friend who I started the sport with, that was phenomenal. That's probably number one.
On the other end, what's something just tough that's happened?
I don't know how many people know this but I had qualified for the Olympics in 2018, but because I hadn't gone to the International Training Week they gave my spot to Jerry [Rice]. After the final rankings got put out we got called to rooms individually and having that meeting was pretty tough. I thought I'd done enough and that maybe they'd overlook the ITW thing so that was pretty tough.
Did that push you more for Beijing 2022?
I guess so? To be honest now I'm not sure? I think I was always so driven for that, I don't think I could want it anymore. It's just what happened and I was able to move on for the next four year cycle.

Guest question: Question from Tristan Walker (Luge Canada): We slide a lot at Sigulda, from a skeleton aspect how do you enjoy sliding there?
I do like it out there, I like the more difficult tracks like Whistler, Altenberg, and Sigulda. My first couple of times there, it was the first European Cup race I'd ever done. I did a North American Cup race the year before as an introduction to racing. Sigulda was our first European Cup race. Our coach at the time was Pat Shannon who works with China now, and he told us afterward that he had the ambulance route to the hospital in his head! He didn't tell us this before, thankfully! The first couple times was hard, it's such a difficult track for skeleton sleds, the corners don't feel like they're designed for us and you can't help but skid. But it's really difficult. Since having Mareks [Mezencevs] as our coach being Latvian at his home track, there's something you get from having a home insight that makes it so much easier and unlocks so much of the track for you and makes it clearer. It's a track where you can be doing the best of your ability and still not get it right, home knowledge is really useful.
When you started talking to Mareks did things just kind of click?
Yeah! It was a lot of stuff where we were close before but little tweaks changed corner for us completely. Just little bits and you think "Oh! That makes sense". I really like it there that we'll spend a lot of time there. It's a really great facility, too!