(August 31, 2020) – For the 17th installment of Getting to Know… we talk with three-time Olympic bobsledder Nick Cunningham. Nick has competed in the last three Olympics, in 2010 on the back of Mike Kohn's sled, and as a pilot in 2014 and 2018 with a best finish of tenth (Sochi four-man). Nick has won six World Cup medals, with three silvers in two-man (Park City and Lake Placid 2013/2014, Lake Placid 2017/2018). In the 2016/2017 season Nick raced on the North American Cup tour and won the two-man, four-man, and combined titles. After stepping away from competition at the conclusion of the Pyeongchang Olympic Games, Nick began coaching a Carmel (CA) High School track and field, and that team has gone on to win titles and break records in the two seasons since.
On Monday, August 24, Nick once again retired from the sport…for now (see below).
If there's a slider you'd like to get to know, drop a note in the contact form above or on Twitter: @thekenchilds 
Slider: Nick Cunningham
Team: USA Bobsled/Skeleton
Home track: Lake Placid
Hometown: Monterey, CA, USA
You've been in the sport for a long time, and have slid on all the tracks. Which is your favorite, and why?
My favorite track…you can't go wrong with St. Moritz. It's the most cliché answer you can give, but that's it. You can't go wrong with it, it's such a cool place. I've done way better in Lake Placid, so I feel like I should say Lake Placid, but it's definitely St. Moritz. There's a reason why every athlete says it.
Is there any one part of St. Moritz that makes it that much better?
The second you walk in to the staging area, you're kind of in that bowl. You just get overcome with history, just the people who have come through there, the café that's up top, the announcer's voice, the people cleaning the track with the old style brooms, all of that stuff is just such a unique feeling you don't get anywhere else.
Aside from the track, what's your favorite town to visit on the schedule?
Whistler! The town is just fun. You walk in there and it's a cool little ski town and there's stuff to do every night. There's a lot of places to go see and eat at, and the different nations are all walking through the middle of town, so you can kind of interact with everyone else and that's really great.
After the 2018 Olympic Games you decided to step away from the sport, but you came back pretty soon afterward. What brought you back?
I was still coaching, and was planning on coaching for the entire year. Two of our development pilots were doing military stuff and they weren't going to be back in time to race and fill the North American Cup quota spots. So what started off as a joke of me driving some of our rookies turned into "Hey! Bring your helmet and spikes!" because if they weren't there by the time of the team captains meeting I was going in. So it was a legitimate "off the couch, let's go!" fantasy bobsled for me which was a lot of fun. I was able to do something very unique which was be a coach-athlete, so I was able to coach and teach these rookies the standard of what we want. It's so easy to go on the North American Cup and kind of turn your nose up to it like "I'm better than this" like it's "hobby bobsled". So to go out there and show them how to race like it's a World Cup event, so if they're called up to World Cup they're prepared on day one. My job is to get these guys prepared in case they need to jump onto Codie's sled or Hunter's sled and really prepare them. I need to make sure they're ready to meet that expectation.
During your time away you began coaching track and the program has been tremendously successful. What has that experience been like? And has that coaching translated to working with a young bobsled team on NAC?
I think the biggest part of me being able to do that, and again I was very fortunate with the athletes who have come onto my high school track team and we were able to go out and they set a bunch of records.
When I left bobsled in 2018 I was so lost, I knew I wanted to coach but the opportunities are few and far between, and there's lots of questions: Where do I want to go? How do I get to where I want to go? Is Division I coaching the only thing that validates what I can do? Where do I go from here? So I think the going out and really kind of using all of my time to head coach at the high school level, and I was a volunteer assistant coach at the junior college and Division II level, so to go and mix all of that up and see different athletes and figure out how to verbalize what I needed to with different athletes, I was able to talk. I had a coach early in my career tell me that I need to learn how to talk about all these things because one day I'm not going to be able to give demonstrations. That was something that stuck with me because I'm a very visual person, and I like to show what I'm trying to accomplish. And he was right, I can't always be getting down in the blocks and coming out or getting behind a sled, I need to learn how to verbalize what I'm doing. So that was something that helped me.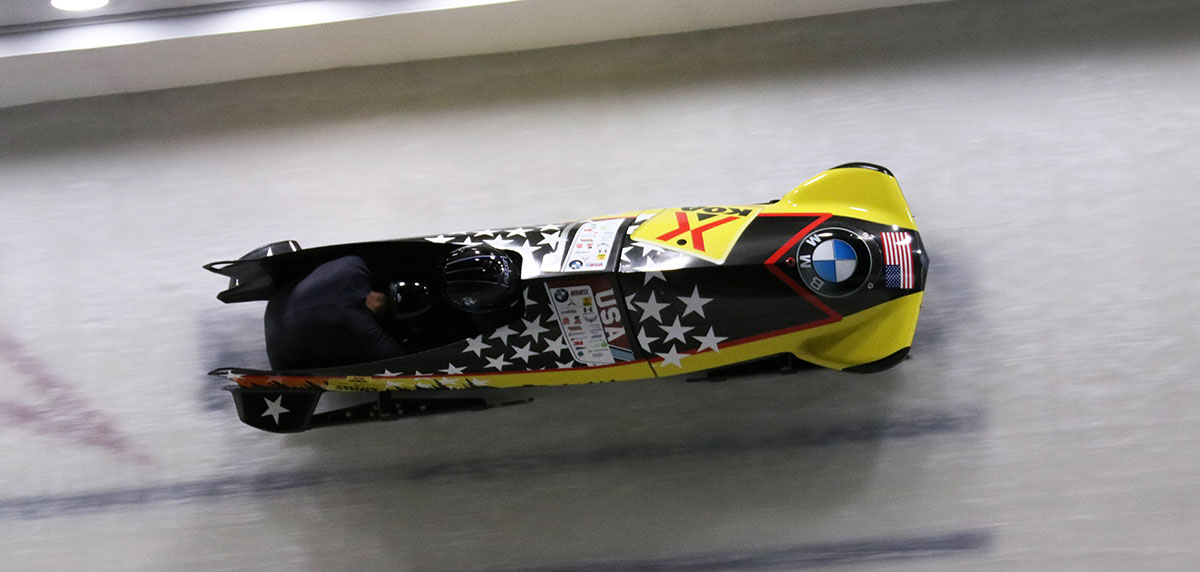 I have some high level athletes on this bobsled team that are Division I football players who have played in the SEC and I'm trying to communicate with them something that's so foreign to anything we've ever been taught as an athlete. I think that's helped and almost jump started my career as a coach.
But being a pilot you're always working with new athletes year-in and year-out trying to get these guys to load into the sled and teach them how to be a little faster and find ways to help them fit in a sled because you're rebuilding that team every year. I think doing that for the past 12 years kind of helped me be able to talk and communicate a little better with my track kids and my football players and come back as that pilot-coach.
When you go back on ice, was bobsledding like riding a bike or was there a bunch of rust?
All of the practice was me just going 75-80% and that was the goal. I just wanted to get to the bottom of the hill and see where we were, I didn't want to strenuously test the body or go get hurt or whatever. But the second I got these guys behind me and the camaraderie was there, just being in that atmosphere, I thrive in it. You get the juices flowing, the music is blasting in your headphones, you're walking around and the sleds are getting to the line. The second you step out of the start house and get to the line it all comes right back to you. Nothing can ever fill that void, that high you get when you get on that line. Nothing that I've experienced will ever touch that! When I did have that void my high school teams I was coaching really helped fill that for me so I didn't really go into that depression of figuring out what was going to fill that void.
In the last few years you've done some racing up at Meridian Speedway (ID), do you have any interest in getting back into that when you're done with sliding?
I love racing! That's what I wanted to be as a kid, just a race car driver. That's really a big thing that turned me onto track was that I was able to race. It's funny, I'd make little luge carts by putting a piece of plywood on a skateboard and I'd go luging down our street as fast as I could. So that's what I grew up doing, kind of luging and making little bobsleds on the streets of California with absolutely no plan to actually go into bobsled whatsoever. But I wanted to race, and I loved that competition.
I would love to continue racing, any seat time is great, even if they just want me to shake down a car I'll do that all day long because I love that environment. It's so foreign to me, but it's all about dollars. I like to pick sports that don't pay at dime! If someone wants me to go out there and do a track day and get some seat time I'll be there all day long. But if they want me to fork over $100,000 I'm probably out!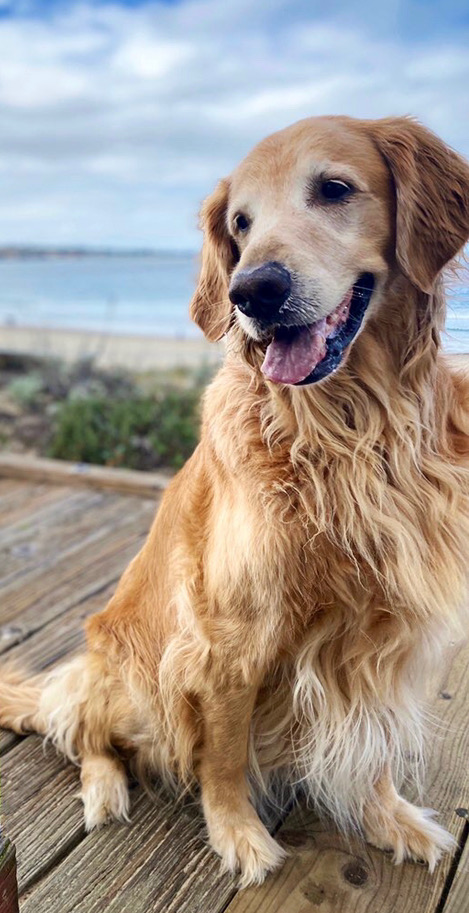 If you had to choose one non-Team USA athlete to push a 2-man sled for you, who would you choose and why?
Reggie Bush! I had the opportunity to race with him at a state track meet in California in 2003, and to see the guy run a 10.3 in high school. To throw him on brakes now? He could probably still make our Olympic team, I just wish he knew that because he should be out there for sure. That was the guy I grew up knowing about and going through track times and everything. He was always on the list of times I was looking at, and it was a stacked state year! There was him, Allyson Felix, and just a ton of talent. Pushing me I'd have to say Reggie Bush.
Tell us about your dog.
We've got a golden retriever! Her name is Hannah, she's my mom's pride and joy. I'm pretty sure I've taken a back seat to this dog for sure. But it's one of those things where she's been a constant. With all of the traveling, leaving, and everything, our little puff Hannah has been our rock! We've had for over 10 years now, we got her as a puppy. My parents went through and fed all the dogs and hung out with them and picked the one who'd mesh with the family, and that's how we got Hannah!
On race morning what is your routine like?
I try to stay as calm as possible. One of the things I've noticed is that if I get too amped up and start storming the start house and being super quiet, it's just not me. I'm the guy at the line who's talking to the other drivers and moving around and keeping it light. I'm telling my team "Let's go have some fun boys!" That's just what I do, and I kind of the same thing each time and tell my team "No excuses, do your job" because a pilot doesn't want to get to the bottom, see they're in tenth place and have someone say "Yeah, I slipped." I don't care, let's not do it again! So I'd say the same things to everyone as I go, but I otherwise try to keep it light and fun because at the end of the day we're not getting paid enough to be miserable. At the end of the day we're traveling around the world sliding for a living and life is pretty good for the time we're in the sport.
Do you have a pre-race playlist or anything?
Musically I'm all over the place. I try not to do anything too crazy, so I just find stuff that'll keep me happy. I'll train with country music in my headphones, or classical music in my headphones, because for me music is such a psychological thing. Being a coach now, seeing how many athletes pay attention to the music and not just have it as a background thing, for me if I know a team hates country music that's all I'm playing prior to a meet because I'm already in your head before you've even started. I know the Germans aren't going to be playing the music I want to listen to that'll get me all pumped up, so I listen to everything to just turn it into background noise.
What's been the best moment for you in your career?
Probably the three times I've qualified for the Olympics, and I'd have to say all three because none of them were a normal way to get there where you're just like "Okay, we qualified and we're good." My first year as a brakeman we were the third third sled. Going in we had to race another US team and we had to qualify in the last heat of last race. And for 2018 we had to get that third sled in in the last race. I was USA-2 at the time and it wasn't as crazy for me personally, but as a team it was all about how to get this third sled into the Olympics. Each of those were such a unique thing.
For my first Olympics Jamie [Moriarty] and I were both new Olympians. And then on my second Olympic team there were two guys that were going to their first Olympics. Then in 2018 I had three guys at their first Olympics. So to be able to go and be with people on their first experience time and time again. It became a little bit less about me and more about watching them enjoy that moment that they earned.
On the other side, what's been the hardest thing for you?
Not being named to the 2016/2017 national team for sure. It was hard because it was based on coaches' discretion. I'd qualified for it, but they went with another pilot. It was a hard moment to know that they didn't think I'd be able to get the job done and they'd rather put another pilot in there to do my job. So that was a really hard experience which until 2018 took my career in a completely different way. That would have been the year to really go after it and really make it happen.
Did that make the 2018 Olympic team that much better for you?
It did. The last Olympic Games I felt like I didn't have that much control over it. I didn't get the training on the track I needed. Since I only got two training days during International Training and that's all I had. So the way I tried to learn the track was during unofficial training I jumped in the back of Ivo de Bruin's sled as a brakeman to try to learn the track any way that I could. So the year before the Olympic games I'm in the back of another pilot's sled to try to learn! Anything I could pick up because I wasn't getting that valuable seat time to feel the pressures and the curves and whatnot. So I had zero confidence going into the Olympics. I mean, we were going to get down safely, that wasn't a concern. But I didn't feel like I would be able to be in that position knowing the track well enough to be a medal contender. And that's not how you want to go into an Olympics.
How was Ivo's driving?
Ivo's a boss! He kills it! The fact we were able to work together and give his guy a day off and give me, a competitor, the opportunity to learn…that really shows who we are as a sport. We're all in this together, and I'm not trying to beat Ivo, I'm not trying to beat the Germans or the Russians, I'm just trying to beat the track. It's the same mentality like in bull riding or one of those sports: If you're trying to beat the other competitors you've already lost. You're already mentally taken out of it. I need to beat my heat before and have my best run. As a younger driver you try to beat others, I know I did. I was trying to beat other people and I just needed to work on myself and make my best runs I could to be competitive. The first few years when we were there having that success that was the difference.
Sliding gives you a chance to travel all over, where would you like to travel to that you haven't yet?
This is tough! I'd love to go see the northern lights! It's one of those things I'd like to experience, go up there and see all of that. That's already on my bucket list so I'm going to do that!
So what are your plans for the future?
So on Monday (August 24), I officially hung it up. Kind of going through things and talking to different people I decided it was time. Last year's rankings had some to do with it, knowing that because I was still technically still a coach I wasn't going to be able to carry my federation ranking over. Know that I'd have last pick of equipment and brakemen and that there's some question about the North American Cup with COVID and everything, I decided to step away. Now if there hadn't been COVID questions and things like that, with World Championships in Lake Placid, I'd consider running the season on NAC, try to get a ranking high enough for Worlds and go from there. I think I could be in contention for medals in Worlds, and really this World Championships in Lake Placid is what even kept me in the game. Then looking at the Olympics there's only a couple of countries that get three sleds, and having been that guy who's been the second or third sled, it's tough. Hunter [Church] and Codie [Bascue] are just so good right now, with great equipment and brakemen they're going to be those top two guys more than likely.
And with coaching, I've got a good group of athletes out here. Now, if this season is canceled all of that goes out the window! But right now it's about me taking a step back, looking at how I can give USA Bobsled/Skeleton all of my best and I think that in a coaching role I can do more with less. I can be the guy to not have a dog in the fight and be able to help everyone from the top down, I can help our women's team more in taking film and things like that, and I can help all of the brakemen instead of just my crew. It really gives me a chance to do more with the federation, and I'd really love my lasting legacy to be where I was able to help do everything I could to put the team in the right direction moving forward. Whether I can accomplish that or not we'll see, but I want to have that chance to do so.
But if all of a sudden a seat opens up and there's a chance to slide?
Oh! I'm staying in shape, believe that! Look at Eddy Alvarez, he was just out there playing baseball and staying in shape and *boom* a virus takes out half the team and now he's playing Major League Baseball. He got his shot and capitalized, he was ready to go! So these dudes need to know I'm at the house and am ready to go just in case!
Question from Marcus Wyatt (GBR Skeleton) If you had to choose between fighting 1,000 duck-sized lions or one lion-sized duck, which would you choose?
I'm going with the one lion-sized duck. I just want to go up against that one! I just saw a video of a bunch of hyenas taking down a lion. So strengths in numbers there, and I'm not having a thousand little lions coming at me. Puppies, man, you get two or three puppies and they'll take you down. So you get a thousand lions?! I'll punch a duck right in the beak! If you come at me at a high rate of speed I'll come at you too! Geese are already about that size anyway! Now if you said an eagle that has talons and stuff? That might be a different conversation!