(September 14, 2020) – For our 19th installment of Getting to Know…we catch up with Canadian skeleton athlete Madison Charney!  Since the start of her international sliding career in 2011, Madi has 18 medals across the North American Cup and Intercontinental tour, including gold medals in both Calgary and Whistler while finishing in the top three every full season she slid in North America Cup. Madi has also competed on the World Cup tour over the course of her career, the most recent being in the 2019/2020 season.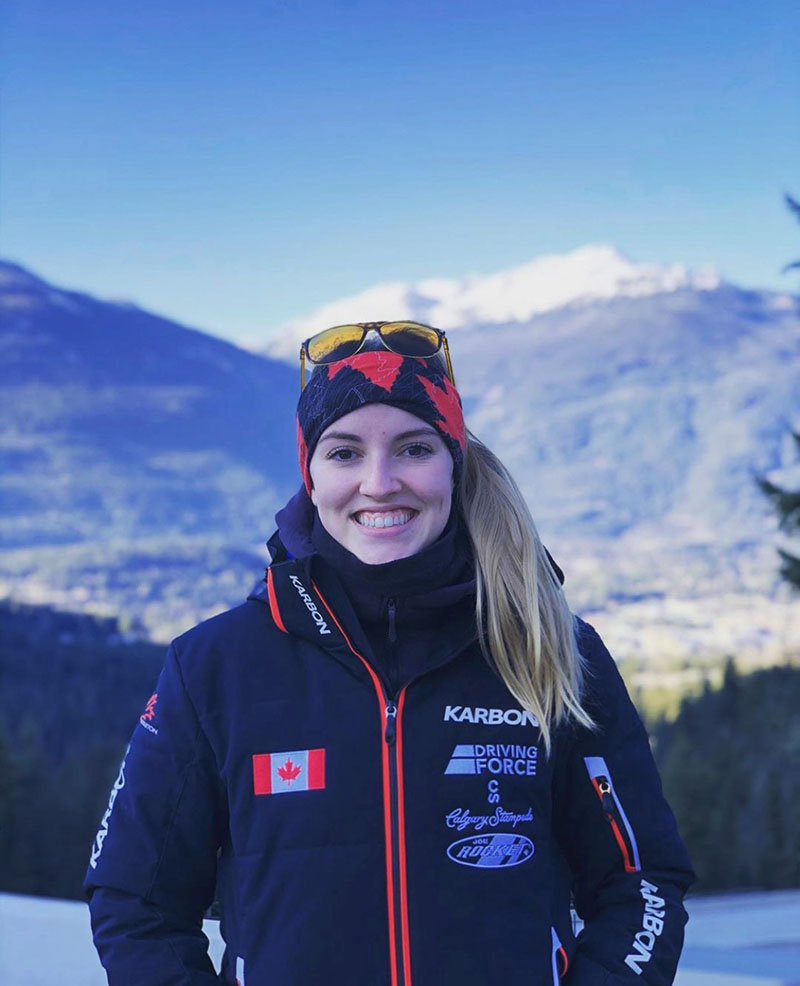 This week's interview also has not one, but two guest questions!
If there's a slider you'd like to get to know, drop a note in the contact form above or on Twitter: @thekenchilds 
Slider: Madison Charney
Team: Bobsleigh CANADA Skeleton
Home track: Whistler
Hometown: Brooks, Alberta, CAN
Sponsors: Sport Chek, Mom & Dad
If you had to pick a favorite track on tour, what is it and why?
I would say Whistler. Obviously I'm biased because I'm Canadian and I've been sliding there for so many years now, but I think the track has everything. It's a pusher's track, but by the time you get to Corner 2 your start is already negated because you're doing 80 km/h already! There's just so much to it: Curve 8 is technically a curve but it's kind of a straightaway, you have high pressure corners but then you also have the single pressure corners which are crazy. And sometimes in Whistler you think you've had the best run ever and then you get to the bottom and find out you haven't, and it just really humbles you. It reminds you that you have to keep working, which is awesome. We've called her a "koi fish" before, because she's beautiful and she's dancing, and to get a good time you have to dance with her flow. But every now and again she'll turn around and just nip you! So we've always said she's this beautiful, elegant thing but if you mess with her she turns around and reminds you that she's the boss there.
Do you have a favorite part of the track?
When you get the 10-11 transition right, it's similar to St. Moritz where it feels like you're flying because you're going so fast there and you can just tell. As soon as you get the transition and you get into Curve 11 it's so smooth and feels so good going in there. So that's definitely my favorite.
What is your favorite town on tour to visit?
That's a tough one! So La Plagne was new to me this year…and I don't really like the track…but I loved the area. I've never been to France before, there's little French islands off the coast of Canada that are still parts of France, so I've been there but I've never been to continental France. And it was gorgeous because the country was still in a spring/summer and you drive up the mountain for what seems like forever and then you hit La Plagne. We went all the way up to the top and you can see everything, which was amazing.
I don't know though! Obviously Königssee is beautiful, and there's lots to do there. Altenberg is kind of its own weird, kind of cool place because you're close to Czech Republic and Dresden and Dresden has so much history. And then you look at Igls, and Igls is amazing because there's so much good food and you can walk around Oldtown. But if I had to pick one spot, it's got to be St. Moritz!
My two favorite treats are in St. Moritz! One is called the Berliner, and it's a donut that's stuffed with apricot filling and they put cinnamon sugar on the outside of it. It's so good! Then the second one is called the mandelbrezel, which is literally just "almond pretzel" in German. And that's literally what it is, just a sweet pretzel with almonds in it. I have to watch how many I eat there because they're so good, but every day I think "I need a treat!" And there's so many dogs in St. Moritz, everyone has their dogs out with them. The track obviously helps, and it's sunny all the time and everyone's smiling. Though if you go to the grocery store you don't know if you're supposed to speak English, German, French, or Italian and that's the hardest part. But I would say St. Moritz is the hardest part.
People rarely start their athletic careers in skeleton, so how did you get involved int he sport?
Skeleton and bobsleigh area both definitely second sports for everyone. I'm from a small town here in Alberta, it's two hours south of Calgary on the highway. A lot of people don't stay in that small town unless you're in farming. My family is not, my dad and mom moved there for oil and gas and ended up staying and having kids there. So I was in grade nine when we moved to Calgary. The small town I'm from you can do literally every single sport in a single night. School ends at 3:00, and you can have volleyball practice until 4:00, then my mom would drive me home to get a snack then we'd have to go back to school and do hockey, or dance, and sometimes both in one night. In the opposite season you have track and field, and swimming. I was lucky enough and my parents allowed me to play as many sports as I wanted. Things are generally cheaper in a smaller town and I could kind of get away with it all.
Then we moved to Calgary and it takes like 30 minutes to get anywhere here. So I'd get done with school at 3:30 and have practice at 5:00, that wasn't time to get home and get a snack then get back to do whatever sport I was doing. So my mom started looking into things that were closer to our house. My parents' house is relatively close to WinSport where the sliding track is/was.
My mom would drive through Canada Olympic Park to get to work some days and she saw this sign that said "Do you want to be an Olympian?" And she thought "Well yeah, obviously, she's doing all these sports and she needs to be an Olympian!" The sign was actually for luge, and come to find out I was already too old for luge at the time because you have to be under 14 to start and I was 15. So my mom called luge and they told her that, but said "Well skeleton is always looking!" And she didn't even question it! She was like "Yeah! Sure, this sounds like a great opportunity!" Obviously if someone is looking for participants there's probably a reason why! So my mom contacted Alberta Skeleton and I ended up going to the sliding school and then slid recreationally for the year. I didn't even really know what skeleton was before my mom asked if I wanted to do it and I was like "Sure, it's close to the house, why not?" She was there the first time I went down the track, and I missed the first day where you go from really low down because I had a volleyball tournament. I attended the second day and went from the top on my first day there. But it was fine, it's Calgary, you just have to get through Curve 8 and then Kreisel is going to knock you around a bit but you'll be fine. After I took my helmet off my mom said my eyes were as big as my face and she knew at that point I was hooked!
You've been a part of a lot of different events in the Calgary area. Which has been your favorite?
They call the Calgary Stampede "The Greatest Outdoor Show on Earth" and there's a reason for that. You have everything from cultural events and indigenous heritage events to Snoop Dogg! So you have that and everything in between, and you have fried scorpion on a stick and deep fried ice cream wrapped in a donut, and all these things that are amazing!
So I worked for a bar that's around all year, but they put up this massive tent just outside of the Stampede grounds and it's called the "Cowboys' Party Tent". Last year we had LI'l Nas X and in the same weekend we held the first ever drag show at Cowboys. For our venue to host something like that, we've wanted to do it for years, but we literally flew drag queens in from all over North America and held this massive pride day. And seeing Calgary as a very conservative city fully embracing this was amazing. And I know how welcoming Canadians are, and how nice we all are. I've seen it for sure first hand, but I've also seen how conservative our city is as well. But to be a part of something that goes all the way from Li'l Nas X and fresh 18 year olds partying as hard as they can and making that person's very first Stampede special, and on the other side making someone's first Stampede where they've come out or transitioned and they're able to feel safe in a space? That was next-level for me. And to be a part of a company that wanted to do something like that was really special. So Stampede definitely tops it off for me!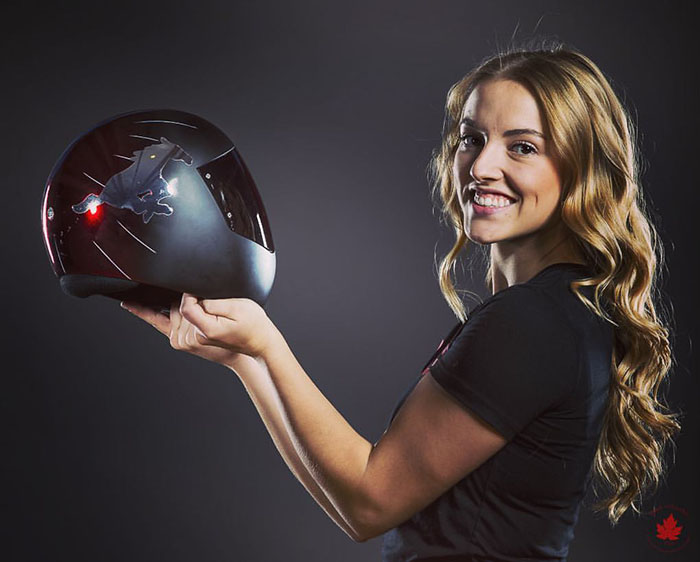 Your Calgary Stampeders skeleton helmet is fantastic, what is the story behind it?
I'm super fortunate that I had this crazy run-in experience to get it done! Way back in the day my mother was a Calgary Stampeders cheerleader, so I've literally been a Stamps fan my whole life. I was out of the womb and into a jersey! We used to vacation every summer with a family from Saskatchewan and are huge Riders fans, and so my dad constantly drove it home that "You're a Stamps fan, you're not a Riders fan, you'll never be anything else but a Stamps fan!" So I've always grown up loving the Stampeders. I couldn't name five NFL teams but I can name all the CFL teams and all of that. And we get to train with those guys in the gym now, too, which is really great. So in 2015 I was at a charity dinner for Big Brothers & Big Sisters, which is a mentoring program where members of the community get hooked up with young individuals who either need guidance or just a buddy to hang out with. They used to have this weekend called the All-Stars Weekend that [CFL legend] Henry Burris ran. And all the kids get to go down to the stadium and play football with the Stamps players. That would be Friday, then on Saturday there was always a huge banquet.
At the banquet prominent figures and athletes, both professional and amateur, get invited to this dinner and everyone's dressed up really nicely and you all get sat at a table with people who have purchased a table and your job is basically to get them to spend money! So we bid everyone else up and have so much fun at this event, and I got sat with the equipment manager for the Sampeders. His name is George Hopkins, we all call him Geo, and Geo has been with the Stamps for as long as my parents have been alive. He's been there for so long…and he also never wears pants, he only wears shorts. So even if it's -20 out and blowing snow he'll be the one guy out there in shorts. So I sat with Geo and his wife, and he was asking all sorts of questions. And I showed him pictures of our suits and stuff like that, and he asked what my helmet looked like. At the time my helmet was white, because I wasn't sure what I was going to get on it yet, and I told him I'm kind of an indecisive person about that. He told me to bring my stuff down to the clubhouse and we'll have a chat and show the guys and it'll be fun.
So I brought my helmet and my sled and stuff and talked to Geo and some of the guys who were there. Geo said "We're having our helmets painted this year in this new design," and he didn't even tell me what it was. But he asked if I wanted to send my helmet with the rest of the guys' helmets! So he literally shipped my skeleton helmet in a massive box with all of these football helmets to Oregon and they painted my helmet the exact same way that they painted the other helmets. It makes it so much more special because it was done the very first round that the guys had their Labor Day Classic helmets. Those helmets are retired too, they don't wear them anymore! So I got really lucky and sat with the equipment manager and he made it all happen!
Tell us about your dogs.
Oh man! I definitely get my love of dogs from my dad, my dad will cross the dog to pet a dog if that's an option. So in 2014 my dad and I had been really been bugging my mom to get a new dog. We had Molly, who was the very best girl, and my dad and I were like "we need another Molly". So my mom told me if I made the World Cup team she'd get me another dog. I was on North American Cup, there was really no chance of me making the World Cup squad. And then my parents flew away to my brother's graduation from University in Toronto. So they were there visiting him during our team trials. I ended up calling my mom while they were on their way home from a wine tour and she answered the phone and asked how the race went. And I was like "Mom, I won!" She was like "WHAT?!" I told her I was the Canadian champion, and I won team trials, and I'm on the World Cup team! And then I did well on the second day as well. The first day was the first snowy day of the year and it was a bit of a snow race which was crazy, and somehow I ended up coming out on top. My mom had to buy me a dog after that!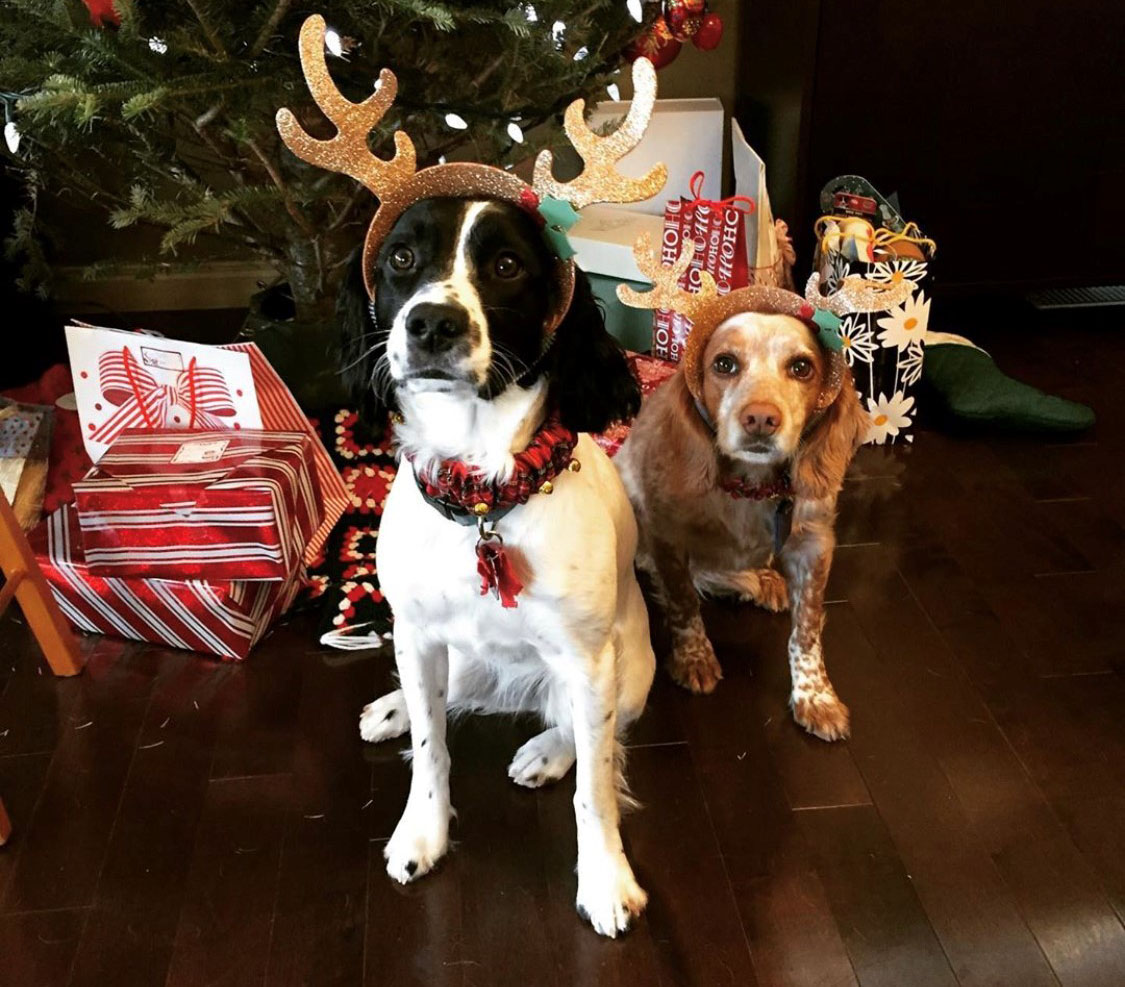 In the spring I was looking at what dogs were available. My dad and I had a few glasses of wine one night after the season was over and I ended up picking up the phone and calling the guy we'd gotten dogs from before and going "What puppies do you have?! I need one!" And he didn't have any springer spaniel puppies, which is what Molly was. But he said he had these cocker spaniels and my dad didn't want a cocker spaniel. The caveat was that my dad was going to watch after the dog while I wasn't home. So he wanted a dog who could hunt because I'm not home during the season and he wanted a dog he could hunt with.  So he said he guessed a cocker spaniel would be fine.
We weren't even looking at Rosie's litter, but we were looking at a different one instead. My dad wanted a black and white dog to match Molly, and then I looked in a kennel beside and there was this little face poking out! And I was like "What dog is that?! Is she available?!" My dad and I met her when she was eight weeks. My mom's a teacher and we were supposed to wait until she was done with school so someone would be around the house with the puppy. My dad had to go up north for work, and the place is a four hour drive, it's pretty far. On the way home he was driving by where she was and was like "I'm just going to get her!" So he called me and said "Your mom is going to kill us," and he came home with the dog. Rosie came home that day and she's been my shadow ever since! Rosie loves other people, too, but she's definitely my dog. If I go anywhere she doesn't eat and gets really sad!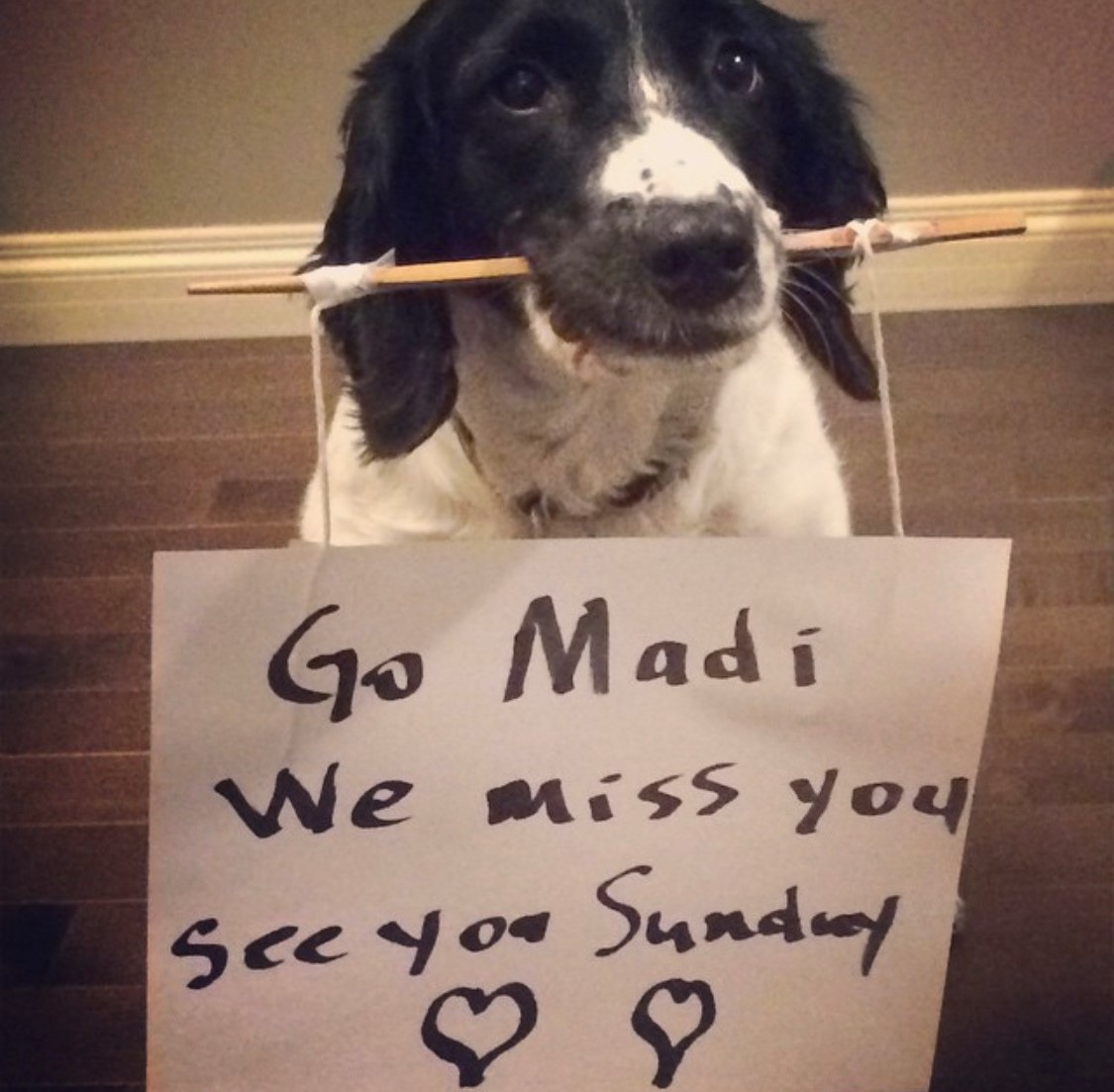 I'm living with my boyfriend now, who has Mr. Cooper. It took Rosie a while, but now they're best friends! They wrestle and they snuggle, and they don't really do anything without each other now. It took us maybe three or four months where they were fine. They've never been aggressive toward each other or anything like that but Rosie was almost indifferent to him. He's a puppy and he's kind of annoying. She's the boss, and tells him what's up all the time, but if we take them off-leash together they're always together. Like they'll never go into trees or bushes without the other one! I'm glad it's worked out, she had my parents' dog Poppy when she was there and I was a little worried about her. After Molly passed she went through this little weird-depressed phase and then we moved in here and she was almost mad at me.
So yeah, my mom made me a bet and that's how we got Rosie!
If you weren't sliding, what would you be doing with your life?
I don't know! I always had these dreams of where my life would have gone if I wasn't sliding. I would probably be done with my degree for one, because I'm on like year eight of that. It'll be in marketing, I'm about ¾ of the way done at this point. I don't think I'm going to do a minor, though.
But I don't know where I'd be working. I've done a few jobs, from nonprofit work with WinSport all the way to the entertainment and nightclub industry. It's so fun, but also you do everything. That job was literally me doing everything because there's only three of us running this million dollar business. So I don't know where I'd be? I think I need something that wouldn't be the same every day. I'd probably still be in Calgary though.
Although if we're being honest I probably would have picked up another sport! I played rugby as the last sport I did before I really had to get into skeleton and I think that if I hadn't taken the path I did I would have hopefully played at University level and then done something with that.
Where do you go to school?
I'm at Mount Royal University, which is a smaller university here in Calgary. They have a really good business program. The smaller class sizes appeal to me, too, because I have to have someone checking to make sure I'm in class!
Do you have a dream vacation? If so, what is it?
I haven't been to Belgium in the summer yet! Kim Meylemans has told me I have to go there in the summer, apparently it's gorgeous! I've been there in the winter, and I was there the one day a year it snows apparently which was funny.
So I did a big trip to northern Alberta a couple of weeks ago. I was really fortunate to go on this fishing excursion and fly in these little small planes and float planes up north. It was super cool. I think if you'd asked me this question prior to that trip I probably would have said the French Polynesian Islands or Bali or something like that. But now that I've done that I'm so in love with Canada and Alberta that I think my dream trip right now would probably be to go to Northwest Territories and see more of northern Canada. Also, I want to drive to the Yukon! Like pack the car, pack the dogs, put a tent on the top of the car and take the summer to drive to the Yukon and see the northern lights, and the buffalo and caribou and everything that's up there! Canada's huge, and why would I spend my money elsewhere when I have the opportunity to spend it in Canada?
You've been sliding for a while now, what's been your favorite moment?
The first race I ever won was in Whistler, it was North American Cup [Dec. 8, 2012] but I'd never won a race before. That was a pretty cool moment! Carla Pavan was racing, and she was a big name in her time. There was some bigger names in the race, and that was my first ever win and that was really special.
The Timmings boys [Nick and Dean] were there as well, and they're good friends of mine and I got to share that moment with them and my teammates and everyone.
I had lots of gratitude moments this year on tour even though my season was absolute garbage, it was a "building year" as they say in hockey. But there was a lot of moments where I thought that I was so lucky to be here with these people and loving what I'm doing. There's so many happy moments!
The last time I was in a World Cup in Calgary I bumped up a couple of spots in the last run and got to hang out in the leaders box with Molly and that was great. And my family was there at the bottom, I had friends in Kreisel with signs, it was both a super humbling moment but also a super exciting moment, too!
On the other side, what's been your hardest moment?
I mean this year had a lot of those too. Nobody wants to be last in a race, but it happens. La Plagne was a huge mental battle for me. We didn't have an on-site coach, which was no fault of anyone's. Our head coach left our program during the summer and there was no opportunity to have someone present at that race for us. And it was just a huge mental battle. I would say that was a pretty big low point in my sliding career. But it can only go up from there, right?! Just feeling defeated isn't something anyone wants to feel and I think after that race I was asking myself "Why am I here, do I deserve this?" So I think that was a rough moment.
But then my teammates helped pick me up after that. Even though I didn't get second runs in Sigulda or Königssee after that, I think everything was better there even if it was just slightly.
Guest question from Greta Pinggera (Italy Natural Track Luge): I'm really impressed with skeleton, because I think I'd be so afraid to do that! I know the start is very important, but once you're on the track do you drive the sled or just kind of lay there?
So the easiest way to how to remember how to drive a sled is the song "Heads, Shoulders, Knees, and Toes".  Actually I would say lightest steer at the top to the hardest steer at the bottom with your toes. Your head is basically like a rudder in the wind, where your toes are basically an emergency if something's not going right. They call skeleton "skeleton" because fo the inside of the sled is basically a metal frame and it's basically a skeleton of a sled.
We do actually spend a lot of time on our sled outside of actually sliding. As I'm sure she knows, visualization is a huge part of the sport because we're only on the ice for potentially for four minutes in a big race. And you only have potentially six runs to figure everything out before that. So we lay on our sleds a lot and do visualizations on our sled and watch track videos and that helps us a lot. Your shoulders are opposite. If you want to go to the right you push with your left shoulder and if you want to go to the left you push with your right shoulder. But your knees are the same, so if you want to go left you push your left knee in and vice versa. And you can do a combination of knees and shoulders and head and toes and all of that!
But I think that luge is a lot more terrifying than skeleton so I kind of chuckled that she said that!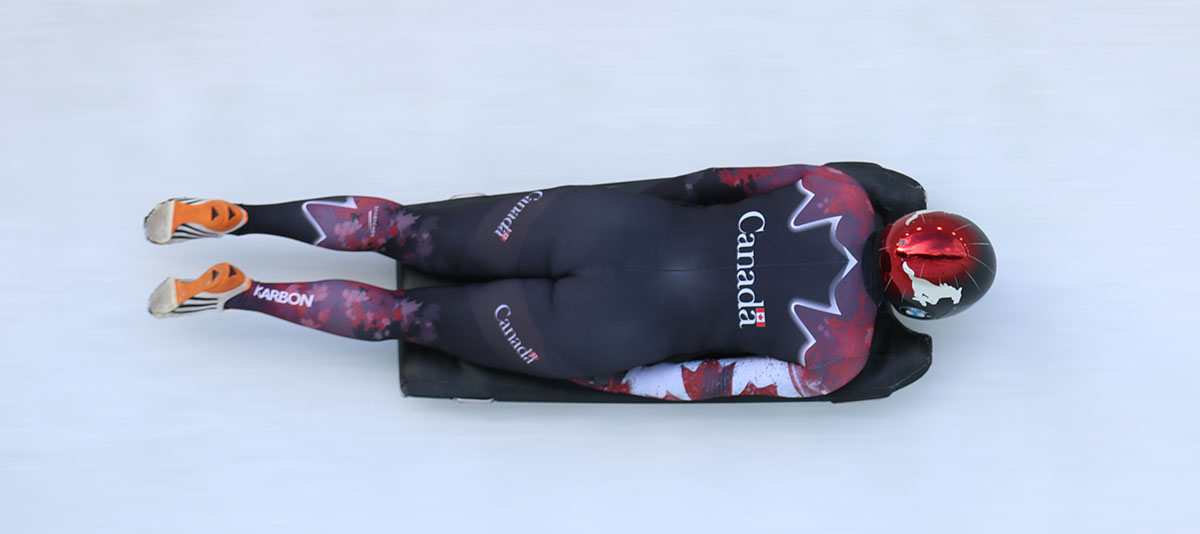 Bonus guest question from Nick Cunningham (USA bobsled): If you could travel in one Tom Hanks movie (Apollo 13, Castaway, etc), which vacation would you take?
My dad would want me to say that I want to be with Forrest Gump because that's his favorite movie and he gets to go to Vietnam and I really want to go to Vietnam. I love Vietnamese food and Vietnamese people are just so nice and kind. So my dad would want me to say Forrest Gump even though he's only in a few places.
But weirdly enough Id' say The Da Vinci Code! He goes to so many cool pieces of history. I watch that when it's on and I'm glued to the TV for however long it's on for. Yeah, I think it would be The Da Vinci Code!