From Igls, AUT
(Dec. 19, 2020) – Germany's Stephanie Schneider made her 2020/2021 World Cup debut in style, beating teammates Laura Nolte and Kim Kalicki as part of a German sweep of the Igls podium.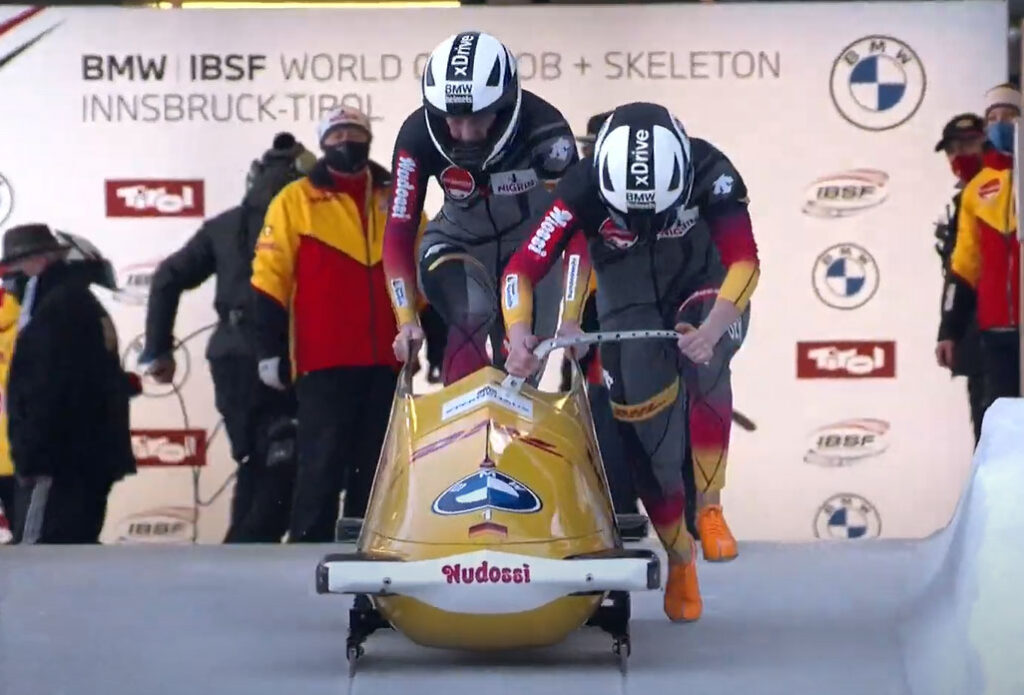 Schneider came into the second heat tied with Kalicki for second, .06 behind Nolte. Schneider was the first slider of the three to take her second run, and put down what would be the heat's fastest time with a 53 second flat run. Kalicki was next, and just couldn't match the pace of her teammate.
Laura Nolte had the honors of going last in the second heat after breaking the track record previously held by Anja Schneiderheinze (52.94, Feb. 12, 2016), but Nolte hit the wall at the start and that immediately put her behind Schneider with a deficit she couldn't make up, giving Schneider the win.
The gold medal for Schneider was the tenth of her career.
Austrian Kati Beierl closed out a strong first half of her season with a fourth place finish on home ice as the top non-German. She has yet to finish outside of he top five in four races.
Melanie Hasler finished fifth for her third top five on the season, while Romanian Andreea Grecu finished with a season-best sixth place run.
Great Britain's Mica McNeill finished just out of the top six in seventh. She came into the second heat tied for sixth with Grecu, but was edged out by .04 for the position in the second run.
Belgium's An Vannieuwenhuyse debuted a new sled named Ruby in her first World Cup start of the season. Vannieuwenhuyse, Ruby, and brakewoman Sara Aerts finished 11th.
At the halfway point of the IBSF World Cup season for the women's bobsled program, Kim Kalicki holds a 42 point lead over Kati Beierl, while Melanie Hasler sits third. Andreea Grecu, Laura Nolte and Mariama Jamanka round out the top six.
The United States, Canada, China, and Korea all will return to action at the beginning of the new year.
Results:
| | | | | | | | | |
| --- | --- | --- | --- | --- | --- | --- | --- | --- |
| Pos | Names | Nation | Bib | Start 1 | Start 2 | Run 1 | Run 2 | Total |
| 1 | Schneider / Fiebig | GER | 13 | 5.45 | 5.42 | 52.94 | 53.00 | 1:45.94 |
| 2 | Nolte / Levi | GER | 4 | 5.42 | 5.45 | 52.88 | 53.24 | 1:46.12 |
| 3 | Kalicki / Strack | GER | 10 | 5.48 | 5.52 | 52.94 | 53.23 | 1:46.17 |
| 4 | Beierl / Onasanya | AUT | 6 | 5.54 | 5.53 | 53.10 | 53.35 | 1:46.45 |
| 5 | Hasler / Pasternack | SUI | 11 | 5.51 | 5.48 | 53.27 | 53.28 | 1:46.55 |
| 6 | Grecu / Wick | ROU | 3 | 5.62 | 5.59 | 53.46 | 53.45 | 1:46.91 |
| 7 | McNeill / Douglas | GBR | 8 | 5.66 | 5.65 | 53.46 | 53.49 | 1:46.95 |
| 8 | Boch / Senechal | FRA | 7 | 5.69 | 5.69 | 53.48 | 53.53 | 1:47.01 |
| 9 | Chernykh / Belomestnykh | RUS | 12 | 5.64 | 5.63 | 53.57 | 53.45 | 1:47.02 |
| 10 | Walker / Blizzard | AUS | 2 | 5.72 | 5.73 | 53.54 | 53.58 | 1:47.12 |
| 11 | Vannieuwenhuyse / Aerts | BEL | 14 | 5.66 | 5.65 | 53.62 | 53.57 | 1:47.19 |
| 12 | Andreutti / Schenk | ITA | 1 | 5.81 | 5.84 | 54.00 | 54.22 | 1:48.22 |
| 13 | Fontanive / Zolliker | SUI | 9 | 6.28 | 6.28 | 54.70 | 54.71 | 1:49.41 |
| 14 | Smolarek / Slupecka | POL | 5 | 6.01 | 5.99 | 54.76 | 54.71 | 1:49.47 |