From Winterberg, GER
(Dec. 20, 2020) – Germany's Felix Loch won his fifth straight race to start the 2020/2021 season in Winterberg, finishing well ahead of what was an otherwise tight field.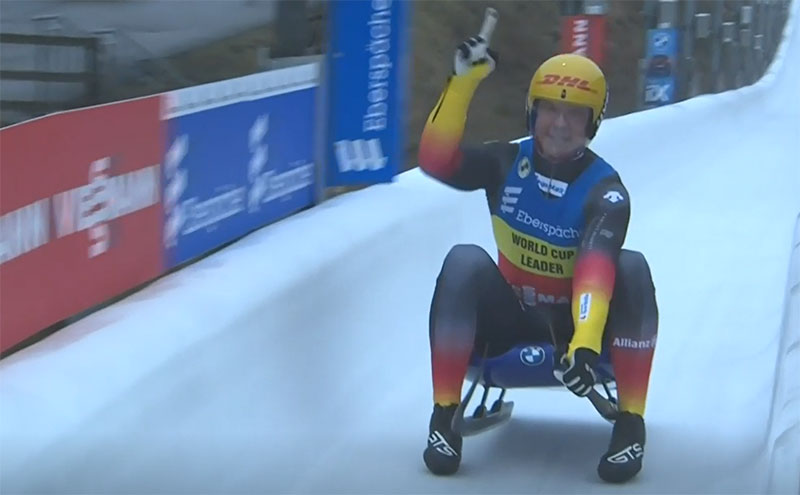 Loch came into the second heat in second, just .030 behind Italy's Kevin Fischnaller, with only .133 separating the top five. The second run was even closer, with Nico Fischnaller moving into the lead by only .004 with just Loch and Fischnaller to go.
Loch came down first and opened up a nearly .2 second lead over the field. Fischnaller was the last slider down, and while there didn't appear to be any glaring mistakes in his run, he couldn't find the speed that his counterparts managed. Fischnaller finished fifth, .065 out of the medals.
Loch scored his fifth straight win, .198 over Gleirscher, who won his first career FIL World Cup silver medal. Italy's Dominik Fischnaller finished third, only .004 out of silver.
Jonas Müller was the odd-man out in the logjam for the medals, finishing fourt. Müller was only .005 out of the medals and .009 out of silver.
Kevin Fischnaller finished fifth, .030 ahead of Germany's Johannes Ludwig in sixth.
Russia's luge woes continued, as Semen Pavlichenko scored the highest finish for the nation in seventh.
Great Britain's Rupert Staudinger put down another pair of runs that got him another step closer to qualifying for the 2022 Olympic Games for Great Britain, finishing 28th.
The United States, Canada, and China will all be rejoining the FIL World Cup tour at the beginning of the new year.
Results:
| | | | | | | | | |
| --- | --- | --- | --- | --- | --- | --- | --- | --- |
| Pos | Name | Nation | Bib | Start 1 | Start 2 | Run 1 | Run 2 | Total |
| 1 | Felix Loch | GER | 28 | 3.806 | 3.807 | 51.987 | 51.874 | 1:43.861 |
| 2 | Nico Gleirscher | AUT | 21 | 3.817 | 3.822 | 52.016 | 52.043 | 1:44.059 |
| 3 | Dominik Fischnaller | ITA | 32 | 3.813 | 3.822 | 52.137 | 51.926 | 1:44.063 |
| 4 | Jonas Müller | AUT | 26 | 3.822 | 3.825 | 52.048 | 52.020 | 1:44.068 |
| 5 | Kevin Fischnaller | ITA | 20 | 3.834 | 3.849 | 51.957 | 52.171 | 1:44.128 |
| 6 | Semen Pavlichenko | RUS | 29 | 3.818 | 3.807 | 52.144 | 52.077 | 1:44.221 |
| 7 | Aleksandr Gorbatcevich | RUS | 19 | 3.832 | 3.836 | 52.158 | 52.089 | 1:44.247 |
| 8 | David Gleirscher | AUT | 24 | 3.829 | 3.835 | 52.131 | 52.142 | 1:44.273 |
| 9 | Riks Rozitis | LAT | 14 | 3.867 | 3.876 | 52.151 | 52.211 | 1:44.362 |
| 10 | Max Langenhan | GER | 27 | 3.822 | 3.831 | 52.257 | 52.114 | 1:44.371 |
| 11 | Roman Repilov | RUS | 31 | 3.805 | 3.801 | 52.287 | 52.099 | 1:44.386 |
| 12 | Wolfgang Kindl | AUT | 23 | 3.851 | 3.848 | 52.203 | 52.218 | 1:44.421 |
| 13 | Andriy Mandziy | UKR | 17 | 3.845 | 3.852 | 52.270 | 52.234 | 1:44.504 |
| 14 | Reinhard Egger | AUT | 22 | 3.873 | 3.881 | 52.308 | 52.201 | 1:44.509 |
| 15 | Arturs Darznieks | LAT | 9 | 3.852 | 3.838 | 52.240 | 52.299 | 1:44.539 |
| 16 | Chris Eißler | GER | 11 | 3.819 | 3.830 | 52.311 | 52.252 | 1:44.563 |
| 17 | Gints Berzins | LAT | 16 | 3.853 | 3.866 | 52.252 | 52.395 | 1:44.647 |
| 18 | Jozef Ninis | SVK | 13 | 3.886 | 3.890 | 52.475 | 52.408 | 1:44.883 |
| 19 | Anton Dukach | UKR | 18 | 3.837 | 3.833 | 52.501 | 52.441 | 1:44.942 |
| 20 | Stepan Fedorov | RUS | 15 | 3.813 | 3.825 | 52.566 | 52.435 | 1:45.001 |
| 21 | Lukas Gufler | ITA | 8 | 8.865 | 8.877 | 52.582 | 52.429 | 1:45.011 |
| 22 | Leon Felderer | ITA | 12 | 3.858 | 3.854 | 52.592 | 52.443 | 1:45.035 |
| 23 | Mortiz Bollmann | GER | 25 | 3.830 | 3.824 | 52.462 | 52.606 | 1:45.068 |
| 24 | Mateusz Sochowicz | POL | 10 | 3.847 | 3.845 | 52.574 | 52.543 | 1:45.117 |
| 25 | Valentin Cretu | ROU | 5 | 3.867 | 3.875 | 52.736 | 52.655 | 1:45.391 |
| 26 | Kacper Tarnawski | POL | 1 | 3.894 | 3.907 | 52.877 | 52.819 | 1:45.696 |
| 27 | Rupert Staudinger | GBR | 6 | 3.897 | 3.891 | 52.930 | 52.845 | 1:45.775 |
| 28 | Mirza Nikolajev | BIH | 3 | 3.890 | 3.885 | 53.315 | 53.039 | 1:46.354 |
| 29 | Alex Gufler | ITA | 2 | 3.911 | 3.914 | 53.180 | 53.176 | 1:46.356 |
| 30 | Jakub Simonak | SVK | 4 | 3.856 | 3.842 | 53.925 | 52.963 | 1:46.888 |
| DSQ | Svante Kohala | SWE | 7 | | | DSQ | | |