From Igls, AUT
(Dec. 20, 2020) – There are not much IBSF World Cup bobsled records left for Francesco Friedrich to break. Going into Igls, though, there were two records he looked to at least equal in one race: The Igls start record of 4.96 held by Oskars Melbardis and Daumants Dreiskens, and the record of 44 combined (two-man and four-man) bobsled World Cup medals held by Andre Lange.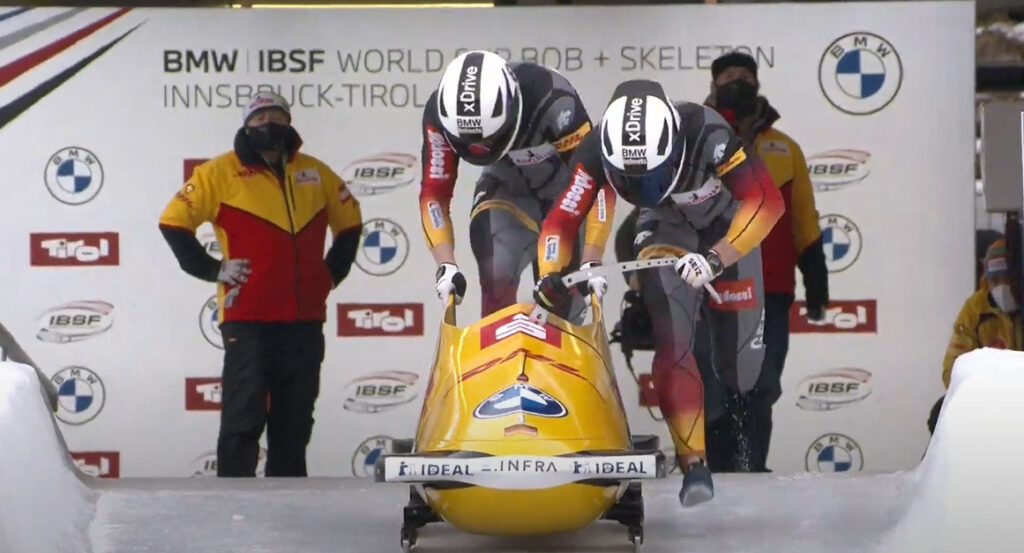 Friedrich, with 43 gold medals, came into the second heat well ahead of anyone else and realistically only needed to keep his sled upright to get the win. Off the top, Friedrich and Alexander Schüller tied the start record with their own 4.96. His drive was near his track record he'd set the day prior and plenty to win his 44th gold medal, tying Lange for the most all time.
There was tight racing behind Friedrich. Latvian Oskars Kibermanis won his second straight silver medal, holding off Germans Johannes Lochner and Hans Peter Hannighoffer for the spot.
Hannighoffer, in his second World Cup race, slid into the lead with just Lochner, Kibermanis, and Friedrich to go. And while his second slide wasn't enough to pick off the latter two, it was enough to tie Lochner to win his first ever IBSF World Cup gold medal.
Lochner's bronze was his seventh medal in eight races this season.
Russia's Rostislav Gaitiukevich finished .18 out of the medals in fifth place, .08 ahead of Oskars Melbardis in sixth.
Great Britain's Brad Hall scored his third top ten in four races to start the season. Teammate Lamin Deen finished 18th. Deen expects to pick things up when four-man bobsled competition starts in the new year.
The United States, Canada, Korea, and China all will rejoin the tour after the new year.
Results:
| | | | | | | | | |
| --- | --- | --- | --- | --- | --- | --- | --- | --- |
| Pos | Name | Nation | Bib | Start 1 | Start 2 | Run 1 | Run 2 | Total |
| 1 | Friedrich / Schüller | GER | 6 | 4.99 | 4.96 | 51.16 | 51.24 | 1:42.40 |
| 2 | Kibermanis / Miknis | LAT | 8 | 5.06 | 5.05 | 51.52 | 51.66 | 1:43.18 |
| 3 | Hannighofer / Kornhardt | GER | 19 | 5.11 | 5.12 | 51.65 | 51.65 | 1:43.30 |
| 3 | Lochner / Rasp | GER | 12 | 5.10 | 5.08 | 51.60 | 51.70 | 1:43.30 |
| 5 | Gaitiukevich / Koshelev | RUS | 15 | 5.05 | 5.06 | 51.69 | 51.79 | 1:43.48 |
| 6 | Melbardis / Nemme | LAT | 9 | 5.15 | 5.15 | 51.71 | 51.85 | 1:43.56 |
| 7 | Vogt / Michel | SUI | 7 | 5.15 | 5.14 | 51.76 | 51.85 | 1:43.61 |
| 8 | Hall / Gleeson | GBR | 2 | 5.11 | 5.11 | 51.76 | 51.86 | 1:43.62 |
| 9 | Dvorak / Nosek | CZE | 10 | 5.14 | 5.15 | 51.88 | 51.86 | 1:43.74 |
| 10 | Berzins / Springis | LAT | 4 | 5.12 | 5.12 | 51.94 | 51.97 | 1:43.91 |
| 11 | de Bruin / Franjic | NED | 3 | 5.19 | 5.21 | 52.06 | 52.11 | 1:44.17 |
| 12 | Stulnev / Malykh | RUS | 16 | 5.24 | 5.25 | 52.07 | 52.14 | 1:44.21 |
| 13 | Variola / Fantazzini | ITA | 14 | 5.18 | 5.18 | 52.19 | 52.18 | 1:44.37 |
| 14 | Friedli / Fässler | SUI | 11 | 5.19 | 5.19 | 52.23 | 52.28 | 1:44.51 |
| 15 | Baumgartner / Bilotti | ITA | 5 | 5.27 | 5.30 | 52.24 | 52.32 | 1:44.56 |
| 16 | Tentea / Radu | ROU | 13 | 5.33 | 5.32 | 52.36 | 52.36 | 1:44.72 |
| 17 | Treichl / Glaboniat | AUT | 17 | 5.28 | 5.30 | 52.45 | 52.48 | 1:44.93 |
| 18 | Deen / Simons | GBR | 18 | 5.29 | 5.37 | 52.40 | 52.55 | 1:44.95 |
| 19 | Stephens / Wekpe | JAM | 20 | 5.45 | 5.43 | 53.13 | 52.74 | 1:45.87 |
| DNS | Maier / Huber | AUT | 1 | | | DNS | | DNS |