From Winterberg, GER
(Jan. 8, 2021) – Alexander Tretiakov became the first men's skeleton athlete not named Martins Dukurs  to stand alone atop the men's skeleton podium in the 2020/2021 season to win his second gold medal of the season and with it the European Championship.
Tretiakov carried a .18 second advantage over Dukurs going into the second heat. On that second run Dukurs was faster, but only by .01, which gave the Russian the win and broke Dukurs' streak of 11 straight European Championship titles.
The win was the second of the season for Tretiakov, after tying for gold earlier in the season with Dukurs in Igls.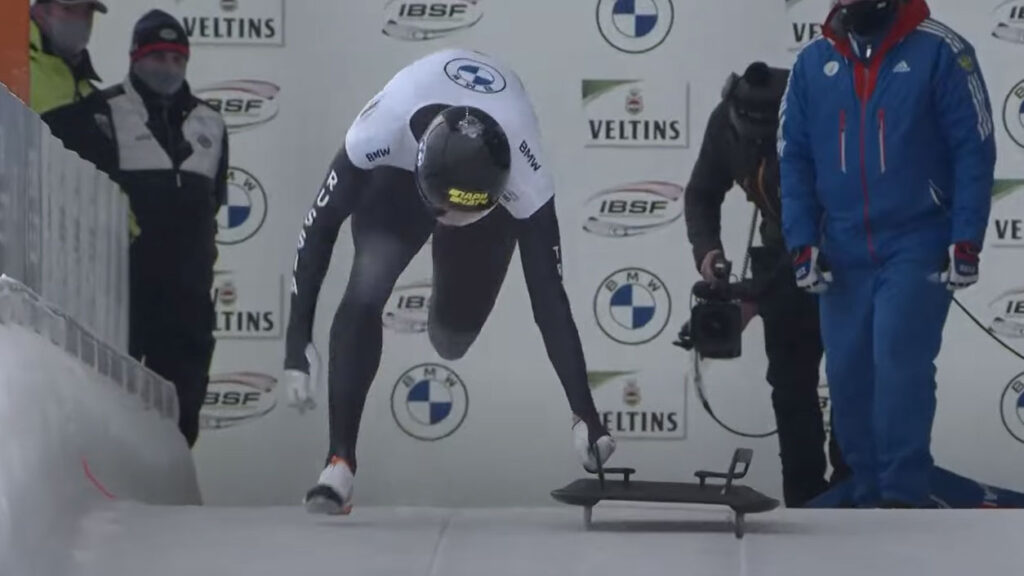 Dukurs finished second, his fifth straight podium of the season, while German Alexander Gassner finished just behind in third.
Germany's Felix Keisinger has struggled at times to put together two consecutive clean runs, but did so in Winterberg to finish fourth.
Craig Thompson scored a career-best finish with a fifth place effort in Winterberg. The British slider overcame some trouble at the start in his first heat to finish the run tied for sixth, but his second run was the fourth fastest to move him up into the top five.
Tomass Dukurs rounded out the top six in sixth place.
The race also counted as the European Championships, the top six remained the same, as Tretiakov won his first European Championship in over a decade, breaking Martins Dukurs' streak of 11 straight victories in the Euros.
Friday's race also marked the first time in the 2020/2021 season that the North American men took to the ice in men's skeleton. Austin Florian led all North Americans with a 15th place finish, his best finish in Europe since his second career World Cup race in Altenberg during the 2018/2019 season. Teammate Austin McCrary finished 21st in his first career World Cup start.
For the Canadians, Kevin Boyer led the way with a 16th place finish in his first World Cup start of the season, up from 18th in the first heat. Teammate Mark Lynch finished 17th in his first career World Cup start.
Great Britain's Marcus Wyatt finished 13th with two of the biggest starts of the race, while teammate Ben Fulker finished one spot back in 14th.
Two-time North American Cup champion Ander Mirambell had the fifth fastest speed at the bottom of his first run as part of a 17th place effort in his first World Cup start since St. Moritz in the 2019/2020 season. It was his best World Cup finish since a 17th in Winterberg the 2017/2018 season.
Results:
| | | | | | | | | |
| --- | --- | --- | --- | --- | --- | --- | --- | --- |
| Pos | Name | Nation | Bib | Start 1 | Start 2 | Run 1 | Run 2 | Total |
| 1 | Alexander Tretiakov | RUS | 7 | 4.85 | 4.84 | 56.28 | 56.08 | 1:52.36 |
| 2 | Martins Dukurs | LAT | 5 | 4.92 | 4.88 | 56.46 | 56.07 | 1:52.53 |
| 3 | Alexander Gassner | GER | 9 | 4.99 | 4.97 | 56.43 | 56.14 | 1:52.57 |
| 4 | Felix Keisinger | GER | 12 | 4.87 | 4.85 | 56.50 | 56.25 | 1:52.75 |
| 5 | Craig Thompson | GBR | 16 | 4.89 | 4.82 | 56.75 | 56.18 | 1:52.93 |
| 6 | Tomass Dukurs | LAT | 4 | 5.01 | 4.98 | 56.67 | 56.41 | 1:53.08 |
| 7 | Daniil Romanov | RUS | 11 | 4.87 | 4.81 | 56.76 | 56.35 | 1:53.11 |
| 8 | Christopher Grotheer | GER | 6 | 5.05 | 5.08 | 56.75 | 56.52 | 1:53.27 |
| 9 | Nikita Tregubov | RUS | 13 | 4.96 | 4.95 | 56.86 | 56.48 | 1:53.34 |
| 10 | Samuel Maier | AUT | 3 | 5.16 | 5.09 | 56.86 | 56.61 | 1:53.47 |
| 11 | Vladyslav Heraskevych | UKR | 10 | 5.06 | 5.06 | 57.01 | 56.71 | 1:53.72 |
| 12 | Florian Auer | AUT | 8 | 5.07 | 5.06 | 57.08 | 56.91 | 1:53.99 |
| 13 | Marcus Wyatt | GBR | 1 | 4.87 | 4.82 | 57.21 | 56.90 | 1:54.11 |
| 14 | Ben Fulker | GBR | 18 | 5.11 | 5.10 | 57.35 | 56.90 | 1:54.25 |
| 15 | Austin Florian | USA | 23 | 5.00 | 5.00 | 57.32 | 57.18 | 1:54.50 |
| 16 | Kevin Boyer | CAN | 19 | 5.12 | 5.15 | 57.54 | 56.98 | 1:54.52 |
| 17 | Ander Mirambell | ESP | 22 | 5.35 | 5.32 | 57.41 | 57.24 | 1:54.65 |
| 18 | Mark Lynch | CAN | 21 | 5.23 | 5.22 | 57.42 | 57.55 | 1:54.97 |
| 19 | Ronald Auderset | SUI | 15 | 5.00 | 5.05 | 57.69 | 57.32 | 1:55.01 |
| 20 | Rasmus Johansen | DEN | 25 | 5.22 | 5.17 | 57.66 | 57.61 | 1:55.27 |
| 21 | Austin McCrary | USA | 20 | 5.39 | 5.38 | 57.69 | 57.59 | 1:55.28 |
| 22 | Samuel Keiser | SUI | 17 | 5.18 | | 57.84 | | |
| 23 | Mattia Gaspari | ITA | 14 | 5.18 | | 57.95 | | |
| 24 | Mihail Pacioianu | ROU | 2 | 5.11 | | 58.05 | | |
| 25 | Vladyslav Polyvach | POL | 24 | 5.48 | | 59.67 | | |