From Pyeongchang, KOR
Feb. 21, 2018 – For the better part of the last five years, women's bobsled has been dominated by the North Americans. Kaillie Humphries, Elana Meyers Taylor, and Jamie Greubel Poser have combined to win the overwhelming majority of events in that time, including the Olympics and every World Championship.
Enter Mariama Jamanka.
Jamanka showed form beginning two seasons ago, and over the course of the 2017/2018 World Cup season consistently showed that she could contend with the North Americans. Finishing in the top six in every race since the second race of 2017 (Winterberg) alongside teammate Stephanie Schneider, Jamanka showed that the German women were back from a brief lull in the IBSF rankings.
Despite all of that, Jamanka never could find the top of the podium. That all changed in the 2018 Olympic Games.
Jamanka did battle with defending World Champion and 2014 Olympic silver medalist Elana Meyers Taylor over the course of four heats, with the two never separated by more than a tenth of a second. Meyers Taylor started off with the lead, but lost it to Jamanka in the second heat. And while Meyers Taylor continued to breath down Jamanka's back, the German held strong.
On their final run, Elana Meyers Taylor looked to pounce, putting down a clean and fast final run to put pressure on Jamanka. Jamanka answered, edging Meyers Taylor by .03 in the fourth heat to win by a minuscule .07.
Meyers Taylor finished second, while two-time defending Olympic gold medalist Kaillie Humphries recovered from a tough start to her Olympics in fifth to win bronze.
For Mariama Jamanka, winning her first medal on the biggest of stages was something she couldn't even fathom.
"I still can't believe that we won. It's our first victory, and it's still incredible for me," Jamanka said of her first career win.
Elana Meyers Taylor had come into the Olympics to win gold, but after one of the hardest seasons of her career, she was very happy with a silver medal.
"This means absolutely everything to me. It's crazy to be here with Kaillie and Lauren [Gibbs] right by my side, they were both there with me when we found out about Steven Holcomb. I didn't want to think about bobsled, and I didn't want to be in a sled at all. To be at such a low point earlier this year and not be sure if I wanted to slide anymore, then be able to come back and win a silver medal, I'm through the roof," Meyers Taylor said of the challenges of the past season. She gave Jamanka credit for coming through and winning gold.
"I gave it everything I had today and yesterday and we threw down some runs and made Mariama come get it. She did, hats off to her. You can't be sad when you throw down runs like that, and she overtakes you. She earned this medal. I came up short, but I feel like Lauren and I gave everything we had to the final hundredth and we won this silver medal."
Humphries and Meyers Taylor have been on the Olympic podium together three times now (Humphries with two golds and a bronze, Meyers Taylor with a bronze as a brakewoman and two silvers as a pilot). She says that having Elana there has made her a better competitor.
"I'm proud of what Elana and I have been able to achieve," Humphries said. "We've been able to push each other for so long through had times and amazing times like now. To share that experience with someone that I call a friend is absolutely fantastic. I wouldn't be here without her pushing me."
Jamanka's teammate, Stephanie Schneider, edged American Jamie Greubel Poser for fourth, while Greubel Poser finished fifth to put both American sleds in the top five.
Canada put together a fantastic Olympics for their women's program. On top of Humphries' finish, both Alysia Rissling and Christine de Bruin finished well inside the top ten, with Rissling finishing sixth and de Bruin seventh.
Mica McNeill came back from being told her funding was cut to the point she couldn't compete at the Olympics (or most of the World Cup for that matter) to finish eighth in her first Olympic Games.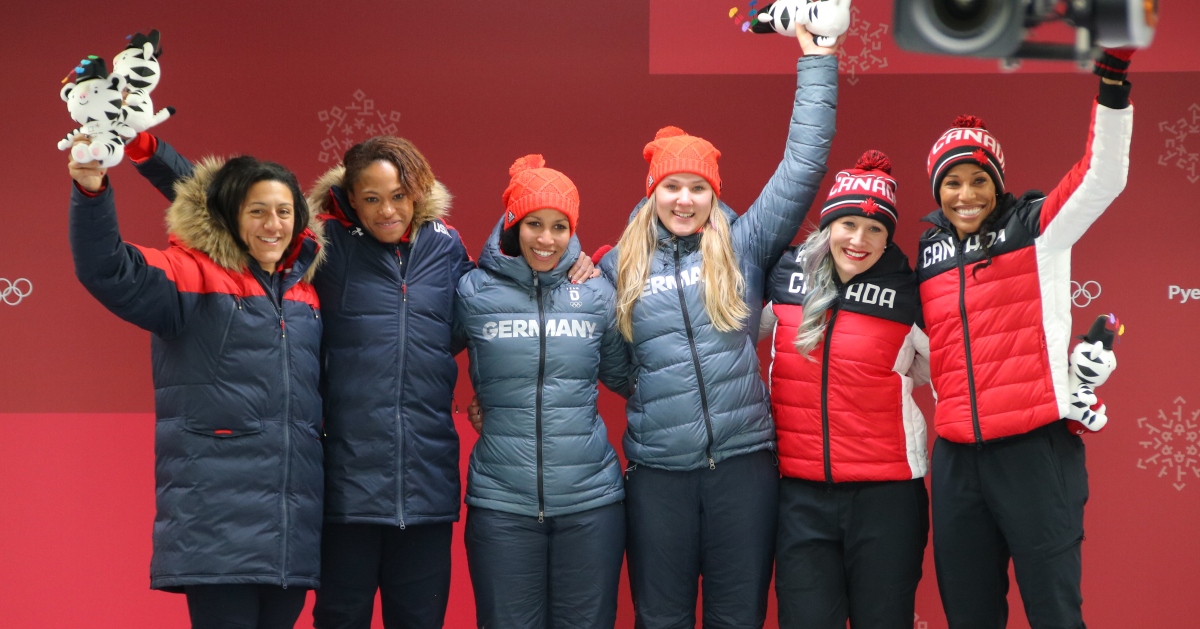 Results:
| | | | | | | | | |
| --- | --- | --- | --- | --- | --- | --- | --- | --- |
| Pos | Names | Nation | Bib | Run 1 | Run 2 | Run 3 | Run 4 | Total |
| 1 | Mariama Jamanka / Lisa Buckwitz | GER | 6 | 50.54 | 50.72 | 50.49 | 50.70 | 3:22.45 |
| 2 | Elana Meyers Taylor / Lauren Gibbs | USA | 5 | 50.52 | 50.81 | 50.46 | 50.73 | 3:22.52 |
| 3 | Kaillie Humphries / Phylicia George | CAN | 4 | 50.72 | 50.88 | 50.52 | 50.77 | 3:22.89 |
| 4 | Stephanie Schneider / Annika Drazek | GER | 8 | 50.63 | 50.93 | 50.71 | 50.70 | 3:22.97 |
| 5 | Jamie Greubel Poser / Aja Evans | USA | 7 | 50.59 | 50.99 | 50.59 | 50.85 | 3:23.02 |
| 6 | Alysia Rissling / Heather Moyse | CAN | 9 | 50.81 | 50.95 | 50.83 | 51.04 | 3:23.63 |
| 7 | Christine de Bruin / Melissa Lotholz | CAN | 13 | 50.94 | 50.91 | 50.75 | 51.29 | 3:23.89 |
| 8 | Mica McNeill / Mica Moore | GBR | 17 | 50.77 | 50.95 | 51.16 | 51.19 | 3:24.07 |
| 9 | Sabina Hafner / Rahel Rebsamen | SUI | 12 | 50.86 | 51.16 | 51.07 | 51.21 | 3:24.30 |
| 10 | Christina Hengster / Valerie Kleiser | AUT | 14 | 51.23 | 51.04 | 51.00 | 51.24 | 3:24.51 |
| 11 | Elfje Willemsen / Sara Aerts | BEL | 15 | 51.03 | 51.27 | 51.10 | 51.21 | 3:24.61 |
| 12 | Nadezhda Sergeeva / Anastasia Kocherzhova | OAR | 11 | 51.01 | 51.49 | 51.29 | 51.37 | 3:25.16 |
| 13 | An Vannieuwenhuyse / Sophie Vercruyssen | BEL | 20 | 51.24 | 51.28 | 51.53 | 51.20 | 3:25.25 |
| 14 | Anna Köhler / Erline Nolte | GER | 10 | 51.21 | 51.20 | 51.46 | 51.41 | 3:25.28 |
| 15 | Yooran Kim / Minseong Kim | KOR | 1 | 51.24 | 51.20 | 51.32 | 51.55 | 3:25.31 |
| 16 | Maria Adela Constantin / Andreea Grecu | ROU | 19 | 51.17 | 51.40 | 51.39 | 51.57 | 3:25.53 |
| 17 | Aleksandrda Rodionova / Yulia Belomestnykh | OAR | 3 | 51.29 | 51.47 | 51.41 | 51.55 | 3:25.72 |
| 18 | Katrin Beierl / Victoria Hahn | AUT | 16 | 51.49 | 51.41 | 51.51 | 51.43 | 3:25.84 |
| 19 | Jazmine Fenlator-Victorian / Carrie Russell | JAM | 18 | 51.29 | 51.50 | 51.83 | 51.32 | 3:25.94 |
| 20 | Seun Adigun / Ngozi Onwumere | NGR | 2 | 52.21 | 52.55 | 52.31 | 52.53 | 3:29.60 |