From Sigulda, LAT
(Dec. 8, 2018) – With the first IBSF World Cup skeleton event in Latvia in well over a decade, the big favorite was Martins Dukurs on his home ice. However, it was a Russian athlete dominating to take gold.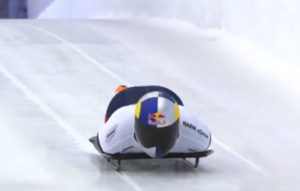 Nikita Tregubov had the two fastest runs of the day on his way to a .37 second victory over home country favorite Martins Dukurs. Tregubov overcame slightly slower start times by seemingly finding speed at the bottom of the track where few others could on the way to his first career IBSF World Cup gold medal.
Dukurs finished in second, having put down the second quickest run in both heats. Both of the Latvian's runs looked seemingly flawless, but the speed he needed to take gold just wasn't there.
Olympic champion Sungbin Yun finished with a bronze medal despite coming off double knee surgery in the off season. Yun came into the second heat in fourth place, but a quick run by the Korean coupled with a sloppier run by Russian Alexander Tretiakov resulted in a third place finish for Yun.
Tretiakov set the start record in both heats on his way to a fourth place finish, ahead of World Cup rookie Felix Keisinger of Germany and Latvian Tomass Dukurs.
Nathan Crumpton led the way for the United States with a 14th place finish. Teammates Greg West and Kyle Brown finished just behind him in 17th and 18th, respectively.
Great Britain's Marcus Wyatt was Team GB's top finisher in 12th, just ahead of teammate Jerry Rice. Rice leapfrogged a handful of sliders to move up from 16th to 13th. Jack Thomas also moved up from a tie for 20th to 19th on his second run.
Canadian Dave Greszczyszyn finished tied for 15th with Ronald Auderset, while teammate Kevin Boyer just missed out on a second run in 22nd.
Results:
| | | | | | | | | |
| --- | --- | --- | --- | --- | --- | --- | --- | --- |
| Pos | Name | Nation | Bib | Start 1 | Start 2 | Run 1 | Run 2 | Total |
| 1 | Nikita Tregubov | RUS | 13 | 4.77 | 4.73 | 50.81 | 51.06 | 1:41.87 |
| 2 | Martins Dukurs | LAT | 7 | 4.69 | 4.63 | 51.17 | 51.07 | 1:42.24 |
| 3 | Sungbin Yun | KOR | 8 | 4.64 | 4.65 | 51.22 | 51.18 | 1:42.40 |
| 4 | Alexander Tretiakov | RUS | 12 | 4.58 | 4.55 | 51.18 | 51.24 | 1:42.42 |
| 5 | Felix Keisinger | GER | 4 | 4.67 | 4.73 | 51.26 | 51.59 | 1:42.85 |
| 6 | Tomass Dukurs | LAT | 6 | 4.81 | 4.78 | 51.45 | 51.46 | 1:42.91 |
| 7 | Alexander Gassner | GER | 10 | 4.76 | 4.69 | 51.44 | 51.50 | 1:42.94 |
| 8 | Alex Jungk | GER | 11 | 4.70 | 4.64 | 51.85 | 51.75 | 1:43.60 |
| 9 | Vladyslav Heraskevych | UKR | 1 | 5.03 | 4.95 | 51.93 | 51.94 | 1:43.87 |
| 10 | Florian Auer | AUT | 22 | 4.84 | 4.82 | 52.03 | 51.86 | 1:43.89 |
| 11 | Ivo Steinbergs | LAT | 19 | 4.97 | 4.92 | 52.08 | 52.11 | 1:44.19 |
| 12 | Marcus Wyatt | GBR | 15 | 4.65 | 4.67 | 52.09 | 52.28 | 1:44.37 |
| 13 | Jerry Rice | GBR | 16 | 4.73 | 4.65 | 52.51 | 52.13 | 1:44.64 |
| 14 | Nathan Crumpton | USA | 20 | 4.76 | 4.77 | 52.40 | 52.27 | 1:44.67 |
| 15 | David Greszczyszyn | CAN | 9 | 4.89 | 4.89 | 52.35 | 52.38 | 1:44.73 |
| 15 | Ronald Auderset | SUI | 21 | 4.70 | 4.79 | 52.30 | 52.43 | 1:44.73 |
| 17 | Greg West | USA | 18 | 4.90 | 4.88 | 52.61 | 52.17 | 1:44.78 |
| 18 | Kyle Brown | USA | 2 | 4.88 | 4.85 | 52.63 | 52.33 | 1:44.96 |
| 19 | Jack Thomas | GBR | 3 | 4.73 | 4.67 | 52.80 | 52.44 | 1:45.24 |
| 20 | Junhyeon Kim | KOR | 24 | 4.77 | 4.80 | 52.64 | 52.65 | 1:45.29 |
| 21 | Wenqiang Geng | CHN | 17 | 4.96 | 4.96 | 52.80 | 52.56 | 1:45.36 |
| 22 | Kevin Boyer | CAN | 14 | 4.76 | | 53.04 | | |
| 23 | Alexander Hanssen | NOR | 23 | 4.71 | | 53.37 | | |
| 24 | Vladislav Marchenkov | RUS | 5 | 4.89 | | 53.51 | | |