From Sigulda, LAT
(Jan. 12, 2019) – It's rare to have a race where Natalie Geisenberger is plain out-raced, but in Sigulda Tatyana Ivanova did just that.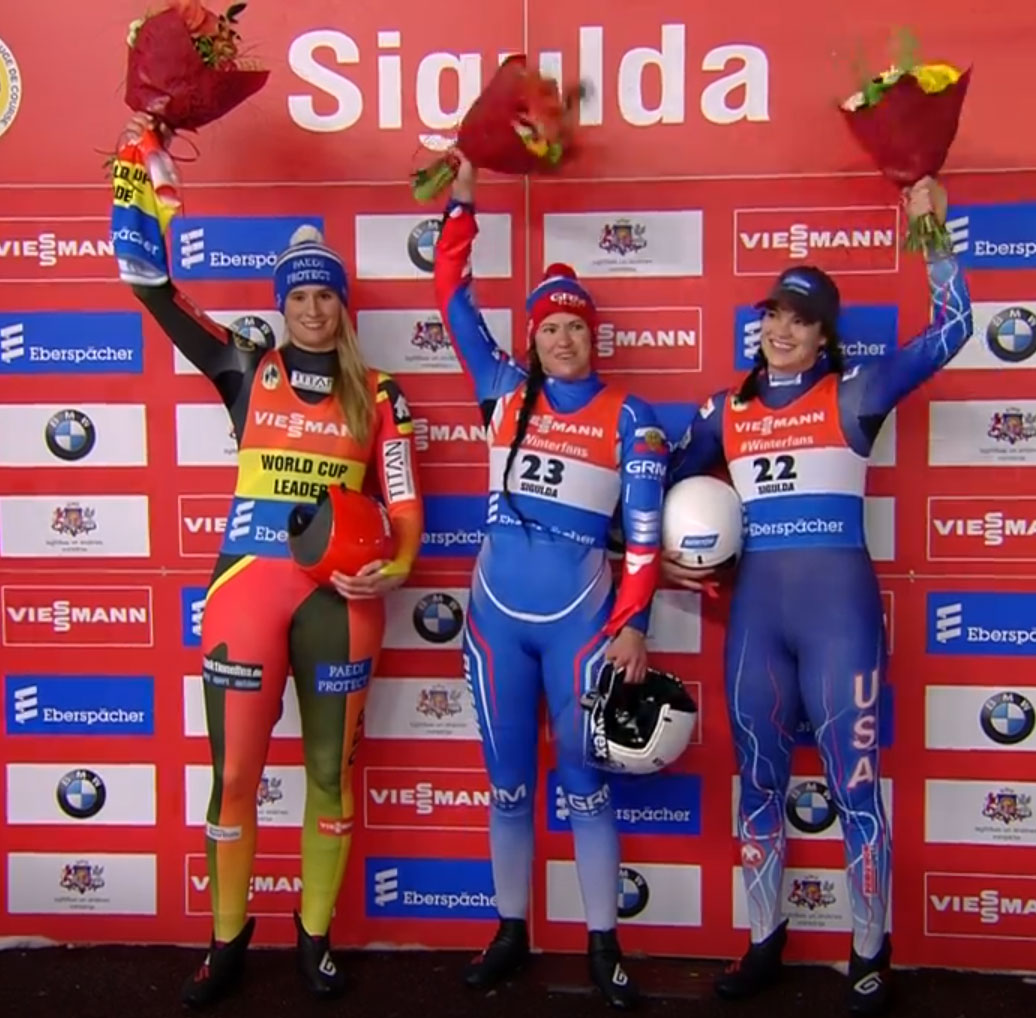 Ivanova, who holds the track record in Sigulda, was the quickest in both heats on her way to a .128 second victory over Geisenberger for her first win of the 2018/2019 season.
After the start (where Ivanova was third quickest), Ivanova was the quickest at every timing line to the finish.
Geisenberger finished second, ahead of American Summer Britcher.
The bronze medal for Britcher was her third straight medal (silver in the Lake Placid sprint and in Königssee).
Italian Andrea Vötter missed the podium by .004, finishing fourth, ahead of Nations Cup winner Kendija Aparjode, and Tatjana Hüfner.
Brittney Arndt finished 16th on the second American sled.
Results:
| | | | | | | | | |
| --- | --- | --- | --- | --- | --- | --- | --- | --- |
| Pos | Name | Nation | Bib | Start 1 | Start 2 | Run 1 | Run 2 | Total |
| 1 | Tatyana Ivanova | RUS | 23 | 1.639 | 1.636 | 42.272 | 42.064 | 1:24.336 |
| 2 | Natalie Geisenberger | GER | 24 | 1.661 | 1.653 | 42.337 | 42.127 | 1:24.464 |
| 3 | Summer Britcher | USA | 22 | 1.661 | 1.664 | 42.427 | 42.259 | 1:24.686 |
| 4 | Andrea Vötter | ITA | 17 | 1.649 | 1.644 | 42.444 | 42.246 | 1:24.690 |
| 5 | Kendija Aparjode | LAT | 15 | 1.666 | 1.671 | 42.444 | 42.270 | 1:24.714 |
| 6 | Tatjana Hüfner | GER | 20 | 1.636 | 1.634 | 42.541 | 42.287 | 1:24.828 |
| 7 | Eliza Cauce | LAT | 7 | 1.642 | 1.637 | 42.570 | 42.368 | 1:42.938 |
| 8 | Dajana Eitberger | GER | 25 | 1.655 | 1.655 | 42.529 | 42.422 | 1:24.951 |
| 9 | Julia Taubitz | GER | 21 | 1.675 | 1.667 | 42.587 | 42.435 | 1:25.022 |
| 10 | Ulla Zirne | LAT | 18 | 1.682 | 1.687 | 42.691 | 42.473 | 1:25.164 |
| 11 | Ekaterina Baturina | RUS | 14 | 1.642 | 1.656 | 42.701 | 42.465 | 1:25.166 |
| 12 | Ekaterina Katnikova | RUS | 12 | 1.666 | 1.667 | 42.715 | 42.570 | 1:25.285 |
| 13 | Birgit Platzer | AUT | 13 | 1.680 | 1.671 | 42.794 | 42.508 | 1:25.302 |
| 14 | Madeleine Egle | AUT | 11 | 1.638 | 1.635 | 42.609 | 42.785 | 1:25.394 |
| 15 | Raluca Stramaturaru | ROU | 10 | 1.693 | 1.681 | 42.817 | 42.727 | 1:25.544 |
| 16 | Brittney Arndt | USA | 19 | 1.713 | 1.692 | 43.123 | 42.918 | 1:26.041 |
| 17 | Sandra Robatscher | ITA | 5 | 1.646 | 1.677 | 42.766 | 43.276 | 1:26.042 |
| 18 | Olena Stetskiv | UKR | 8 | 1.695 | 1.688 | 43.061 | 42.997 | 1:26.058 |
| 19 | Natalie Maag | SUI | 9 | 1.691 | 1.691 | 43.189 | 42.930 | 1:26.119 |
| 20 | Aileen Frisch | KOR | 7 | 1.658 | 1.660 | 43.317 | 43.146 | 1:26.463 |
| 21 | Klaudia Domaradzka | POL | 6 | 1.723 | 1.721 | 43.414 | 43.576 | 1:26.990 |
| 22 | Veronica Maria Ravenna | ARG | 4 | 1.719 | 1.719 | 43.619 | 43.529 | 1:27.148 |
| 23 | Hyesun Jung | KOR | 2 | 1.710 | 1.709 | 44.879 | 43.396 | 1:28.275 |
| 24 | Mihaela-Carmen Manolescu | ROU | 3 | 1.720 | 1.727 | 44.736 | 44.358 | 1:29.094 |
| 25 | Sin-Rong Lin | TPE | 1 | 1.766 | 1.784 | 44.322 | 45.656 | 1:29.978 |