From Sigulda, LAT
(Nov. 27, 2020) – Janine Flock was really fast to open the IBSF World Cup season in Sigulda. In that first race she broke the track record to secure her seventh gold medal of her World Cup career.
One week later she was even faster.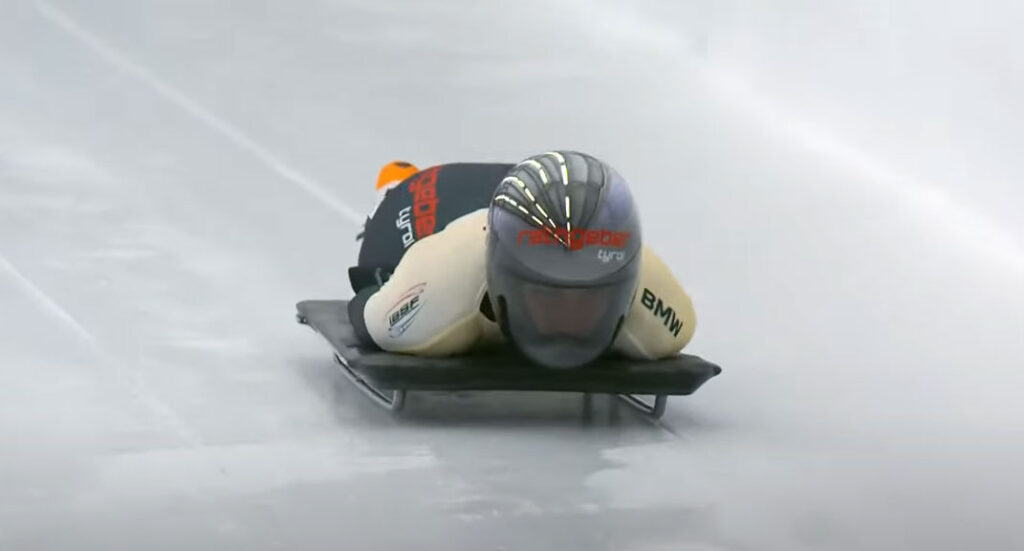 Flock broke her track record with a 51.47 in the first heat to open up a .31 second lead over Russia's Elena Nikitina. On her second run she went even faster, lowering the track record by another hundredth on her way to her second consecutive gold medal and eighth of her career.
The tour will travel to Flock's home track in Igls, Austria for the next two events.
Elena Nikitina struggled in her first race of the season, finishing well outside of the medals on a track she'd previously won on. In her second attempt in the 2019/2020 season the Russian was better, winning a silver medal on the strength of her first trip down.
There was a tie for bronze, Tina Hermann wedged her way onto the podium with a spectacular second run, the third-fastest of either heat, to move up from fourth to a tie for third with Kimberley Bos.
The bronze medal for Bos was both the second medal in a row for Bos and the second of her career.
After a tough 2019/2020 season, Olympic bronze medalist Laura Deas appears to be back in top sliding form. She scored her second top six in two races with a fifth place finish, edging out Belgium's Kim Meylemans by .08.
Meylemans's sixth place finish was her second of the season, as well.
Great Britain put two sleds in the top ten, with Ashleigh Pittaway scoring a career-best finish in eighth place. Teammae Brogan Crowley also put down a career-best effort in her second race, finishing 16th.
Latvia's Endija Terauda finished with a bronze medal in her first career World Cup race. She couldn't match that effort in her second attempt but finished 11th, one spot behind Czechia's Anna Fernstädt.
For various reasons almost entirely related to COVID-19, the United States, Canada, China, Korea, and Australia all have their athletes out for the first part of the season.
Results:
| | | | | | | | | |
| --- | --- | --- | --- | --- | --- | --- | --- | --- |
| Pos | Name | Nation | Bib | Start 1 | Start 2 | Run 1 | Run 2 | Total |
| 1 | Janine Flock | AUT | 6 | 5.18 | 5.14 | 51.47 | 51.46 | 1:42.93 |
| 2 | Elena Nikitina | RUS | 8 | 4.95 | 4.91 | 51.78 | 51.80 | 1:43.58 |
| 3 | Tina Hermann | GER | 12 | 5.23 | 5.23 | 51.98 | 51.75 | 1:43.73 |
| 3 | Kimberley Bos | NED | 5 | 5.11 | 5.13 | 51.88 | 51.85 | 1:43.73 |
| 5 | Laura Deas | GBR | 4 | 5.12 | 5.08 | 52.11 | 51.89 | 1:44.00 |
| 6 | Kim Meylemans | BEL | 9 | 5.03 | 5.02 | 52.00 | 52.08 | 1:44.08 |
| 7 | Jacqueline Lölling | GER | 11 | 5.31 | 5.27 | 52.05 | 52.18 | 1:44.23 |
| 8 | Ashleigh Pittaway | GBR | 2 | 5.15 | 5.16 | 52.18 | 52.17 | 1:44.35 |
| 9 | Yulia Kanakina | RUS | 14 | 4.99 | 5.01 | 52.38 | 52.07 | 1:44.45 |
| 10 | Anna Fernstädt | CZE | 10 | 5.44 | 5.47 | 52.32 | 52.16 | 1:44.48 |
| 11 | Endija Terauda | LAT | 7 | 5.25 | 5.28 | 52.27 | 52.27 | 1:44.54 |
| 12 | Valentina Margaglio | ITA | 13 | 4.93 | 4.99 | 52.29 | 52.58 | 1:44.87 |
| 13 | Agathe Bessard | FRA | 1 | 5.43 | 5.41 | 52.35 | 52.54 | 1:44.89 |
| 14 | Hannah Neise | GER | 15 | 5.31 | 5.31 | 52.20 | 52.81 | 1:45.01 |
| 15 | Alena Frolova | RUS | 16 | 5.13 | 5.27 | 52.73 | 52.71 | 1:45.44 |
| 16 | Brogan Crowley | GBR | 18 | 5.24 | 5.25 | 53.04 | 52.50 | 1:45.54 |
| 17 | Alessia Crippa | ITA | 17 | 5.14 | 5.15 | 52.87 | 52.71 | 1:45.58 |
| 18 | Nicole Silveira | BRA | 3 | 5.28 | 5.28 | 53.55 | 53.95 | 1:47.50 |