From Altenberg, GER
(Dec. 5, 2020) – After a rough outing for the Russians in Igls, Tatyana Ivanova cruised to victory in Altenberg for Russia's first gold medal of the 2020/201 FIL World Cup season.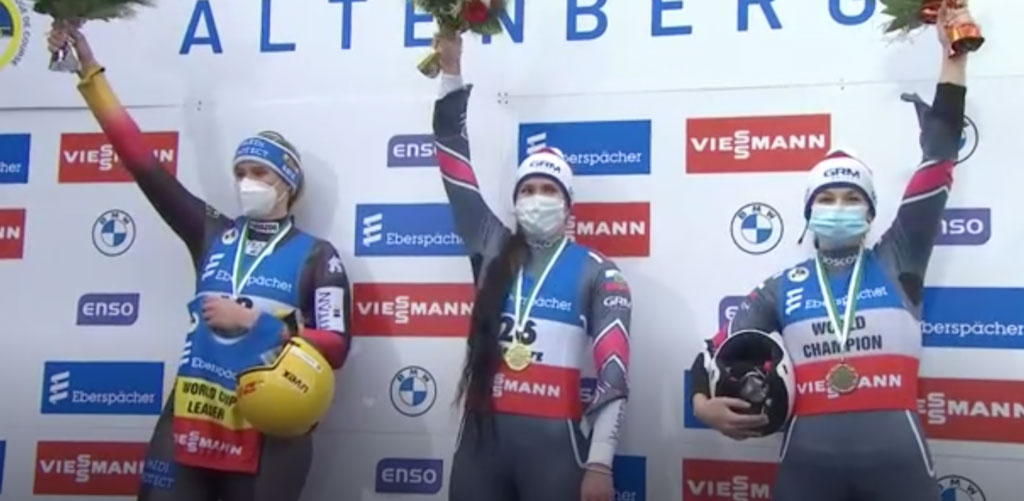 Ivanova was the quickest in the first heat, and second quickest in the second heat on her way to a .113 second victory over Germany's Natalie Geisenberger. Teammate Ekaterina Katnikova finished third to put two Russian sleds on the podium.
The gold medal was the 15th of her World Cup career.
Geisenberger's silver medal was her third straight after finishing second in both the World Cup and Sprint World Cup races in Igls a week prior. For Katnikova, her bronze medal was her first ever medal in World Cup action, though she won gold in the 2020 FIL World Championships in Sochi.
For the second time in as many races, Austria's Madeleine Egle had a chance at a medal but came up just short. In Igls she fell back to fifth, while in Altenberg she fell to fourth from third.
Defending World Cup champion Julia Taubitz finished fifth, just ahead of teammate Dajana Eitberger. Both women have three top six finishes in their first six races.
Argentina's Veronica Ravenna finished 22nd.
The United States and Canada both are sitting out the first portion of the season due to COVID-19 travel restrictions. They'll rejoin the tour at the beginning of the new year.
Results:
| | | | | | | | | |
| --- | --- | --- | --- | --- | --- | --- | --- | --- |
| Pos | Name | Nation | Bib | Start 1 | Start 2 | Run 1 | Run 2 | Total |
| 1 | Tatyana Ivanova | RUS | 26 | 5.554 | 5.542 | 52.539 | 52.631 | 1:45.170 |
| 2 | Natalie Giesenberger | GER | 18 | 5.587 | 5.592 | 52.586 | 52.697 | 1:45.283 |
| 3 | Ekaterina Katnikova | RUS | 22 | 5.630 | 5.622 | 52.741 | 52.629 | 1:45.370 |
| 4 | Madeleine Egle | AUT | 23 | 5.559 | 5.587 | 52.705 | 52.756 | 1:45.461 |
| 5 | Julia Taubitz | GER | 28 | 5.559 | 5.583 | 52.771 | 52.713 | 1:45.484 |
| 6 | Dajana Eitberger | GER | 17 | 5.621 | 5.611 | 52.992 | 52.678 | 1:45.670 |
| 7 | Kendija Aparjode | LAT | 21 | 5.603 | 5.604 | 52.871 | 52.887 | 1:45.758 |
| 8 | Eliza Tiruma | LAT | 27 | 5.618 | 5.608 | 53.020 | 52.794 | 1:45.814 |
| 9 | Andrea Vötter | ITA | 25 | 5.546 | 5.544 | 53.020 | 52.887 | 1:45.907 |
| 10 | Verena Hofer | ITA | 16 | 5.622 | 5.633 | 53.155 | 53.156 | 1:46.311 |
| 11 | Lisa Schulte | AUT | 14 | 5.609 | 5.636 | 53.136 | 53.193 | 1:46.329 |
| 12 | Cheyenne Rosenthal | GER | 19 | 5.599 | 5.621 | 53.211 | 53.185 | 1:46.396 |
| 13 | Nina Zöggeler | ITA | 7 | 5.617 | 5.643 | 53.108 | 53.302 | 1:46.410 |
| 14 | Ulla Zirne | LAT | 20 | 5.642 | 5.656 | 53.167 | 53.285 | 1:46.452 |
| 15 | Hannah Prock | AUT | 10 | 5.648 | 5.648 | 53.339 | 53.164 | 1:46.503 |
| 16 | Sigita Berzina | LAT | 13 | 5.568 | 5.563 | 53.413 | 53.329 | 1:46.742 |
| 17 | Ekaterina Baturina | RUS | 15 | 5.623 | 5.628 | 53.159 | 53.584 | 1:46.743 |
| 18 | Natalie Maag | SUI | 12 | 5.634 | 5.648 | 53.409 | 53.598 | 1:47.007 |
| 19 | Aileen Frisch | KOR | 5 | 5.612 | 5.600 | 53.880 | 53.577 | 1:47.457 |
| 20 | Katarina Simonakova | SVK | 6 | 5.646 | 5.658 | 53.840 | 53.721 | 1:47.561 |
| 21 | Veronica Ravenna | ARG | 8 | 5.700 | 5.695 | 54.134 | 53.672 | 1:47.806 |
| 22 | Marion Oberhoer | ITA | 11 | 5.615 | 5.635 | 53.947 | 54.225 | 1:48.172 |
| 23 | Tove Kohala | SWE | 4 | 5.672 | 5.658 | 54.146 | 54.307 | 1:48.453 |
| 24 | Olena Smaha | UKR | 9 | 5.700 | 5.695 | 55.136 | 53.598 | 1:48.734 |
| 25 | Daria Obratov | NED | 3 | 5.697 | 5.745 | 54.506 | 54.847 | 1:49.353 |
| 26 | Natalia Jamroz | POL | 1 | 5.686 | 5.752 | 55.093 | 55.605 | 1:50.698 |
| 27 | Donia Sescalui | MDA | 2 | 5.880 | 5.906 | 55.641 | 58.975 | 1:54.616 |
| 28 | Viktoriia Demchenko | RUS | 24 | 5.597 | | 74.382 | DNS | DNS |