From Passeier, ITA
Jan. 17, 2021 – Thomas Kammerlander won his second straight race to start his 2020/2021 campaign, beating out teammate Michael Scheikl for top honors.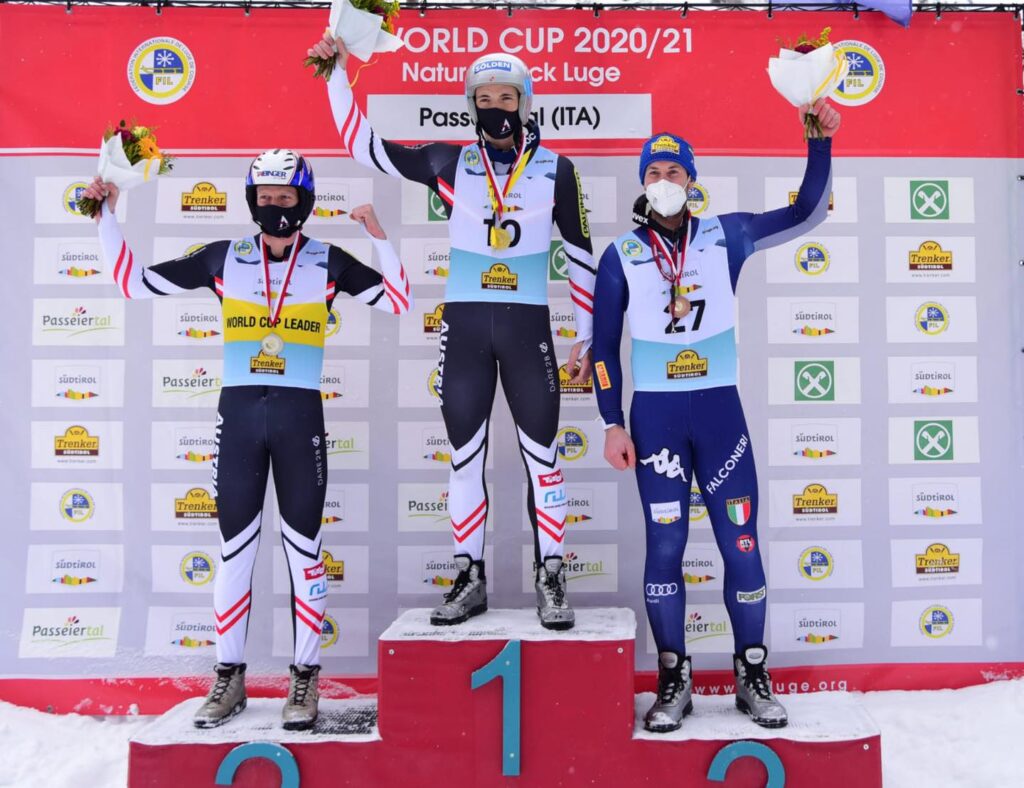 Kammerlander opened up a half-second lead on Scheikl after one heat, and though Kammerlander was over a half second slower on his second run, it was still plenty enough to take gold.
Scheikl finished in second, well ahead of Italy's Patrick Pigneter in third.
Italy's Alex Gruber finished fourth, .19 out of the medals, while Russia's Grigory Bukin and Aleksandr egorov rounded out the top six.
With two races to go in the FIL World Cup natural track season, Michael Scheikl holds a 45 point advantage over Patrick Pigneter. Alex Gruber is third, with Christian Schopf and Stefan Federer rounding out the top five. Thomas Kammerlander is already up to sixth, and while he realistically won't be able to win the overall title, a top three is not out of the question.
Results:
| | | | | | | | | |
| --- | --- | --- | --- | --- | --- | --- | --- | --- |
| Pos | Name | Nation | Bib | Start 1 | Start 2 | Run 1 | Run 2 | Total |
| 1 | Thomas Kammerlander | AUT | 10 | 10.36 | 10.44 | 54.71 | 55.25 | 1:49.96 |
| 2 | Michael Scheikl | AUT | 28 | 10.48 | 10.49 | 55.25 | 55.38 | 1:50.63 |
| 3 | Patrick Pigneter | ITA | 27 | 10.61 | 10.65 | 55.37 | 55.68 | 1:51.05 |
| 4 | Alex Gruber | ITA | 25 | 10.58 | 10.50 | 55.57 | 55.67 | 1:51.24 |
| 5 | Grigory Bukin | RUS | 9 | 10.56 | 10.59 | 56.29 | 56.30 | 1:52.59 |
| 6 | Aleksandr Egorov | RUS | 5 | 10.57 | 10.60 | 55.86 | 56.78 | 1:52.64 |
| 7 | Stefan Federer | ITA | 24 | 10.61 | 10.65 | 56.23 | 56.24 | 1:52.47 |
| 8 | Christian Schopf | AUT | 26 | 10.48 | 10.52 | 56.11 | 56.69 | 1:52.80 |
| 9 | Florian Clara | ITA | 23 | 10.70 | 10.69 | 56.31 | 56.68 | 1:52.99 |
| 10 | Fabian Achenrainer | AUT | 22 | 10.52 | 10.61 | 55.94 | 57.18 | 1:53.12 |
| 11 | Stanislav Kovshik | RUS | 8 | 10.78 | 10.91 | 56.49 | 57.19 | 1:53.68 |
| 12 | Aleksei Martianov | RUS | 3 | 10.88 | 10.80 | 56.94 | 57.03 | 1:53.97 |
| 13 | Myroslav Lenko | UKR | 20 | 10.85 | 10.77 | 58.84 | 58.92 | 1:57.76 |
| 14 | Jerome Almer | SUI | 21 | 11.27 | 11.23 | 58.96 | 59.39 | 1:58.35 |
| 15 | Ivan Lenko | UKR | 19 | 11.14 | 11.16 | 59.27 | 59.23 | 1:58.50 |
| 16 | Simon Dietz | GER | 2 | 11.08 | 11.17 | 59.97 | 60.86 | 2:00.83 |
| 17 | David Rydl | CZE | 15 | 11.50 | 11.58 | 61.24 | 61.37 | 2:02.61 |
| 18 | Leonardo de Oliveira Silva | BRA | 13 | 11.23 | 11.14 | 61.78 | 61.60 | 2:03.38 |
| 19 | Julio Dante de Moraes | BRA | 4 | 12.85 | 12.76 | 71.68 | 69.51 | 2:21.19 |