From St. Moritz, SUI
Jan. 17, 2021 – Through Stephanie Schneider's career in bobsledding, both as a pilot and a brakewoman, she's won gold almost everywhere. But a place atop the podium in St. Moritz had eluded the German pilot until Sunday's women's bobsled race.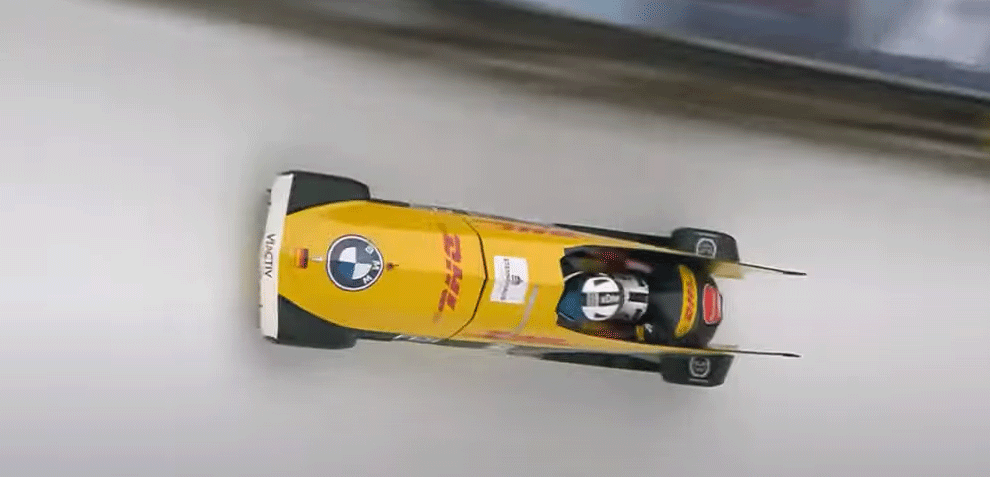 Schneider came into the second heat in St. Moritz in third place, behind teammate Mariama Jamanka and Switzerland's Melaine Hasler. On her second run, Schneider set the season's track record as the only woman below 1:08 to take the lead with just Hasler and Jamanka to go. Neither woman could stay close enough to Schneider to move into the lead, and by the end of the race Schneider had secured her first gold medal in St. Moritz and 11th overall.
The race was very close after one heat, with the top five separated by only .06 and the top seven by .24.  Elana Meyers Taylor came into the second heat just .04 out of the lead in fourth place, and on that second run she put down a time that was only beaten by Schneider. It was enough to move her into second place for her first medal after a season off for maternity leave.
Melanie Hasler won her first ever IBSF World Cup medal in third. The bronze was just her second ever medal at any level of international competition.
With all of the shuffling amongst the leaders, Mariama Jamanka was found herself the outside looking in. The Olympic gold medalist came into the second heat as the leader but could only muster the seventh fastest run of the heat to fall to fourth.
Switzerland had a strong showing on their home ice. On top of Hasler's bronze medal, Martina Fontanive backed up a bronze medal in Saturday's Monobob race with a fifth place finish in the women's bobsled race. It was her second career top five finish.
Germany's Laura Nolte finished just .02 behind Fontanive in sixth.
The United States' Kaillie Humphries was unable to capitalize on the close racing after the first heat, finishing just out of the top six in seventh. She won gold in the previous day's Monobob World Series race.
Canada's Christine de Bruin had a disappointing first run, but picked up .7 on her second trip down to jump from 13th to  eighth. Her second run was the fourth fastest of the second heat. Teammate Alysia Rissling made her 2020/2021 World Cup debut in St. Moritz and finished three spots back in 11th, tied with Romania's Andreea Grecu.
Great Britain's Mica McNeill finished 16th.
With two races left in the IBSF World Cup season, Austria's Kati Beierl is the World Cup point leader, 61 points ahead of Germany's Laura Nolte. Melanie Hasler sits third. Kim Kalicki, who sat out the race in St. Moritz, fell from first to fourth.
Results:
| | | | | | | | | |
| --- | --- | --- | --- | --- | --- | --- | --- | --- |
| Pos | Names | Nation | Bib | Start 1 | Start 2 | Run 1 | Run 2 | Total |
| 1 | Schneider / Fiebig | GER | 15 | 5.45 | 5.45 | 68.55 | 67.99 | 2:16.54 |
| 2 | Meyers Taylor / Hoffman | USA | 3 | 5.44 | 5.42 | 68.56 | 68.06 | 2:16.62 |
| 3 | Hasler / Strebel | SUI | 9 | 5.58 | 5.59 | 68.53 | 68.20 | 2:16.73 |
| 4 | Jamanka / Mark | GER | 11 | 5.55 | 5.58 | 68.52 | 68.55 | 2:17.07 |
| 5 | Fontanive / Pasternack | SUI | 7 | 5.51 | 5.56 | 68.58 | 68.59 | 2:17.17 |
| 6 | Nolte / Levi | GER | 5 | 5.45 | 5.44 | 68.69 | 68.50 | 2:17.19 |
| 7 | Humphries / Gibbs | USA | 16 | 5.53 | 5.54 | 68.76 | 68.64 | 2:17.40 |
| 8 | de Bruin / Villani | CAN | 2 | 5.58 | 5.52 | 69.07 | 68.37 | 2:17.44 |
| 9 | Walker / Blizzard | AUS | 12 | 5.61 | 5.60 | 68.83 | 68.67 | 2:17.50 |
| 10 | Beierl / Onasanya | AUT | 4 | 5.55 | 5.53 | 69.05 | 68.46 | 2:17.51 |
| 11 | Rissling / Richardson Wilson | CAN | 18 | 5.55 | 5.55 | 69.06 | 68.70 | 2:17.76 |
| 11 | Grecu / Wick | ROU | 6 | 5.62 | 5.61 | 68.96 | 68.80 | 2:17.76 |
| 13 | Makarova / Iokst | RUS | 17 | 5.66 | 5.66 | 69.05 | 68.86 | 2:17.91 |
| 14 | Sergeeva / Belomestnykh | RUS | 1 | 5.63 | 5.56 | 69.20 | 68.74 | 2:17.94 |
| 15 | Vannieuwenhuyse / Aerts | BEL | 14 | 5.72 | 5.68 | 69.14 | 68.81 | 2:17.95 |
| 16 | McNeill / Douglas | GBR | 10 | 5.71 | 5.74 | 69.21 | 69.28 | 2:18.49 |
| 17 | Boch / Clair | FRA | 8 | 5.80 | 5.76 | 69.67 | 69.11 | 2:18.78 |
| 18 | Chernykh / Mamedova | RUS | 13 | 5.69 | 5.70 | 69.55 | 69.34 | 2:18.89 |