From Oberhof, GER
Jan. 17, 2021 – Natalie Geisenberger finished her 2018/2019 season with 49 World Cup wins, then took the 2019/2020 season off for maternity leave. This season she's come back strong, but has spent the entire season stuck on 49 wins with eight consecutive silver medals to start the season.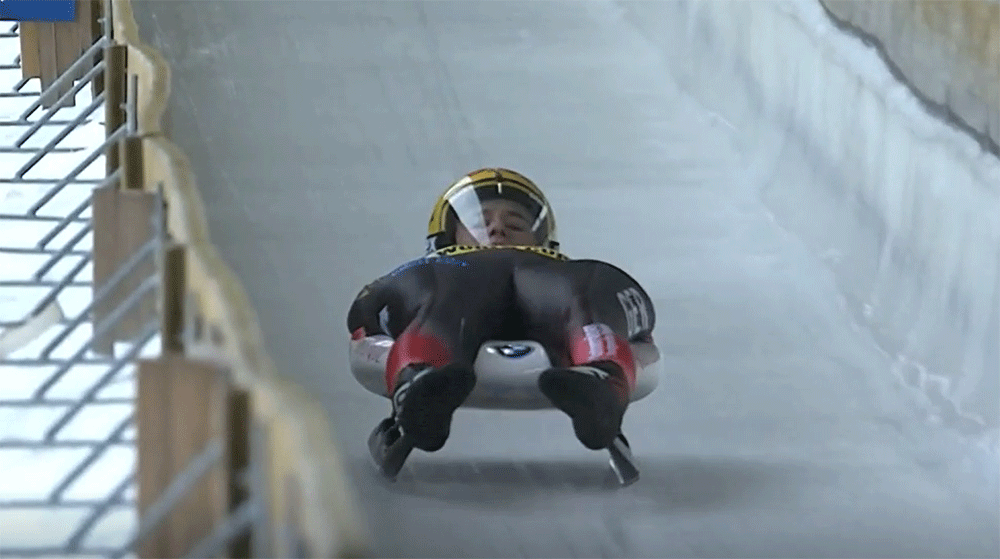 But in Oberhof she finally won number 50.
The winningest women's luge athlete of all time led after one heat by just .035 over Austria's Madeleine Egle going into the second heat. While Egle's second run was clean, Geisenberger's second run was nearly perfect on her way to a .228 second victory.
Madeleine Egle found her way to a singles podium for the second time in three races with a second place finish. Her silver medal effort was a career best, one spot better than a bronze medal finish in Königssee two weeks ago.
Germany's Anna Berreiter finished third, only .008 behind Egle for her best finish of the season.
Tatyana Ivanova finished .032 out of the medals in fourth, one spot ahead of Julia Taubitz. Viktoriia Demchenko rounded out the top six in sixth.
Summer Britcher had the top finish for anyone from the United States this weekend in Oberhof. She started the second heat in ninth, but moved up to seventh with a strong second run. Teammate Ashley Farquharson also moved up in the second heat, from 15th to tenth, while Brittney Arndt finished the race in 20th.
Canada's Carolyn Maxwell finished 21st in her first World Cup start of the season.
Geisenberger has the overall point lead with three races to go on the 2020/2021 season. She will enter the race in Igls with a 74 point lead over Taubitz. Egle is third overall but without a realistic shot at the title. Dajana Eitberger, who finished 11th in Oberhof, is fifth overall.
Results:
| | | | | | | | | |
| --- | --- | --- | --- | --- | --- | --- | --- | --- |
| Pos | Name | Nation | Bib | Start 1 | Start 2 | Run 1 | Run 2 | Total |
| 1 | Natalie Geisenberger | GER | 23 | 6.824 | 6.815 | 41.112 | 41.009 | 1:22.121 |
| 2 | Madeleine Egle | AUT | 27 | 6.795 | 6.817 | 41.147 | 41.202 | 1:22.349 |
| 3 | Anna Berreiter | GER | 17 | 6.865 | 6.809 | 41.227 | 41.130 | 1:22.357 |
| 4 | Tatyana Ivanova | RUS | 26 | 6.856 | 6.838 | 41.201 | 41.188 | 1:22.389 |
| 5 | Julia Taubitz | GER | 28 | 6.857 | 6.864 | 41.205 | 41.279 | 1;22.484 |
| 6 | Viktoriia Demchenko | RUS | 25 | 6.900 | 6.901 | 41.281 | 41.266 | 1:22.547 |
| 7 | Summer Britcher | USA | 15 | 6.936 | 6.884 | 41.339 | 41.301 | 1:22.640 |
| 8 | Andrea Vötter | ITA | 20 | 6.806 | 6.823 | 41.418 | 41.248 | 1:22.666 |
| 9 | Ulla Zirne | LAT | 12 | 6.942 | 6.961 | 41.384 | 41.409 | 1:22.793 |
| 10 | Ashley Farquharson | USA | 14 | 6.919 | 6.892 | 41.448 | 41.378 | 1:22.826 |
| 11 | Dajana Eitberger | GER | 16 | 6.928 | 6.896 | 41.378 | 41.460 | 1:22.838 |
| 12 | Eliza Tiruma | LAT | 24 | 6.880 | 6.881 | 41.440 | 41.410 | 1:22.850 |
| 13 | Ekaterina Baturina | RUS | 11 | 6.863 | 6.875 | 41.330 | 41.539 | 1:22.869 |
| 14 | Kendija Aparjode | LAT | 19 | 6.870 | 6.875 | 41.278 | 41.615 | 1:22.893 |
| 15 | Natalie Maag | SUI | 22 | 6.905 | 6.883 | 41.547 | 41.413 | 1:22.860 |
| 16 | Lisa Schulte | AUT | 18 | 6.956 | 6.910 | 41.549 | 41.461 | 1:23.010 |
| 17 | Verena Hofer | ITA | 10 | 6.899 | 6.915 | 41.605 | 41.505 | 1:23.110 |
| 18 | Ekaterina Katnikova | RUS | 21 | 6.925 | 6.913 | 41.496 | 41.629 | 1:23.125 |
| 19 | Brittney Arndt | USA | 9 | 6.969 | 7.030 | 41.583 | 41.811 | 1:23.394 |
| 20 | Carolyn Maxwell | CAN | 8 | 6.916 | 6.898 | 41.706 | 41.722 | 1:23.428 |
| 21 | yulianna Tunyska | UKR | 1 | 6.930 | 6.898 | 41.740 | 41.713 | 1:23.453 |
| 22 | Klaudia Domaradzka | POL | 5 | 6.879 | 6.927 | 41.755 | 41.832 | 1:23.587 |
| 23 | Aileen Frisch | KOR | 7 | 6.918 | 6.913 | 41.833 | 41.787 | 1:23.620 |
| 24 | Hannah Prock | AUT | 13 | 6.945 | 6.953 | 41.346 | 42.299 | 1;23.645 |
| 25 | Veronica Ravenna | ARG | 3 | 7.068 | 7.055 | 41.898 | 41.908 | 1:23.806 |
| 26 | Raluca Stramaturaru | ROU | 2 | 6.970 | 7.013 | 41.824 | 42.011 | 1:23.835 |
| 27 | Nina Zöggeler | ITA | 6 | 6.926 | 6.933 | 41.868 | 41.977 | 1:23.845 |
| 28 | Olena Stetskiv | UKR | 4 | 6.969 | 6.936 | 41.936 | 41.911 | 1:23.847 |