From Laas, ITA
Feb. 9, 2021 – Italy's Evelin Lanthaler continued her domination of the women's natural track luge ranks, beating out teammate Greta Pinggera for gold in Laas.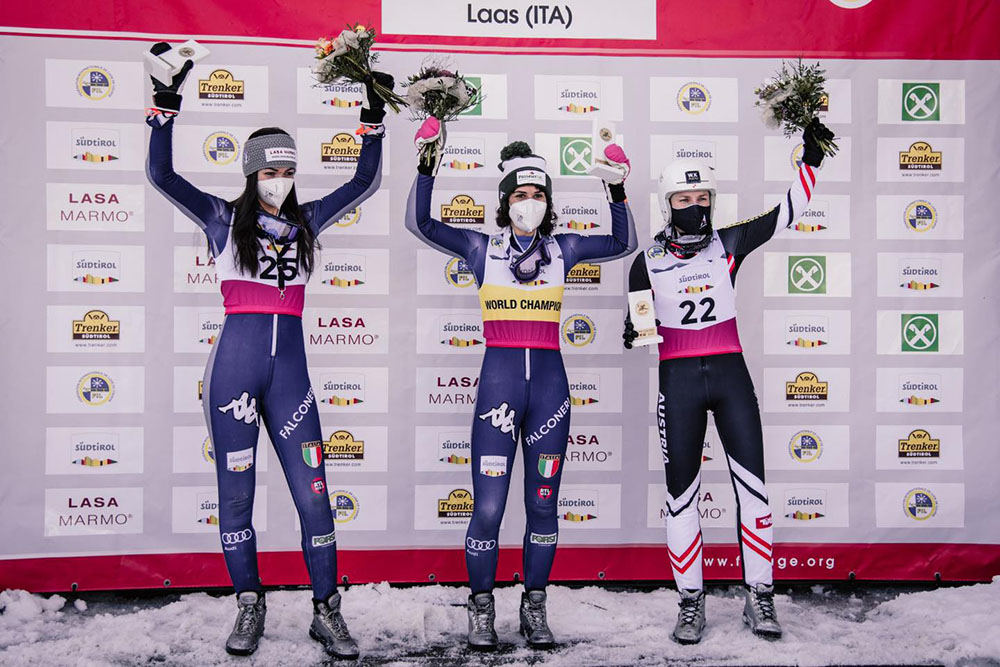 In a one-heat race, Austria's Tina Unterberger took the lead with four sleds to go. Unterberger held onto the lead until Pinggera took over on the strength of the quickest start of the competition. Lanthaler was the last woman down, and was the second off the top and fastest at the bottom by .36 to win her fifth straight gold. Pinggera finished second, and Unterberger third.
The win for Lanthaler was her 19th in 20 races, while the silver for Pinggera was her sixth straight dating back to the 2019/2020 season.
Both Italy's Nadine Staffler and Austria's Riccarda Ruetz finished with season-best finishes of fourth and fifth, respectively. Daniela Mittermair and Michelle Diepold tied for sixth.
With one race to go in the World Cup season, Lanthaler holds a 75 point lead over Pinggera in the season standings. If Pinggera were to win the season finale, Lanthaler would need to finish 15th or better to win the season title. Daniela Mittermair holds third position overall by 20 points over Unterberger and 30 points over Diepold.
Results:
| | | | | | |
| --- | --- | --- | --- | --- | --- |
| Pos | Name | Nation | Bib | Start | Finish |
| 1 | Evelin Lanthaler | ITA | 26 | 16.59 | 1:03.37 |
| 2 | Greta Pinggera | ITA | 25 | 16.51 | 1:03.73 |
| 3 | Tina Unterberger | AUT | 22 | 16.76 | 1:03.88 |
| 4 | Nadine Staffler | ITA | 19 | 16.95 | 1:04.39 |
| 5 | Riccarda Ruetz | AUT | 14 | 17.09 | 1:04.70 |
| 6 | Daniella Mittermair | ITA | 24 | 17.04 | 1:04.75 |
| 6 | Michelle Diepold | AUT | 23 | 16.94 | 1:04.75 |
| 8 | Ekaterina Lavrenteva | RUS | 17 | 17.05 | 1:04.81 |
| 9 | Sara Bachmann | GER | 21 | 17.24 | 1:04.82 |
| 10 | Lisa Walch | GER | 20 | 17.25 | 1:04.95 |
| 11 | Anastasiya Slyusar | UKR | 1 | 17.41 | 1:06.25 |
| 12 | Aleksandra Suvorova | RUS | 6 | 17.37 | 1:06.50 |
| 13 | Sarah Schiller | GER | 18 | 17.45 | 1:06.63 |
| 14 | Daria Maleeva | RUS | 10 | 17.37 | 1:06.64 |
| 15 | Michaela Niemetz | GER | 11 | 17.64 | 1:07.29 |
| 16 | Vanessa Markt | AUT | 9 | 17.83 | 1:07.59 |
| 17 | Charlotte Marie Roche | FRA | 4 | 17.69 | 1:07.64 |
| 18 | Julia Plowy | POL | 16 | 17.34 | 1:07.79 |
| 19 | Klaudia Natalia Promny | POL | 15 | 18.26 | 1:09.42 |
| 20 | Patricija Urbanc | CRO | 13 | 18.62 | 1:10.31 |
| 21 | Nika Nemec | SLO | 7 | 18.14 | 1:10.41 |
| 22 | Viktoriia Antoniuk | UKR | 8 | 19.06 | 1:11.69 |
| 23 | Nina Stanic | SRB | 3 | 18.80 | 1:11.97 |
| 24 | Susa Subic | SLO | 5 | 18.80 | 1:12.17 |
| 25 | Paulina Lipinska | POL | 12 | 18.81 | 1:12.48 |
| 26 | Jana Milenovic | SRB | 2 | 19.08 | 1:13.24 |