From Sigulda, LAT
Jan. 25, 2020 – Over the course of the 2019/2020 season there have been exactly two women who have won gold medals: Julia Taubitz and Tatyana Ivanova. It looked as though that would change in Sigulda, with both Taubitz and Ivanova well out of the medals going into the second heat.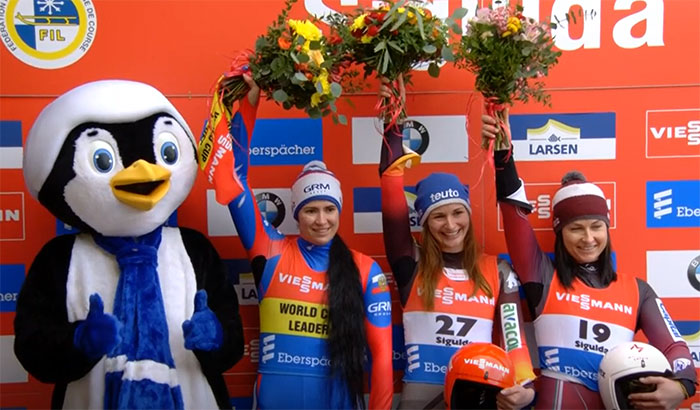 But that's why they run both of the heats.
Taubitz rallied with the fastest run of the race in the second heat to take the lead from Ivanova with six sleds still to come. One by one Taubitz picked off the women ahead of her until the first heat leader Summer Britcher cae up. Britcher made a costly mistake halfway through her second run to drop down to 18th overall and give the win to Taubitz.
Ivanova finished second, just over a tenth back, while Eliza Cauce won her first FIL women's luge medal in third.
VIktoriia Demchenko finished fourth, ahead of Madeleine Egle in fifth and Ekterina Katnikova in sixth.
The gold for Taubitz was her fourth gold and sixth medal overall for the year, while the silver for Ivanova was her second silver on the season.
Despite finishing behind Taubitz, Ivanova holds a 17 point lead over Taubitz going into Sunday's sprint. Demchenko is third, followed by Britcher, Katnikova, and Andrea Vötter.
Emily Sweeney was the top-finishing American in Saturday's race in 15th place. Britcher finished 18th, while Brittney Arndt and Ashley Farquharson finished 23rd and 26th, respectively.
For Canada, Trinity Ellis led the way in 20th, while teammate Makena Hodgson finished 25th. Carolyn Maxwell crashed in her second run and did not finish.
Results:
| | | | | | | | | |
| --- | --- | --- | --- | --- | --- | --- | --- | --- |
| Pos | Name | Nation | Bib | Start 1 | Start 2 | Run 1 | Run 2 | Total |
| 1 | Julia Taubitz | GER | 27 | 1.660 | 1.664 | 42.632 | 42.312 | 1:24.944 |
| 2 | Tatyana Ivanova | RUS | 25 | 1.631 | 1.633 | 42.634 | 42.425 | 1:25.059 |
| 3 | Eliza Cauce | LAT | 19 | 1.635 | 1.639 | 42.606 | 42.488 | 1:25.094 |
| 4 | Viktoriia Demchenko | RUS | 23 | 1.657 | 1.656 | 42.598 | 42.502 | 1:25.100 |
| 5 | Madeleine Egle | AUT | 18 | 1.638 | 1.639 | 42.615 | 42.583 | 1:25.198 |
| 6 | Ekaterina Katnikova | RUS | 24 | 1.667 | 1.666 | 42.696 | 42.539 | 1:25.235 |
| 7 | Andrea Vötter | ITA | 28 | 1.663 | 1.658 | 42.793 | 42.444 | 1:25.237 |
| 8 | Cheyenne Rosenthal | GER | 17 | 1.666 | 1.657 | 42.740 | 42.521 | 1:25.261 |
| 9 | Ulla Zirne | LAT | 16 | 1.685 | 1.693 | 42.768 | 42.529 | 1:25.297 |
| 10 | Anna Berreiter | GER | 26 | 1.662 | 1.651 | 42.835 | 42.517 | 1:25.352 |
| 11 | Kendija Aparjode | LAT | 22 | 1.667 | 1.679 | 42.679 | 42.678 | 1:25.357 |
| 12 | Elina Vitola | LAT | 10 | 1.650 | 1.664 | 42.625 | 42.740 | 1:25.365 |
| 13 | Olesya Mikhaylenko | RUS | 2 | 1.691 | 1.687 | 42.715 | 42.655 | 1:25.370 |
| 14 | Natalie Maag | SUI | 15 | 1.674 | 1.689 | 42.806 | 42.599 | 1:25.405 |
| 15 | Emily Sweeney | USA | 9 | 1.650 | 1.652 | 42.539 | 42.820 | 1:25.459 |
| 16 | Raluca Stramaturaru | ROU | 13 | 1.671 | 1.671 | 42.788 | 42.679 | 1:25.467 |
| 17 | Veena Hofer | ITA | 5 | 1.660 | 1.682 | 42.627 | 42.895 | 1:25.522 |
| 18 | Summer Britcher | USA | 21 | 1.641 | 1.639 | 42.517 | 43.051 | 1:25.568 |
| 19 | Marion Oberhofer | ITA | 3 | 1.658 | 1.671 | 42.878 | 42.702 | 1:25.580 |
| 20 | Trinity Ellis | CAN | 8 | 1.682 | 1.673 | 42.874 | 42.755 | 1:25.629 |
| 21 | Olena Stetskiv | UKR | 6 | 1.671 | 1.681 | 42.738 | 42.923 | 1:25.661 |
| 22 | Jessica Tiebel | GER | 20 | 1.717 | 1.711 | 42.995 | 42.682 | 1:25.677 |
| 23 | Brittney Arndt | USA | 11 | 1.676 | 1.686 | 42.959 | 42.813 | 1:25.772 |
| 24 | Katarina Simonakova | SVK | 7 | 1.691 | 1.699 | 43.011 | 43.019 | 1:26.030 |
| 25 | Makena Hodgson | CAN | 1 | 1.687 | 1.684 | 43.066 | 43.061 | 1:26.127 |
| 26 | Ashley Farquharson | USA | 14 | 1.675 | 1.682 | 43.440 | 42.978 | 1:26.418 |
| 27 | Veronica Ravenna | ARG | 4 | 1.727 | 1.723 | 43.274 | 43.736 | 1:27.010 |
| DNF | Carolyn Maxwell | CAN | 12 | 1.654 | 1.648 | 42.814 | DNF | |