From Königssee, GER
Jan. 22, 2021 – Jacqueline Lölling came from behind to win gold in Königssee in an upset finish over teammate Tina Hermann after Hermann's second run fell apart.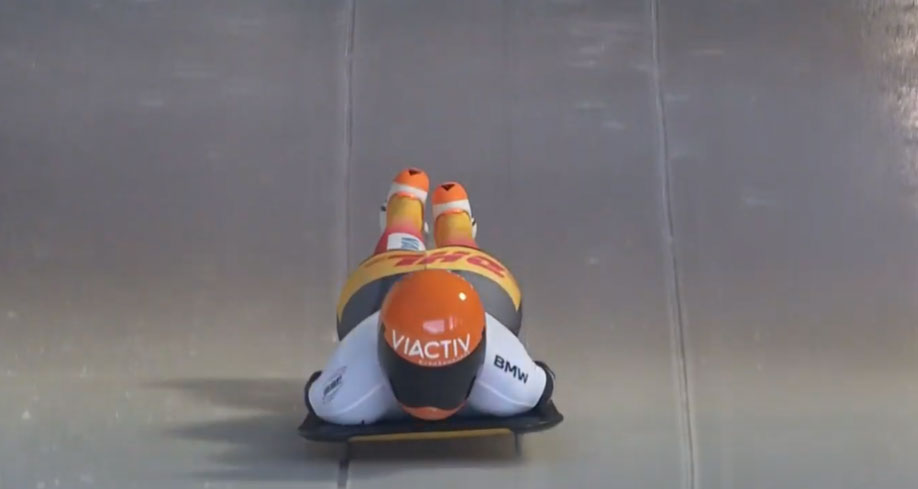 After a first run that saw both Tina Hermann and Elena Nikitina break the old track record, with Hermann setting the new record with a 50.93, Lölling found herself in third place. On the second run Lölling put down the second-fastest run ever on the Bavarian track, .01 ahead of Nikitina's first run, to move into the lead with only her teammate and the Russian to go.
Nikitina's second run was about flawless on the top half of the track, but she hit the wall out of Kresiel and that's where her second run fell apart, as she found herself behind Janine Flock and Jane Channell who were tied for second behind Lölling and Anna Fernstädt.
That left gold up to Tina Hermann. Like Nikitina, Hermann was clean and clear through Kreisel with a big advantage over her teammate. Also like Nikitina hit the wall out of the exit of Kreisel as well. From there, Hermann's run fell apart as she ended up with the slowest run of the second heat to plummet to tenth and give Lölling the win.
The gold medal for Lölling was the 12th of her career and first of the 2020/2021 IBSF World Cup season.
Anna Fernstädt finished with a silver medal, which was both her first career silver in World Cup competition and the first ever for the Czech Republic in women's skeleton.
Jane Channell made her return to World Cup action in style with a bronze medal effort, tying with Janine Flock for the honors. Channell came into the second heat in seventh place, but the Canadian put down the second fastest run in the second heat to jump up the order. Flock's bronze medal was her seventh consecutive medal on the season.
Nikitina finished fifth, while Canada's Elisabeth Maier had another strong showing in her return from maternity leave in sixth.
American Katie Uhlaender led the way for the United States with a seventh place finish, her best finish in Königssee since the 2011/2012 World Cup season. Kendall Wesenberg finished 14th after a tough second run dropped her from 11th. Kelly Curtis finished 19th in her first ever World Cup start, her second run was nearly a full second faster than her first.
For Great Britain, Brogan Crowley scored her first ever World Cup finish in 9th. Laura Deas finished 13th, two spots ahead of teammate Madelaine Smith in 15th.
With one race left to go in the women's skeleton season, Janine Flock holds a commanding lead over Tina Hermann. Flock will need to just finish ninth or better on home ice in Igls to clinch the title. Hermann is second, just a handful of points ahead of Jacqueline Lölling in third. Anna Fernstädt and Kimberley Bos round out the top five.
Results:
| | | | | | | | | |
| --- | --- | --- | --- | --- | --- | --- | --- | --- |
| Pos | Name | Nation | Bib | Start 1 | Start 2 | Run 1 | Run 2 | Total |
| 1 | Jacquelin Lölling | GER | 9 | 5.18 | 5.15 | 51.23 | 51.07 | 1:42.30 |
| 2 | Anna Fernstädt | CZE | 12 | 5.24 | 5.22 | 51.39 | 51.38 | 1:42.77 |
| 3 | Jane Channell | CAN | 19 | 4.97 | 4.96 | 51.69 | 51.24 | 1:42.93 |
| 3 | Janine Flock | AUT | 11 | 5.10 | 5.13 | 51.25 | 51.68 | 1:42.93 |
| 5 | Elena Nikitina | RUS | 4 | 4.88 | 4.88 | 51.08 | 52.13 | 1:43.21 |
| 6 | Elisabeth Maier | CAN | 7 | 5.01 | 5.00 | 51.97 | 51.55 | 1:43.52 |
| 7 | Katie Uhlaender | USA | 16 | 5.10 | 5.10 | 51.87 | 51.68 | 1:43.55 |
| 8 | Kim Meylemans | BEL | 5 | 5.01 | 4.99 | 51.78 | 51.80 | 1:43.58 |
| 9 | Brogan Crowley | GBR | 2 | 5.03 | 4.99 | 51.63 | 51.96 | 1:43.59 |
| 10 | Tina Hermann | GER | 10 | 5.17 | 5.14 | 50.93 | 52.69 | 1:43.62 |
| 11 | Sophia Griebel | GER | 20 | 5.07 | 5.08 | 51.88 | 51.76 | 1:43.64 |
| 12 | Kimberley Bos | NED | 8 | 5.09 | 5.06 | 52.23 | 51.42 | 1:43.65 |
| 13 | Laura Deas | GBR | 6 | 5.04 | 4.99 | 52.06 | 51.69 | 1:43.75 |
| 14 | Kendall Wesenberg | USA | 17 | 5.22 | 5.19 | 51.97 | 52.14 | 1:44.11 |
| 15 | Madelaine Smith | GBR | 3 | 5.13 | 5.14 | 52.24 | 51.91 | 1:44.15 |
| 16 | Yulia Kanakina | RUS | 14 | 4.99 | 4.99 | 52.33 | 51.97 | 1:44.30 |
| 17 | Alena Frolova | RUS | 15 | 5.05 | 5.06 | 52.17 | 52.14 | 1:44.31 |
| 18 | Endija Terauda | LAT | 13 | 5.20 | 5.25 | 52.52 | 52.19 | 1:44.71 |
| 19 | Kelly Curtis | USA | 21 | 5.15 | 5.10 | 52.88 | 51.99 | 1:44.87 |
| 20 | Nicole Silveira | BRA | 1 | 5.17 | 5.21 | 53.42 | 52.33 | 1:45.75 |
| 21 | Elena Scarpellini | ITA | 18 | 5.19 | | 53.53 | | |