From Lake Placid, USA
(Feb. 15, 2019)  – In the first race in North America for the 2018/2019 IBSF World Cup there was a tie for gold, with Jacqueline Lölling coming from behind to tie Elena Nikitina for gold.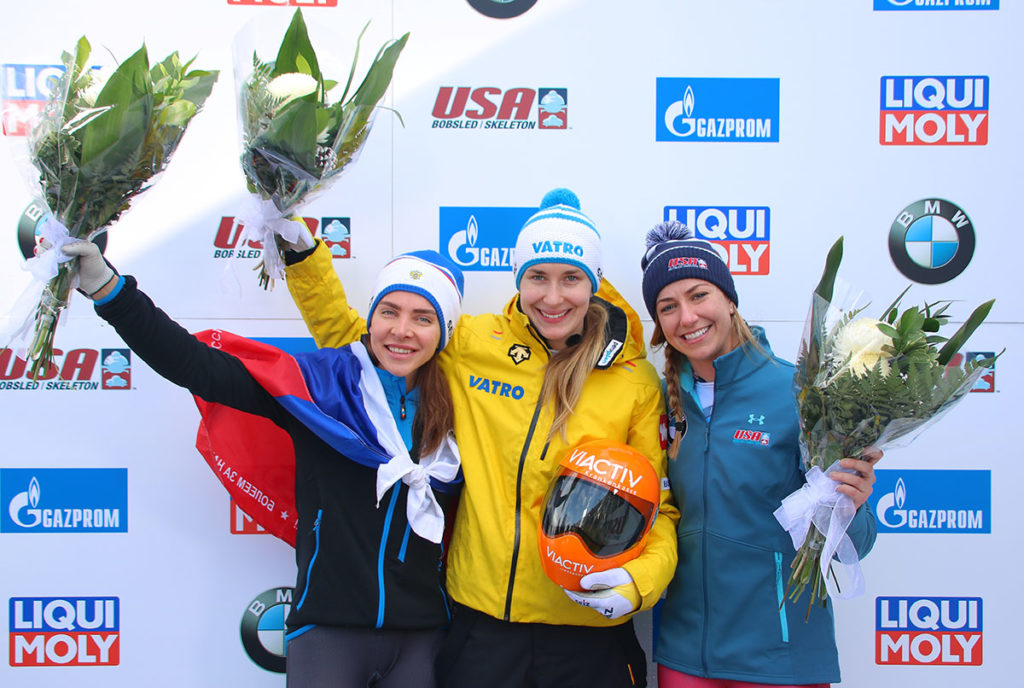 Nikitina held a .2 second lead over Lölling in the second run. Lölling's second run was the fastest of the heat, putting pressure on Nikitina. Nikitina looked like she was going to match Lölling's run, but trouble on the bottom third of the course brought the Russian back to Lölling. At the end of two runs the women were tied for gold, with Lölling winning her second race of the season and Nikitina winning her third.
Lölling was really happy with how the whole week went, especially after an eighth place finish in Lake Placid one year ago.
"I really needed a long time to get my rhythm," Lölling said about her training leading up to today's race. "My training was better than last year, I had to work really hard, every run and corner I had to work on. Lake Placid is really tough for me."
Finishing third was Kendall Wesenberg. The American came into the second heat tied with Russian Yulia Kanakina. After Kanikina struggled on her run, Wesenberg overcame a slower start to edge Canadian Mimi Rahneva for bronze.
"It was nice to get a medal at home with everyone here," Wesenberg said of her race. "Training went well all week, but I had stuff to clean up on the second run. I was able to get some speed at the bottom, and when I came up the outrun and saw Tuffy [Latour] holding up the number one I was glad I was able to pull it off."
Rahneva finished fourth, moving up from fifth after the first heat, while Germans Sophia Griebel and Tina Hermann finished fifth and sixth.
Savannah Graybill just missed a top ten run with a twelfth place finish as the second American in the field. Canadians Jane Channell and Madi Charney finished 10th and 16th, respectively.
Great Britain struggled to find speed in the United States, with Ashleigh Pittaway the only woman in the top ten in 9th. Laura Deas finished 13th and Madelaine Smith 15th.
Results:
| | | | | | | | | |
| --- | --- | --- | --- | --- | --- | --- | --- | --- |
| Pos | Name | Nation | Bib | Start 1 | Start 2 | Run 1 | Run 2 | Total |
| 1 | Jacqueline Lölling | GER | 6 | 5.51 | 5.44 | 55.07 | 55.52 | 1:50.59 |
| 1 | Elena Nikitina | RUS | 4 | 5.11 | 5.10 | 54.87 | 55.72 | 1:50.59 |
| 3 | Kendal Wesenberg | USA | 5 | 5.36 | 5.43 | 55.15 | 55.95 | 1:51.10 |
| 4 | Mirela Rahneva | CAN | 13 | 5.19 | 5.17 | 55.21 | 55.98 | 1:51.19 |
| 5 | Sophia Griebel | GER | 11 | 5.40 | 5.34 | 55.31 | 55.99 | 1:51.30 |
| 6 | Tina Hermann | GER | 9 | 5.36 | 5.33 | 55.39 | 56.02 | 1:51.41 |
| 7 | Yulia Kanakina | RUS | 8 | 5.09 | 5.17 | 55.15 | 56.33 | 1:51.48 |
| 8 | Renata Khuzina | RUS | 14 | 5.41 | 5.33 | 55.82 | 55.98 | 1:51.80 |
| 9 | Ashleigh Pittaway | GBR | 16 | 5.56 | 5.52 | 55.97 | 55.99 | 1:51.96 |
| 10 | Jane Channell | CAN | 1 | 5.23 | 5.17 | 55.58 | 56.42 | 1:52.00 |
| 11 | Kim Meyelemans | BEL | 15 | 5.31 | 5.28 | 55.69 | 56.37 | 1:52.06 |
| 12 | Savannah Graybill | USA | 3 | 5.47 | 5.52 | 55.79 | 56.43 | 1:52.22 |
| 13 | Laura Deas | GBR | 10 | 5.27 | 5.33 | 55.90 | 56.59 | 1:52.49 |
| 14 | Kimberley Bos | NED | 12 | 5.32 | 5.25 | 56.20 | 56.35 | 1:52.55 |
| 15 | Madelaine Smith | GBR | 7 | 5.32 | 5.34 | 56.42 | 56.47 | 1:52.89 |
| 16 | Madison Charney | CAN | 2 | 5.34 | 5.37 | 56.45 | 56.82 | 1:53.27 |