From Winterberg, GER
(Jan. 10, 2021) – Germany's Francesco Freidrich became the winningest IBSF World Cup men's bobsled pilot on Sunday, cruising to victory in Winterberg.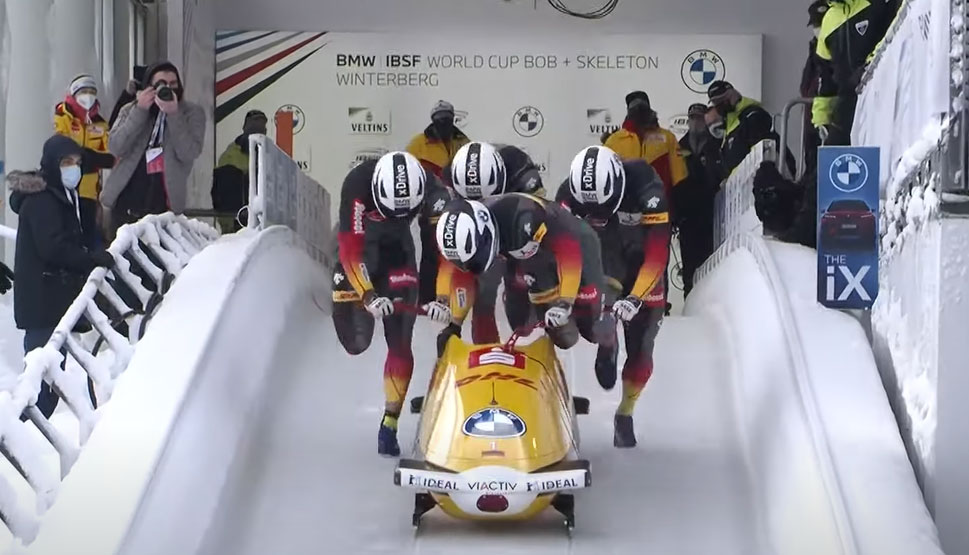 Friedrich's team was the only team with a push under five seconds in the first heat on their way to a .24 second lead over Canada's Justin Kripps. Their second start tied the record set by Oskars Melbardis' team in 2014, and the second drive was once again nearly flawless as Friedrich cruised to a .57 second victory over Canada's Justin Kripps.
The win for Friedrich is the 46th between tw0-man (34) and four-man (12), one ahead of German great Andre Lange for the most by a men's bobsled pilot. He is now tied with women's pilot Sandra Kiriasis and brakeman Kevin Kuske for the most bobsled medals all time. He will have a chance to brake that record in the home of bobsled, St. Moritz.
Kripps made his return to World Cup action in style by winning a silver medal in Winterberg. Kripps finished .19 ahead of Austria's Benjamin Maier to earn the silver.
Maier won his first four-man bobsled medal since Lake Placid in the 2019/2020 season, finishing just ahead of Russia's Rostislav Gaitiukevich in fourth.
Germany's Johannes Lochner and Christoph Hafer rounded out the top six.
The race doubled as the European Championships, and in that Maier won silver, and Gaitiukevich bronze.
The United States made their 2020/2021 season debut in Europe in Winterberg. Codie Bascue, making his first World Cup start in Europe since the 2018/2019 season, led the way in a tie for 14th with Switzerland's Michael Vogt. Teammate Geoff Gadbois finished 16th in his first ever four-man race in Europe.
Great Britain's Brad Hall had an injury on his team and was unable to start the race.
Results:
| | | | | | | | | |
| --- | --- | --- | --- | --- | --- | --- | --- | --- |
| Pos | Names | Nation | Bib | Start 1 | Start 2 | Run 1 | Run 2 | Total |
| 1 | Friedrich / Margis / Bauer / Schüller | GER | 10 | 4.99 | 4.96 | 54.04 | 54.09 | 1:48.13 |
| 2 | Kripps / Sommer / Stones / Coakwell | CAN | 5 | 5.11 | 5.08 | 54.28 | 54.42 | 1:48.70 |
| 3 | Maier / Stepan / Sammer / Huber | AUT | 4 | 5.09 | 5.07 | 54.38 | 54.51 | 1:48.89 |
| 4 | Gaitiukevich / Mordasov / Malykh / Samitov | RUS | 12 | 5.08 | 5.06 | 54.59 | 54.49 | 1:49.08 |
| 5 | Lochner / Bauer / Weber / Rasp | GER | 9 | 5.12 | 5.13 | 54.69 | 54.65 | 1:49.34 |
| 6 | Hafer / Korona / Hammers / Wobeto | GER | 1 | 5.15 | 5.13 | 54.60 | 54.76 | 1:49.36 |
| 7 | Stulnev / Koshelev / Kondratenko / Gryaznov | RUS | 7 | 5.19 | 5.15 | 54.71 | 54.74 | 1:49.45 |
| 8 | Heinrich / Lefebvre / Alais / Borges Mendonaca | FRA | 6 | 5.20 | 5.17 | 54.93 | 54.87 | 1:49.80 |
| 9 | Dvorak / Suchy / Sindelar / Nosek | CZE | 11 | 5.13 | 5.14 | 54.88 | 54.94 | 1:49.82 |
| 10 | Baumgartner / Fantazini / Ughi / Verginer | ITA | 14 | 5.22 | 5.19 | 54.86 | 54.98 | 1:49.84 |
| 11 | de Bruin / Dumas / Veenker / Franjic | CAN | 2 | 5.22 | 5.21 | 54.87 | 54.98 | 1:49.85 |
| 12 | Tentea / Dobre / Daroczi / Radu | ROU | 15 | 5.15 | 5.17 | 54.97 | 54.97 | 1:49.94 |
| 13 | Friedli / Fässler / Schläpfer / Leimgruber | SUI | 3 | 5.24 | 5.20 | 55.01 | 55.01 | 1:50.02 |
| 14 | Bascue / McConnell / Valdes / Wilcox | USA | 17 | 5.17 | 5.19 | 55.15 | 55.01 | 1:50.16 |
| 14 | Vogt / Weber / Beiri / Gyger | SUI | 8 | 5.25 | 5.33 | 55.02 | 55.14 | 1:50.16 |
| 16 | Gadbois / Adams / Niederhofer / Horn | USA | 16 | 5.17 | 5.19 | 55.23 | 55.17 | 1:50.40 |
| DNS | Hall / Lawrence / Gleeson / Cackett | GBR | 13 | | | DNS | | |